Delivery Method: Online
Duration: 51 weeks, including a 6-week practicum
Start: Twice per year (March and October)
Credential: Diploma
Wages: Entry level wages from $20.54 – $24.44/hour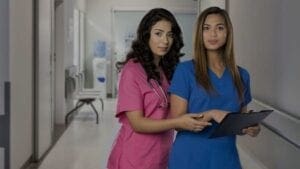 About the Program
Are you looking for a rewarding career in hospital administration? As a Hospital Support Specialist, you will be trained to provide valuable clerical, secretarial, and administrative support in public and private health care settings. Hospital Support Specialist graduates can hold a variety of job titles, but typical duties can include the admitting and registration of patients into various departments and/or hospital units, collecting patient data, data entry, clerical tasks, and retrieving, assembling, and disassembling patients' charts.
Stenberg College is the only private post-secondary school in BC offering this unique industry-specific program specializing in administrative duties within the health care field. Hospital Support Specialist students receive training in medical terminology, professional communications, office operations, keyboarding/data entry, registration, diagnostic imaging, the release of information, health records clerical duties, Meditech, and other computerized health information systems as applicable.
This program will prepare graduates for entry-level employment as an Admitting/Registration Clerk, Health Records Clerk, Diagnostic Imaging Clerk, Hospital Switchboard Operator, Medical Secretary, and much more.
Admission Requirements
Completion of Grade 12 or equivalent*
Passing Stenberg College entrance examination or equivalent*
Passing Verbal Test of English if ESL or equivalent*
Passing Stenberg College entrance informational interview
Minimum typing speed of 20 wpm
Completion of a Criminal Record Consent Form under the Criminal Record Review Act
*Entrance requirements can be met with evidence of alternate assessments such as Challenge Exams, or acceptable standardized English equivalency tests as per the Stenberg College Language Proficiency chart. Evidence of Post-Secondary studies at an equivalent level where English was the first language is acceptable.

Prior to Hospital Support Specialist program admission, Program Advisors will outline practice education requirements. Upon enrolment, students will be informed of next steps and timelines. Non-compliance could result in program dismissal. Requirements for practice education placements include:
Acceptable Criminal Record Review with Vulnerable Sector Check by the Ministry of Public Safety and Solicitor General of Justice
Letter of good health completed by a physician
TB screening results
Proof of Immunity Status as required by industry
Flu vaccination as required by industry
Additional site-specific orientation/training may be required
Please note, additional criteria may be required to fulfill industry guidelines. Students will be informed in advance of any requirements that need to be fulfilled for placements.
Financing Your Education
You could be eligible for Employment Insurance funding for education, government student loans, as well as other financing options; Stenberg's Financial Aid Officer would be happy to provide further assistance.