Delivery Method: Combined Delivery
Duration: 29 weeks, including a 12-week practicum
Start: Three times per year (January, March and August)
Credential: Dual Diploma
Wages: $20-$30/hour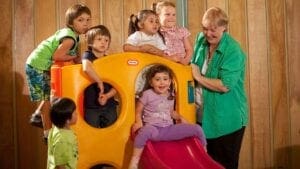 About the Program
Stenberg College offers the Post-Basic Infant Toddler and Special Needs Early Childhood Educator Program (Dual Diploma) to those who have already completed an Early Childhood Education Basic (Certificate) level program. The ECE Post-Basic program is 29 weeks and full time.
With the Infant/Toddler post-basic specialization, graduates are qualified for employment in childcare facilities caring for infants and toddlers (up to three years old). With the post-basic education in Special Needs, graduates work in programs with children who require extra support, from infancy to school age. Post-basic graduates are also prepared to handle a wider range of administrative and supervisory responsibilities.
Combined Delivery
We offer the Early Childhood Education Post-Basic program in a combined delivery format. In this format, all courses (with the exception of the practicum) are offered through guided online learning combined with weekly classroom-based sessions. This flexible delivery format is designed for individuals who may be balancing other responsibilities such as work and/or family. In the Post-Basic Infant Toddler and Special Needs program you will complete orientation followed by six theory courses in a combined online and classroom-based delivery format followed by a six-week Infant Toddler Practicum. This will then be followed by two more theory courses delivered in a combined delivery format, followed by a final six-week Special Needs Practicum experience.
Admission Requirements
Successful completion of an ECE Basic (Certificate) level program
Successful completion of the Online Computer Skills Entrance Test
Completion of Stenberg College's Admission entrance informational interview
Acceptable Criminal Record Review with Vulnerable Sector Check by the Ministry of Public Safety and Solicitor General
Letter of good health completed by a physician
Financing Your Education
You could be eligible for Employment Insurance funding for education, government student loans, as well as other financing options; Stenberg's Financial Aid Officer would be happy to provide further assistance.