Delivery Method: Combined delivery
Duration: 120 weeks
Start: Twice per year (March and September)
Credential: Diploma
Designation: Registered Psychiatric Nurse
Regulated By: British Columbia College of Nurses and Midwives (BCCNM)
Wages: $36.23-$57.38/hour (BCNU April 2021)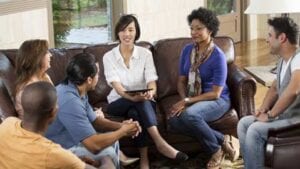 About the Program
Stenberg's Regional Diploma in Psychiatric Nursing is the first and only program of its kind in Canada. It was developed to fill a growing need for qualified Psychiatric Nurses outside of the Lower Mainland.
The theory portion is delivered through instructor-led guided online learning in a highly supported environment. Our combined-delivery format and regional clinical placements allow you to pursue your education in your home community.
100% of our Psychiatric Nursing graduates are employed in their field of study within 6 months of program completion.
This program is for you if you:
have particular attributes in communicating effectively with others
are committed to life-long learning and to personal and professional development
would like to make a meaningful contribution to others, to your community, and to society
Admission Requirements
Applicants for the Psychiatric Nursing program must complete the following:
Attend an information session via teleconference
Submit an application form
Successfully complete the online entrance essay assignment/assessment
Provide an up-to-date resume
Provide 2 professional references (must be signed and dated with contact info)
*If English is a Second Language, you will be required to pass one of Stenberg College's recognized Language Proficiency Assessments (such as the IELTS, TOEFL, CLB, CELBAN, Stenberg College ELET) as per the Stenberg College's Language Proficiency Requirements Document.
In addition to the above, provide proof of having met the following pre-requisites:
For High school graduates (under 19 yrs):
Graduation from Grade 12 with a C+ average
Grade 12 English (minimum grade B)*
Grade 12 Biology (minimum grade C)
Grade 11 Math (Principles, Foundations or Pre-calculus) (minimum grade C)
Grade 10 Science (minimum grade C)
For Mature Students (19 years+):
Grade 12 English (minimum grade B)*
Grade 12 Biology (minimum grade C)
Grade 11 Math (Principles, Foundations or Pre-calculus) (minimum grade C)
For LPN Access to the Psychiatric Nursing program:
Copy of current Licensing as a Practical Nurse
Proof of the equivalent of 2 years full-time (3,600 hrs) Work Experience as an LPN
Official, sealed copy of LPN program transcripts

*Entrance requirements can be met with evidence of alternate assessments such as Challenge Exams, or acceptable standardized English equivalency tests as per the Stenberg College Language Proficiency chart. Evidence of Post-Secondary studies at an equivalent level where English was the first language is acceptable.
As there are limited seats available in each cohort area, there is a preferential admission criterion in place to assist in the selection of the most qualified candidates for the Psychiatric Nursing Program. Preference is given to those candidates with volunteer or work experience in a health-related field. To put this forward for consideration, you must submit written proof with confirmation of hours completed from the volunteer organization or employer. Students with post-secondary education in any field are also encouraged to put forward original transcripts of the highest credential completed for additional consideration. These must be original transcripts sent directly from the educational institute to us. All documents for evaluation for preferential admission should be submitted along with the rest of the application package. Once all of the above applicable information is submitted, Psychiatric Nursing applicants may require an individual interview.
Upon successful completion of all the above, applications will be put forward for final selection for a seat in the following available intake.
Prior to Psychiatric Nursing Program Admission, Program Advisors will outline practice education requirements for the program. Upon enrollment, you will be informed of the next steps and timelines. Non-compliance could result in program dismissal. Requirements for practice education placements include:
Acceptable Criminal Record Review with Vulnerable Sector Check by the Ministry of Public Safety and Solicitor General
Letter of good health completed by a physician
TB Screening Results
Current immunization status as required by Industry
Flu vaccination as required by Industry
Students must provide proof of completion of Standard First Aid and Basic Life Support (BLS) prior to the first clinical experience (GERO 122-2)
Additional site specific orientation/training may be required
Financing Your Education
You could be eligible for Employment Insurance funding for education, government student loans, as well as other financing options; Stenberg's Financial Aid Officer would be happy to provide further assistance.