Raji Sandhu always wanted to care for those in need. In high school, Raji battled with anxiety and depression and felt a deep calling to become a teacher or youth worker. "I always wanted to work with kids," she recalled. "There's so much anxiety in kids today — when I put myself in their shoes, I can understand how they're feeling, and I want to help."
FIGHTING DARKNESS AND DEPRESSION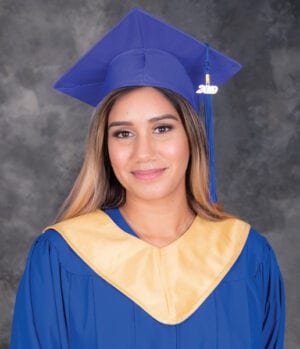 After high school, Raji was in an unhealthy relationship detrimental to her physical and mental health. Speaking about that dark period, Raji confessed, "I was so naive and young. I let him control my emotions, mistreat me and take advantage of me. Eventually, he started draining all my energy." She continued, "I went from 120 lbs. to 90 lbs. My family tried to talk to me but I would just yell. He took my innocence and put me in a dark place."
"The anatomy course was really hard, and our instructor, Harminder Mathur, was tough. One day I felt so defeated, I planned on not showing up the next day,"
Her parents stood by her throughout this emotional turmoil. After three years, Raji finally found the courage to let go of the toxic relationship but was still suffering. Work was sporadic. She would find a job, work for a few months, fight depression, move on to the next job—the glove just didn't fit. She felt aimless and lost. Raji remembers thinking, "I couldn't even take care of myself. How could I work as a teacher or youth worker and care for others?"
A DELIGHTFUL SURPRISE
As she was trying to change for the better, life had a delightful surprise. She met Paul, a hardworking, positive individual who always set goals for himself. They started dating, which put her in a much better place. "He has led me to where I am now, and he doesn't even know it! He made me want to jump into a career."
"But I talked myself through the anxiety. I slept on it. I realized I needed to come back for myself, and finish something I started. I couldn't just keep giving up."
Raji wanted a career in the medical field without spending too much time in school. The Hospital Support Specialist (HSS) program at Stenberg College was perfect because it was short and offered opportunities for future growth. She enrolled!
Three months in, Raji found it challenging to keep up with the rigour and pace of the program.
"The anatomy course was really hard, and our instructor, Harminder Mathur, was tough. One day I felt so defeated, I planned on not showing up the next day," Raji said, admitting that she even considered switching to a different program. "But I talked myself through the anxiety. I slept on it. I realized I needed to come back for myself, and finish something I started. I couldn't just keep giving up."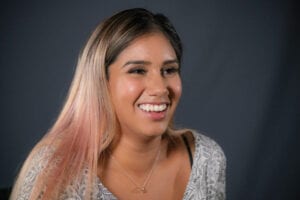 BECOMING A LEADER
Raji became a leader in class, a star student. Whether her classmates struggled with the registration course or found it challenging to handle the computer, Raji was always supportive. "She's always ready to help everyone," said Harminder.
But Raji is unassuming when praised. "There were times when I struggled, and my classmates helped me. I don't think I did anything special," she said. She is also humble about being the HSS Student of the Year. "I don't feel like I deserve the nomination," she admitted. "So many of my classmates are mothers who go home and take care of other responsibilities."
THE WORLD IS HER OYSTER
After 51 weeks, our star student Raji graduated with a 95% GPA. She's ecstatic about how life has turned out. She's working at Abbotsford Emergency and has lines with Jim Pattison Outpatient Care and Surgery Centre and Surrey MRI Clinic in Surrey. "I'm booked from Monday to Friday," Raji said happily. "I have no time to be unhappy or depressed because my mind is always occupied."
"So many of my classmates are mothers who go home and take care of other responsibilities."
She loves working in Emergency because she's always doing something new and every day is different. She said, "I like being the friendly face patients see when they walk in."
Raji is very comfortable in a hospital setting and tries to empathize with her patients. "I had this 70-year-old patient call to book an MRI scan. We were booked for months but she wanted her results soon. I took the time to find her an earlier appointment as I didn't want her to stress. I was able to book her in a month sooner and she was so grateful—it made me feel really good about myself," she shared.
Raji wants her story to be an inspiration to young girls like herself who struggle with anxiety and depression. "I want them to feel like they're not alone. I hope my story inspires them to believe that they can get their life together." ❉