Suite 750 (7th Floor)
13450 102 Avenue
Surrey, BC V3T 5X3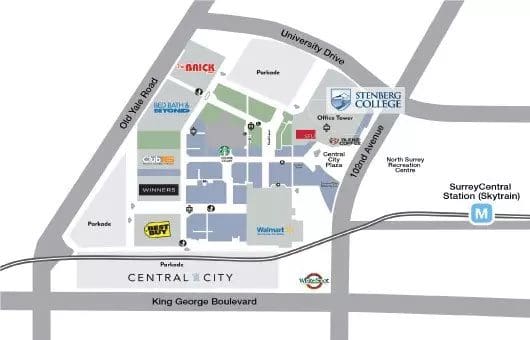 We recognize that Stenberg College is based on the unceded and traditional homelands of the Coast Salish and Nlaka'pamux Nations.
How to reach our main campus
Our main campus is located on the seventh floor of the Central City Office Towers, opposite Surrey Central SkyTrain station.
If you are taking SkyTrain
Surrey Central Station is within walking distance from our campus. Take the Expo Line (towards King George Station) and exit at Surrey Central Station. Once you exit Surrey Central Station, walk towards 102 Ave and you will see Central City Towers/Central City Mall. Enter through the doors between Blenz and SFU. Take the elevators on the left of the security desk up to the 7th floor. Turn left when you reach the 7th floor and you have arrived!
If you are taking a bus
The nearest bus loop to our campus is located next to Surrey Central SkyTrain Station. If taking a bus is more convenient for you, we recommend visiting translink.ca to plan your route.
Free parking is available for three hours for all mall patrons. We recommend parking in the West Parkade lots P3 and P2. Once you are parked, take the elevator to P3 and walk towards SFU's entrance. Take the staircase down to the mall lobby and turn left. Walk towards the security desk and take the elevator on the left up to the 7th floor.
If you need further assistance with directions, please give us a call at 604-580-2772.
Have Questions?
Ask a Program Advisor!
I understand that by submitting this form, I agree to receive periodic emails, phone calls and text messages (SMS) from Stenberg College. My consent can be withdrawn at any time using the links provided in every email. See our Privacy Policy
Our Programs
If you want to make a difference in the lives of others, we probably have the program for you.