Delivery Method: Online
Duration: 40 weeks, including a 6-week practicum
Start: Three times per year (January, May and September)
Credential: Diploma
Wages: start at $23.51/hour (+12.2% in lieu of benefits)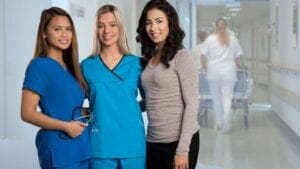 About the Program
Are you organized, detail-oriented and professional? If this sounds like you, consider a career as a Nursing Unit Clerk. Nursing Unit Clerks act as the heart of a health care unit by maintaining the pulse. They direct resources, communicate with patients, nurses and doctors, and ensure urgent tasks are completed efficiently. A Nursing Unit Clerk must be able to multitask, work in a fast-paced environment, and possess strong communication skills.
Nursing Unit Clerks are the anchors of patient care departments. They focus on the non-clinical tasks of the department, and deliver and communicate physician's orders with nursing staff and the other departments (laboratory, diagnostic imaging, pharmacy, dietary, and therapy).
Depending on the health care environment, Nursing Unit Clerks may also be referred to as Nursing Unit Coordinators, Nursing Unit Assistants or Health Unit Coordinators.
Admission Requirements
Completion of Grade 12 or equivalent
Passing Stenberg College entrance examination
Successful completion of a short written essay
Passing Verbal Test of English (if English is a second language)
Passing Stenberg College entrance interview
Certified five-minute keyboarding test with a typing speed of 25 gross words per minute or higher with a maximum of 5 errors
Completion of a Criminal Record Consent Form under the Criminal Record Review Act
Prior to Nursing Unit Clerk program admission, Program Advisors will outline practice education requirements. Upon enrolment, students will be informed of next steps and timelines. Requirements for practice education placements include:
Acceptable Criminal Record Search under the Criminal Record Review Act
Proof of Immunity Status as required by industry
Acceptable Medical Examination Form completed by a physician
Please note, additional criteria may be required to fulfill industry guidelines. Students will be informed in advance of any requirements that need to be fulfilled for placements.
Financing Your Education
You could be eligible for Employment Insurance funding for education, government student loans, as well as other financing options; Stenberg's Financial Aid Officer would be happy to provide further assistance.