"The struggles I'm facing, The chances I'm taking, Sometimes might knock me down but, No, I'm not breaking."— The Climb by Miley Cyrus
Krista May was driving back from her shift when she heard this song on the radio. Her eyes welled up. It was in that moment she realized "Oh, my God! I did it. I am a Cardiology Technologist!"
Five years ago, Krista wouldn't have thought of working as a Cardiology Technologist. She was a happy wife, mom of two, and owned a small hair salon in Badger, Newfoundland. Krista and her husband had been a team for 13 years. They were actively involved in the community and their whole world revolved around their children. Life was picture-perfect for a very long time. However, at 31 years old, Krista experienced a heartbreaking tragedy. "While travelling for work in Edmonton, my husband was in a taxi on the way to the airport and a drunk driver hit their cab. He didn't make it," Krista shared. "It was life-changing. In a matter of a minute, I was a widow. I was a single mom of two kids. My world was just completely tipped upside down."
The tragedy shook Krista and her family to the core. They lost the pillar of their life. Suddenly, every responsibility fell on Krista's shoulders. From supporting their kids emotionally to providing for them, Krista knew this situation demanded resilience. "I had to bounce back very quickly. You know you try to be as strong as you possibly can for the kids even when you're falling apart yourself. But I learned very quickly if I crashed, they crashed and they're following my lead. Whatever I was doing they were following." Having always been a strong person, Krista decided to rise up to the challenge and find a career that would support her family.
Although she knew there would be hurdles, Krista took the plunge. Being a nurturing and caring person, Krista had wanted to go into nursing after high school, which was 20 years ago. "After I finished high school I thought I'd take a year off, and life happened, and I ended up with a little girl, who completely changed my plans," Krista shared. That year, she married her husband and they moved to Badger, where they worked hard to set up a small, comfy nest for their family.
As a young couple, they needed support. Krista's husband worked full-time, and with her parents' help, Krista took a cosmetology course to supplement his income. After finishing the course, Krista worked at a spa while her parents looked after her baby girl. As years rolled by, Krista and her husband welcomed their second child and Krista started her own little hair salon. Life was comfortable and Krista didn't feel the need to go back to school until 2015 after her husband had passed away.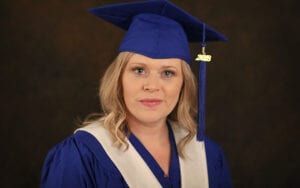 Facing the fear
"It's scary to think about going back to school at 32 years old, especially when you have kids who are in school and you have routines to follow, and you're thinking, 'Well, where am I going to find the time for this?'" Krista conquered this initial fear and started looking for a program that would fit her life. "Being a Newfoundlander and a single mom at that point, I really didn't want to move. My kids' lives, my life, it was so disrupted at that point. We didn't really want anything else in that aspect."
Her brother is a nurse so when Krista expressed interest in a medical career, he suggested Cardiology Technology. Krista researched the career and the more she learned, the more interested she became. "A friend of mine had done the course a few years prior and recommended it," Krista recounted the initial days of her research. "I did look at a couple different institutions but when I looked at reviews of Stenberg and spoke to some Stenberg students, there was no question about it. Stenberg was where I was definitely going to go!"
Krista was excited but there was a minor hiccup in her way. Going back to school for 62 weeks was going to demand a lot of time and financial commitment. "Our lives have changed so much over the last year that I didn't really know how we were going to cope with all of that but a very wise person, a very good friend of mine, said, 'Well, you know, it's two years. If you fast forward and you look at the end of two years, you're either going to look back and you're going to say, "Wow, I accomplished that" or "I should have done that." It's your choice. What do you want to say? Do you want to accomplish it or do you want to say, I should have?'" This question made Krista even more determined to pursue this program and her new career.
Beginning a new chapter
When she decided to enroll, the program was already full. Krista joined the waitlist and crossed her fingers that somebody would withdraw. Her prayers were answered. She received a call from the Program Registrar at Stenberg College with good news – a seat had become available! Krista completed her testing, enrolled in the program and began counting down the days. "It all started there. Honestly, it's probably the best decision I've ever made in my life. No regrets."
As the start date neared, Krista's nervousness multiplied due to anticipation. "I was so nervous. My nerves were wrecked some days…once the program started, it all kind of just flowed really well." The best part of the program for Krista was the flexibility. "It was wonderful because it offered such a flexible schedule. It really fit into my lifestyle. I only had to leave my house for labs. When my kids would go to school in the mornings, do their homework, or go to bed, I would do assignments. It really worked. It's phenomenal for anybody who really is not flexible to leave their hometown and go somewhere for two years."
Her parents and kids supported her throughout the program. There were hard times but with her family by her side, Krista kept moving forward. "We're a very strong family. We did it all together. When I went to Halifax for my labs, my parents took my kids. It was tough at times. My kids are calling, 'Mom, I miss you. How many do I have to count to before you come home?' There were definitely some rough moments, but we got through it."
When Krista went for labs, she rented a place with her classmates. She had only met them in the digital world but when they met in person, she found a new support system. "This experience itself, the friendships, they're life-changing. They're things I'll cherish forever."
What's the first thing that comes to mind when you hear 'cardiology technology group study sessions'? Intense? Serious? Well, Krista recalls them as 'fun'. The house Krista and her friend had rented had become the study hub for her cohort. "It's hard being away from the kids but it was definitely exciting. You learned a whole new respect for everybody. Labs for sure would be the highlight of my program. We would always stick together and makeup study games. We had a lot of fun."
Hard work pays off
Apart from labs, passing the Canadian Society of Cardiology Technologists (CSCT) national certification exam was another highlight for Krista. "I'm not going to lie. I thought I was going to lose my mind studying for the CSCT exam. But I got through it, and passed on the first attempt."
Krista applied for a position at Central Health Newfoundland and needed her certification to start her job. "Some hospitals will hire you as a Cardiology Technician but not hire you as a Cardiology Technologist. I was actually offered the position upon completing and passing my CSCT exam. There was definitely a lot riding on that."
All her hard work paid off in the end. Krista started the job with Central Health as soon as she passed the exam. She's currently covering at two hospitals. "The hospital in Grand Falls is maybe two minutes from my house. I can walk to work. It gives you a sense of security. It's a well-paying, professional job. It's something to be proud of and I absolutely love my job, whereas doing hair and working in the hair salon, I can't say I loved it. It was a 'working for now' job, but honestly and truly, I love what I'm doing right now."
Apart from the sense of security and financial aspect of being a Registered Cardiology Technologist, for Krista, it's the feeling of giving back that makes it all worthwhile. She's glad that she made the climb.