Hey there! My name is Taryn. I'm 27 years old and a student in Stenberg College's Cardiology Technologist diploma program. In my spare time, I enjoy horseback riding, reading, cooking and baking, going to the gym, watering my [many] houseplants, and spending time with friends and family. I live in Saskatoon, Saskatchewan and would love to tell you how I came to be a student in Stenberg's Cardio Tech program.
My Journey from University to Stenberg College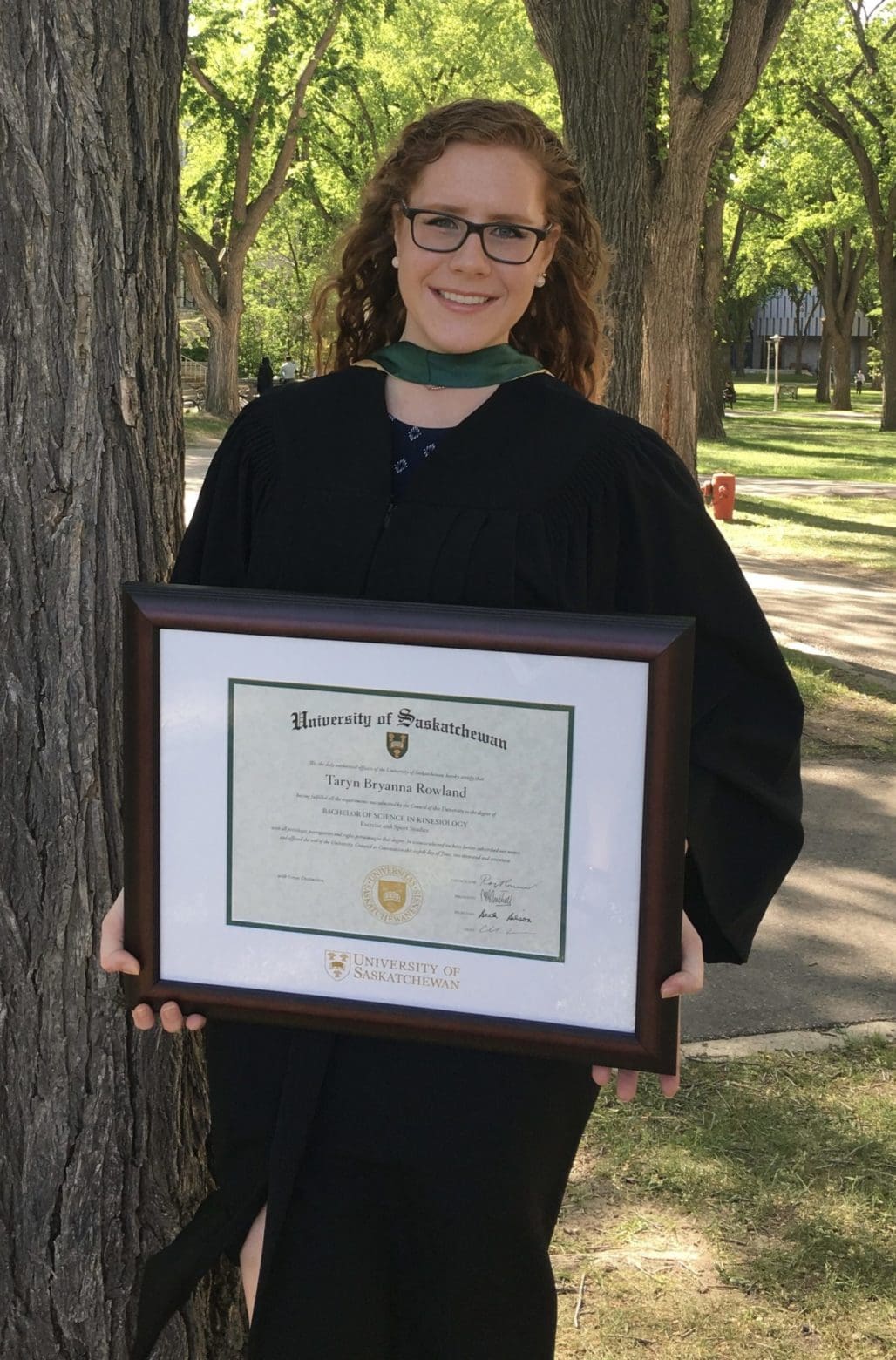 I always knew I wanted to work in the field of healthcare. I went into my undergraduate at the University of Saskatchewan thinking I would apply to the College of Medicine but quickly realized how competitive it was to get in. I transferred to the College of Kinesiology and instantly felt at home. I rocketed through my Kinesiology degree in three years, focusing my last year of studies on chronic disease management and exercise with cardiovascular pathophysiology. I was lucky enough to be selected for my practicum of choice, cardiac rehabilitation, where I developed two passions: cardiovascular health and physiology and exercise for older adults.
In June 2017, I graduated with a Bachelor of Science in Kinesiology, Exercise and Sport Studies with great distinction. Despite having discovered my passion, I soon realized the universe doesn't always immediately produce a job with a degree! I wanted a career explicitly focusing on heart health. During my practicum, we toured a cardiac sonography lab, which I thought was pretty neat! So I applied for the Diagnostic Medical Sonography program at SAIT in Alberta, wanting to specialize in cardiac sonography. Unfortunately, my application was rejected on a technicality, which was devastating. Feeling a bit lost and unsure of what to do, I sought opportunities to continue to develop myself professionally while figuring out my next step.
I volunteered for an exercise program tailored toward older adults and those with chronic diseases. Later that year, I obtained my personal trainer license through the Canadian Society for Exercise Physiology. I was hired part-time as a Wellness Instructor in the exercise program while working part-time as a Recreation Technician. However, it all came to a screeching halt when the pandemic hit and both jobs temporarily laid me off.
When the leisure centres re-opened, I was rehired, but it was still too risky to resume the exercise program. I soon felt like something was missing from my life. Despite enjoying my job in the leisure centres, working through the pandemic made me realize that this wasn't the career I wanted. I wanted to be an allied health professional working with patients in a clinical setting and be directly involved in bettering their health outcomes. After researching careers related to heart health, I stumbled across the career possibility of Cardiology Technologist, and soon after, Stenberg College and their Cardiology Technologist program.
Why I chose Stenberg College
After scrutinizing Stenberg's and BCIT's websites, I reached out to Stenberg College through the "Ask a Program Advisor!" button. After the info session, I felt excited and nervous – both likely attributed to the feeling of "I think I found 'the one!'".
Stenberg College's Cardiology Technologist program appealed to me for four reasons:
It was an online-delivery program, so I didn't have to relocate.
The program focused on the necessary material and education experiences to achieve the diploma (no extra time "wasted" working for a secondary degree).
The testimonials from graduates and students about work-life-school and career-life balance with this profession were exactly what I was looking for to further my education experience.
I was fascinated by the science of ECGs after learning about them in my cardiac rehab practicum.
Never more than a phone call or email away, I felt guided and supported throughout the entire application process. Once I completed the process, they advised me I was an excellent candidate, but I was number 10 on the waitlist for the December 2021 start. Stenberg assured me they'd be in touch, so I continued working. In early November, I received an email from the Program Registrar that I was number one on the waitlist! I called them the next day to discuss the likelihood of enrolling, and they offered me a seat for the December 2021 start! For the next three weeks, a flurry of paperwork and rearranging of my life ensued, but I was so excited and ready to start learning again – this time with a job-secure career waiting for me at the end.
Life as a Cardio Technology student
In my first few months in the program, we covered medical terminology, general and cardiac-specific anatomy, physiology, pathology, and health research statistics. While my degree lent itself well to the familiarity of these topics, I was continually blown away by our instructors' teaching quality and support.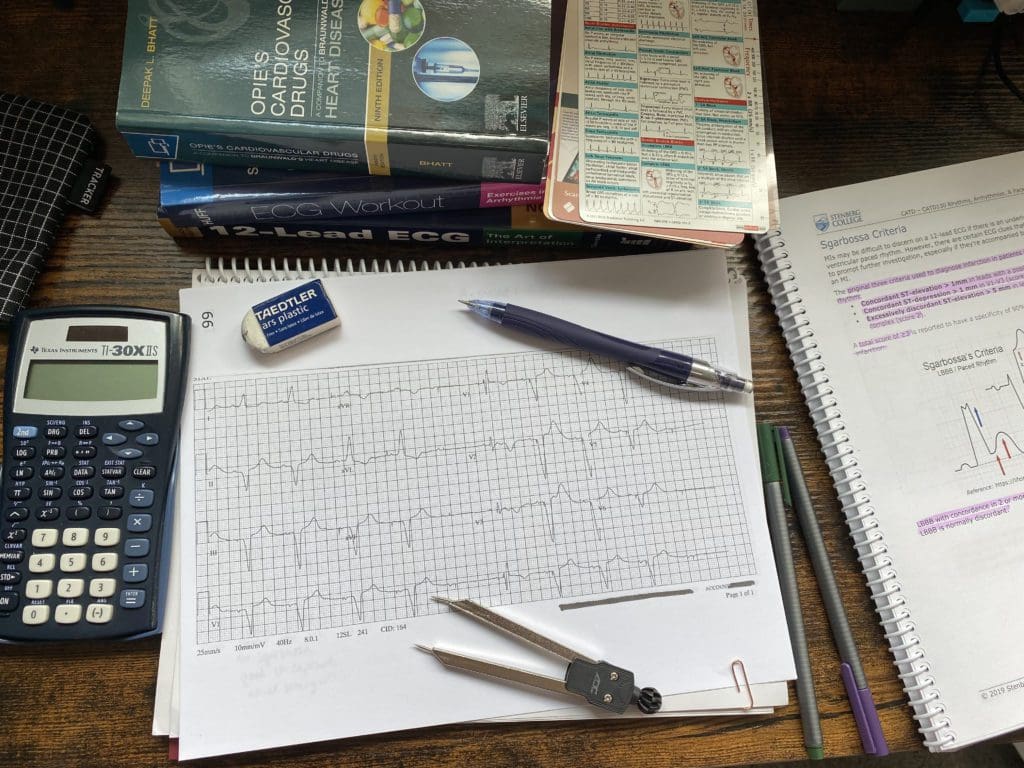 As someone who always preferred in-person learning, the genuine care of our instructors helped transition us to an online learning environment. They worked to develop us into good students with good habits that approach learning with a positive and can-do attitude. My classmates and I are a diverse group of various ages, backgrounds, and work and education experiences. Our instructors continually foster a "no one gets left behind" environment where everyone feels safe and supported to learn and grow. It is very cool (and reassuring) to have instructors who are genuine experts currently practicing in the field, and it's always fun to "geek out" about the heart in live collaborative sessions with instructors and peers.
Six months into the program, I now have cardiac pathophysiology and pharmacology under my belt. Currently, I am in the course that is the "bread and butter" of this career – ECG interpretation and pacemakers. So far, I'd describe it as learning a new language. Who would have thought some squiggly lines on a grid paper could tell you so much about the heart?!
There has already been so much hard work to get to this point (balancing working part-time while studying has proven a bit stressful at times), but it is rewarding to look back on my accomplishments. It's even more exciting to see what is yet to come. We are now preparing for our in-person labs, and as a Saskatchewan student, I will soon travel to Calgary to attend labs. I look forward to meeting some of my classmates and instructors and starting the next leg of the journey to apply our heart theory knowledge to clinical practice simulations.
While it may have taken me a while to find my way to this profession, I am happy and grateful that I took the leap with Stenberg. Sometimes all you need to do is click that "Ask a Program Advisor!" button – you may just find yourself working towards a promising and fulfilling career.