Happy autumn, everybody!
While most people attribute September to "back to school" time, for Stenberg Cardiology Technology students, September meant going back for our second round of in-person labs to tie off our ongoing studies completed throughout the summer. I returned to the C-era clinic in Calgary and reunited with some of my classmates and instructors. We were excited to see each other again and quickly swapped stories of our experiences at our integrated practical experience (IPE) days last month.
Learning to administer stress tests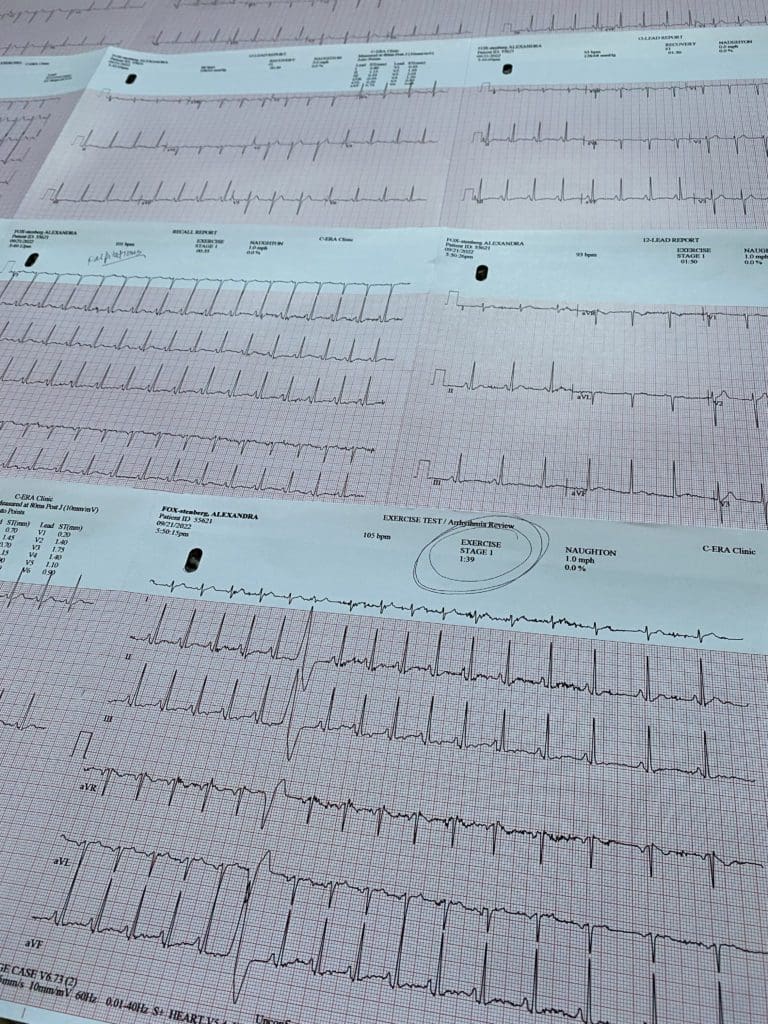 Soon we settled into our new lab routine. While the previous lab had focused on standard 12-lead electrocardiograms (ECGs) and interpretations, this lab focused on administering treadmill exercise stress tests while monitoring vitals and a live 12-lead ECG. You need to be comfortable and confident in your ECG criteria as interpreting the exercise ECG is continuous and time-sensitive while multitasking by taking the patient's blood pressure and monitoring their symptoms. Our instructors "stressed" (pun intended) that because every patient is different with their heart condition(s) and medication(s), it is essential to connect how the patient does during the exercise stress test and their symptoms.
Cardiac patients are referred for an exercise stress test for many reasons, including to:
Diagnose ischemic changes with exercise
Determine if there are any heartrate-related arrhythmias or bundle branch blocks
Gauge functional and exercise capacity post-procedure
Confirm if medications to control certain heart conditions or rhythms are effective
As you can tell, we needed to learn how to take an accurate and comprehensive cardiac medical history to help screen the patient before even beginning the treadmill exercise stress test. Since my classmates and I have healthy and normal hearts, we took turns utilizing a simulator controlled by our instructor. Plugging the simulator into the exercise stress test ECG program helped us practice responding to critical changes seen in the (simulated) ECG and determining when to terminate the test in an (emulated) unsafe/life-threatening situation. Training on the simulator was our favourite part of this lab, as we could see and experience examples of situations we will encounter once in a clinical environment.
Holter scanning, phlebotomy, and more!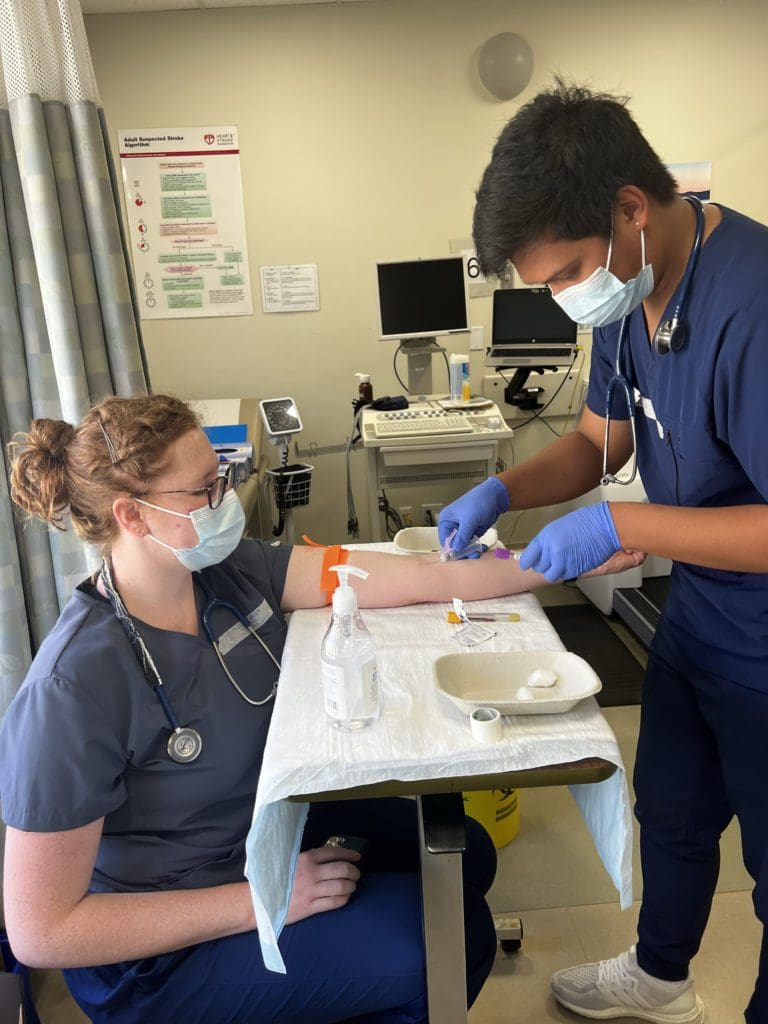 In addition to treadmill stress tests, we also had a few other skills that we developed during this lab! On weekends we learned about Holter monitor scanning, and during the week, we had workshops to learn how to prime IV lines and practice basic phlebotomy skills.
While some of our instructors were gracious enough to lend us their arms to practice our venipuncture skills, we primarily practiced on each other. Many of us were nervous about doing the needle pokes or queasy about being poked by a needle. However, we had a reassuring and confidence-boosting Phlebotomist to help us through every jab. By the end of our required venipunctures, we all felt accomplished in tackling an intimidating course requirement!
Next, we learned about Holter scanning to prepare us for our upcoming theory unit beginning after labs. We spent time familiarizing ourselves with the Holter scanning software and learned tricks to analyze the Holter recordings more efficiently. Another valuable skill we learned was to type our findings in a summary report. You must be confident in your ECG interpretations as you must scroll through 24 hours or more of continuous ECG data and train your eyes to pick out any abnormal beats or rhythms the software may have mislabeled.
While tedious at times, Holter scanning means that Cardiology Technologists will never be out of a job, as no software is perfect in perfectly identifying and labelling everything correctly. It's a part of why this career is in such high demand.
Looking forward to clinical preceptorship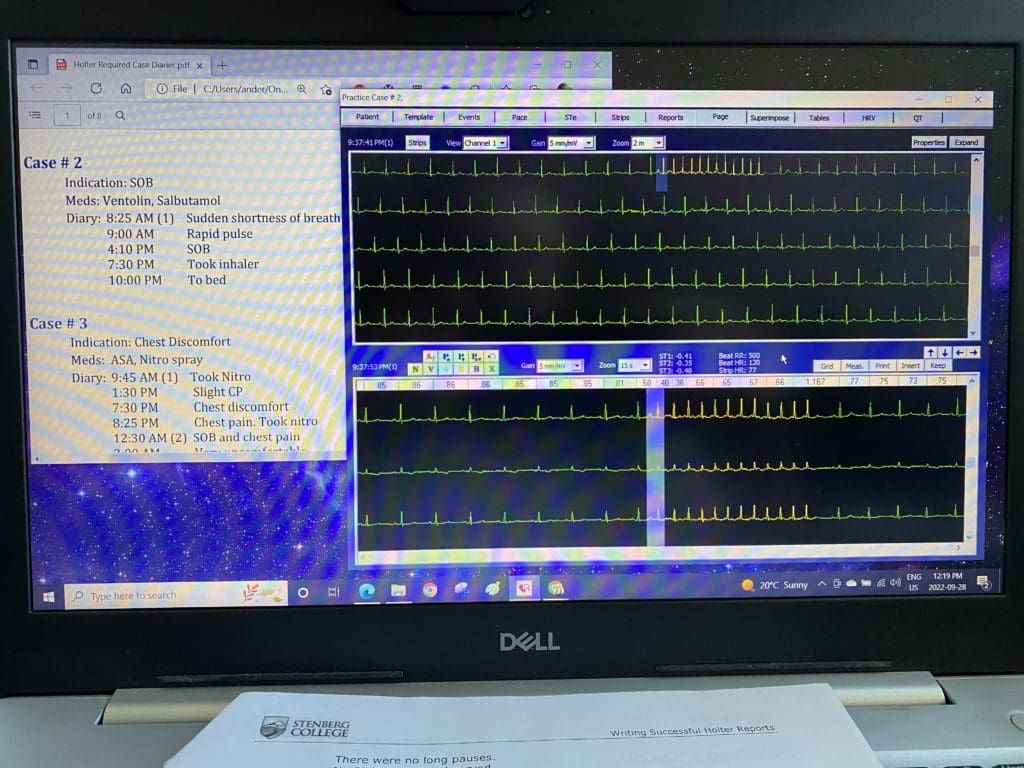 Overall, we packed so much learning and skill development into two and a half short weeks. Soon we will be able to test our newly acquired treadmill stress test and Holter scanning skills during our upcoming IPE days in October.
Before we know it, our clinical preceptorship will begin at the end of November!
Until then, you can find me at my study desk with my laptop and favourite cozy fall drink, clicking through Holter scans in search of those elusive abnormal heartbeats.