A couple of very stressful and intense months of the Nursing Unit Clerk program have ended. I had thought at the beginning of the program that some of it was going to be a bit of a refresher because I'd already been to school to train as an LPN and had worked in the hospital setting for some time. The Anatomy & Physiology (A&P) class, however, has been far more challenging than I could've imagined. Learning all of the medical terminology had me feeling so much stress that I hadn't had had a solid night's sleep in at least six weeks. I was up at dawn to review and awake late into the night to ensure I really gave this class my best effort.
Besides the fact that I have a strong tendency for perfection, to my detriment, I also have a  powerful fear of failure. The upside to this, according to my instructor Wendy Scott, is that perfectionism is a desirable quality in a Health Unit Clerk. Besides helping calm my fears, I found this pretty funny. Who could've expected that a quality I'd always considered a character flaw might one day become my strength?
Preparing for our first big NUC exam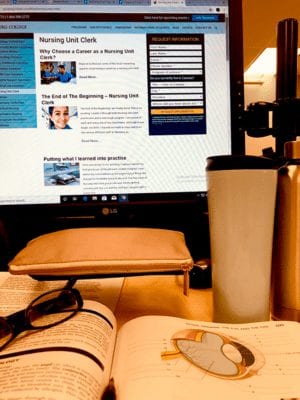 Nerves were soaring during the last two weeks of A&P. The clock was ticking fast, down to the day of the final evaluation. The pile of flashcards filled with medical terminology was growing higher by the day. It honestly didn't seem like there was going to be enough time or days in the week to cover the material I knew was going to be on the test. Nevertheless, I decided to take this last stretch of the module one day at a time. It would have been so easy to let myself go and be overwhelmed by the anxiety, but I simply kept telling myself that Wendy was going to have us all well prepared. So if I went through chapter reviews and read the textbook, I should allow myself to breathe easy.
Nursing Unit Clerk class
Believe me, there were a few days when I just wanted to crawl back into bed and quit forever but I couldn't let myself do that. Coming this far and giving up now was out of the question.
My classmates were also scrambling with these feelings of not being ready. I shared with them my thoughts about just taking a deep breath and having faith. We would all be just fine. We had done the work and the test would reflect that.
I'll never forget the two days before our final when we were all drilling one another on the abbreviations by taking turns at the board as the teacher and listing each one until no one was getting any wrong.  I'm so grateful for the solidarity and support that has grown between the whole class. I really think that's where I find the strength to keep believing that I can succeed. We remind each other so often "we got this!" that it's hard to believe otherwise.
We all passed!
I knew we would all pass. This is a dedicated group of individuals. The hard work and commitment my cohort brings to class inspires me every day. They challenge me to be a better student, and in turn, become the best Unit Clerk I can be. But I think even better than having passed A&P unscathed was coming back to the Stenberg campus to see that the holiday season in full swing!
During our final exam preparation, each cohort created a gift basket for the annual Stenberg basket raffle. All proceeds raised in the raffle support the Surrey Christmas Bureau's Adopt-a-Family. Our basket was holiday-themed and filled with things like mittens, cocoa, cards, chocolates and decorations. As that first week in December rolled on, the lobby filled with more theme baskets overflowing with treats. Themes included Godiva chocolates, health and fitness, wine-lovers, baking, and Stenberg staff provided a lottery ticket basket.
What's next?
Up next of course is obviously Christmas! For myself, I have little ones still running around the house so it's a time of year that I find really special. Although I wouldn't mind a present or two myself, I'm sure that just like always, I'll break the bank spoiling my family. For me, Christmas is not so much about presents as it is the opportunity for everyone to take a couple of days off from our busy lives, sit around a table and enjoy a great meal, maybe with a warm fire, and enjoy each other's company before the new year comes.
Are you interested in pursuing Nursing Unit Clerk career? Visit Stenberg to learn more, or to speak with an advisor.