Delivery Method: Online
Duration: 40 weeks, including a 6-week practicum
Start: Three times per year (January, May and September)
Credential: Diploma
Wages: start at $23.51/hour (+12.2% in lieu of benefits)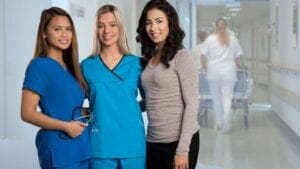 Nursing Unit Clerk Career
As a Nursing Unit Clerk, you'll find opportunities for employment in hospitals, extended, intermediate and long-term care facilities, and private surgical clinics.
Based on employment statistics gathered by Stenberg College, the wage graduates of Stenberg's Nursing Unit Clerks can expect to earn is $22.23 per hour (+12.2% in lieu of benefits).
A Nursing Unit Clerk graduating from Stenberg College is qualified for employment in other provinces within Canada. As a graduate, you will also be able to seek a professional designation in the United States as a Certified Health Unit Coordinator.