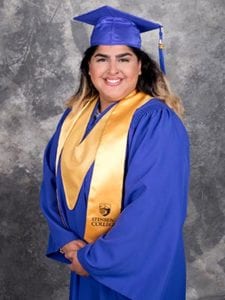 Mumta Karra's infectious laugh is easy to love, and something the 27-year-old shares with a compassionate generosity. She's the kind of person whose presence lights up a room and her friends, co-workers, instructors and fellow Nursing Unit Clerk program students are quick to speak positively of the role she's played in their lives.
"Mumta is a real gem…anyone that gets to spend time with her will know or learn that she has a generous heart and is genuine to the core," said J Turner, whom Mumta worked alongside while coordinating a food bank drive last October. J went on to say that "individuals like Mumta are undoubtedly rare. She cares about everything she does and every individual she interacts with."
Caring but daring
That caring nature, coupled with strong organizational skills and the ability to take charge in chaotic situations led Mumta to Stenberg's Nursing Unit Clerk program. "Health care runs in my family," said Mumta. "My dad was a doctor in India for ten years, while my mom worked as a Registered Nurse at Vancouver General Hospital (VGH) for over 20 years. As a child and a teenager, I had thought about becoming a nurse, but was also attracted to a career in law enforcement, which I felt would suit my personality, as I am a naturally assertive and outgoing person."
Finding her passion as a Nursing Unit Clerk
After a personal issue forced Mumta to withdraw from the Youth Justice Program diploma she was enrolled in, Mumta spent several years aimlessly completing courses at different institutions. "I didn't know what to do. I wasn't confident. I would go to school and then sit there for a couple hours and absorb nothing; I was just zoned out the whole time. I'd never study. I'd fail classes all the time. I had no drive. I had no passion. I had no idea what I was doing; I was just going through the motions. I felt so uninspired and so unmotivated to do anything so I just stayed in school because I thought 'eventually it will click and I'll develop that passion that I had for law enforcement again.'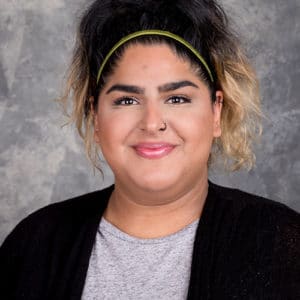 I got tired and I didn't know what I wanted to do but I knew I wanted to go into the health care field and by then, it was a three-year wait to get into nursing so I thought, 'what's the next closest thing I can do?'"
After a coworker at her retail job suggested that Mumta should look into private institutions, Mumta checked online and came across Stenberg College. "I called that day and found out that the next intake was in May, so I knew if I gave my notice at work that day, I could give my full two weeks and start the program. "I said, 'I've got to give this a chance. I've got to try,' because how often does it happen where when you call and the intake's in two weeks? That never happens, ever, and take it from me, I've been in school for 20 years," Mumta laughs.
Gaining her confidence and ambition
Mumta excelled in the program, and according to instructor Kami Sohal "displayed professionalism, an excellent work ethic, and a consistent desire to learn and apply her knowledge." Despite suffering from severe gallbladder attacks that eventually required surgery during the program, Mumta maintained a 95% GPA and was fortunate enough to receive a practicum placement at VGH, her first choice host site. After impressing her practicum supervisor with her "enthusiasm and passion," Mumta was offered a permanent position at the hospital during her final week of practicum. "I was crying so much when I found out," Mumta recalls. "Stenberg gave me my confidence back. I started to develop ambitions again and be inspired again and start dreaming again. I had lost that for so many years."
Asked about the biggest changes she noticed in herself during the program, Mumta is quick with an answer: "Confidence. I remember being in school at Stenberg and although I had leadership qualities, there were a lot of times where I was doubting myself, wondering 'Can I do this? Look at some of these courses, they're so condensed and everything is moving so quickly.' Seeing that I could not only keep up but also actually excel was a huge confidence boost.
Life right now is amazing. The steps that I take forward in my life now are a lot more confident. I know what I want from life and thanks to Stenberg I am prepared for a career that's going to allow me to get to where I want to be."