How an MBA grad from China tackled the business of health care and became a Nursing Unit Clerk
"English was hard for me, so I did everything possible to improve myself – to speak more, listen more, practice more, and read more. Although it can sometimes be stressful, I will not quit. This is my choice." Lin Bi is a proud Nursing Unit Clerk graduate from Stenberg College. When she moved to Vancouver from China, she was searching for a better life, and she found it. It was not an easy decision to move across the world and away from her family but she knew that this was the right choice.
In China, Lin was highly educated. She graduated with a Master of Business Administration (MBA) at the top of her class, although she is humble about her accomplishments. "For me, being the top student is not important. The most important thing for me is to be healthy and happy. Since I was a little girl, my parents always told me that education is a very important investment, and they were right." As she did in her MBA program, Lin graduated with distinction at Stenberg.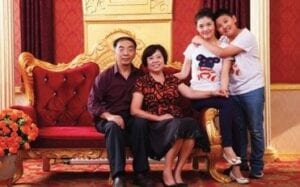 FROM TEACHER TO STUDENT
Before moving to Canada and with the value of education instilled by her parents, Lin taught English in China. "My English was very good in China, but here in Vancouver, it's totally different," she explained. "Since moving here, I learned I need to work on my grammar and vocabulary. I find listening and understanding very challenging because local people speak very fast. It's completely different from what I learned and taught in China."
Lin did everything she could to succeed in her new country. "I tried my best to go to Stenberg's free ESL class every Tuesday and Friday. I had so many questions. The instructor, Jennifer, helped me a lot. Every time I talked with her, I told her, 'Correct every mistake!' She was very patient."
"I gained a lot of knowledge, skills, and made friends. I've enjoyed this journey. I took part in every activity because I knew that I only had one year in school and wanted to participate as much as possible. The other students and I always helped each other out in class, and we also had fun with activities for Halloween and Christmas."
Being the dedicated hard worker she is, Lin made a rule for herself: for every movie she watched in her native language, she would watch one in English. Watching Hollywood movies helped her learn the language while entertaining her at the same time. It was a rule she followed diligently.
SPEAKING OF RULES…
In addition to Lin's discipline and dedication, her instructor played a key role in helping her exceed the demands of the Nusing Unit Clerk (NUC) program. "Our instructor was very strict with us but it prepared me for the career and the industry," Lin said smiling. "If she wasn't strict, it would have taken me more time to get used to the workload in my practicum. I was very happy with the NUC program."
MORE THAN JUST AN EDUCATION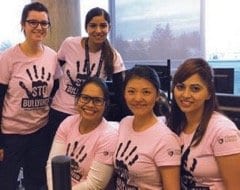 Though Lin shone in her Nursing Unit Clerk program and was offered a job after practicum, her time at school was more than just an education – it was an experience. "I gained a lot of knowledge, skills, and made friends. I've enjoyed this journey. I took part in every activity because I knew that I only had one year in school and wanted to participate as much as possible. The other students and I always helped each other out in class, and we also had fun with activities for Halloween and Christmas."
Immersing herself in learning and extracurricular activities helped prepare Lin for her practicum, and ultimately, for her career. "I was very excited but at the same time, I was worried because I didn't know how I would do. I tried to be very confident."
HARD WORK PAID OFF
Lin's confidence worked and she was warmly received by all. "Lin has a good personality that makes her a wonderful co-worker in the group," her Pastor wrote in a letter of recommendation. "She does not hesitate to help those in need, and she's also a trustful helping hand in setting up the Sunday service."
A fellow student of Lin's agrees. "Not only did Lin face many challenges, she grew from her experiences. She has come a very long way on her journey. Seeing her now, she is calm, collected, focused, and very professional in her career." Lin's colleague continues, "She's a lovely addition to our team with Providence Health Care, as we only hire the most dedicated people and hard-working individuals."
When asked about her success and all the kind words her peers have to say about her, Lin was humble. "To be honest, before I studied here, I didn't believe in myself – I even suspected that I might not get my certificate because the medical terminology was very hard. After learning the terms well, I found everything in the course to be so interesting," Lin explains. "In every journey, there will be ups and downs, and sometimes you get lucky. Just continue, and you will get your dream… make your dream into a reality."