I don't think that anyone could have predicted this is how 2020 would end up. I did not think that I would be continuing the rest of my Hospital Support Specialist program online, taught through a webcam. We've been doing online classes every morning for about a month, which has now switched to 5 p.m. this past week. It has taken some time to adjust to these new circumstances but every day I try and find things to make myself feel some sort of normalcy.
At this point, I have accepted that this is the way things are going to be for a while as we don't have a timeline to when this will be over. I'm trying my best to soak it all in and enjoy not having to work. Instead, I use my free time to focus on school and my health. It is very important to stay optimistic through these times. Tough times don't last but tough people do!
Online classes via webcam have been great! I'm not going to deny that getting up at 9:25 a.m., opening my laptop, and "going to class" is so much easier than waking up an hour before class and transiting for 30 minutes every morning.
It can be difficult to stay completely present for the entire class because there can be a lot of distractions in the comfort of your own home. The worst part is how much I miss face-to-face interaction with my classmates. It is sad to think we may never all be in the same classroom again. We spend the majority of class with everyone's mic muted while our instructor talks about the topic of the day. You can electronically raise your hand and unmute your mic to speak. It's all pretty self-explanatory and a different dynamic than what class was like before. Just like everything else, it's something new to adjust to.
Day to day life in quarantine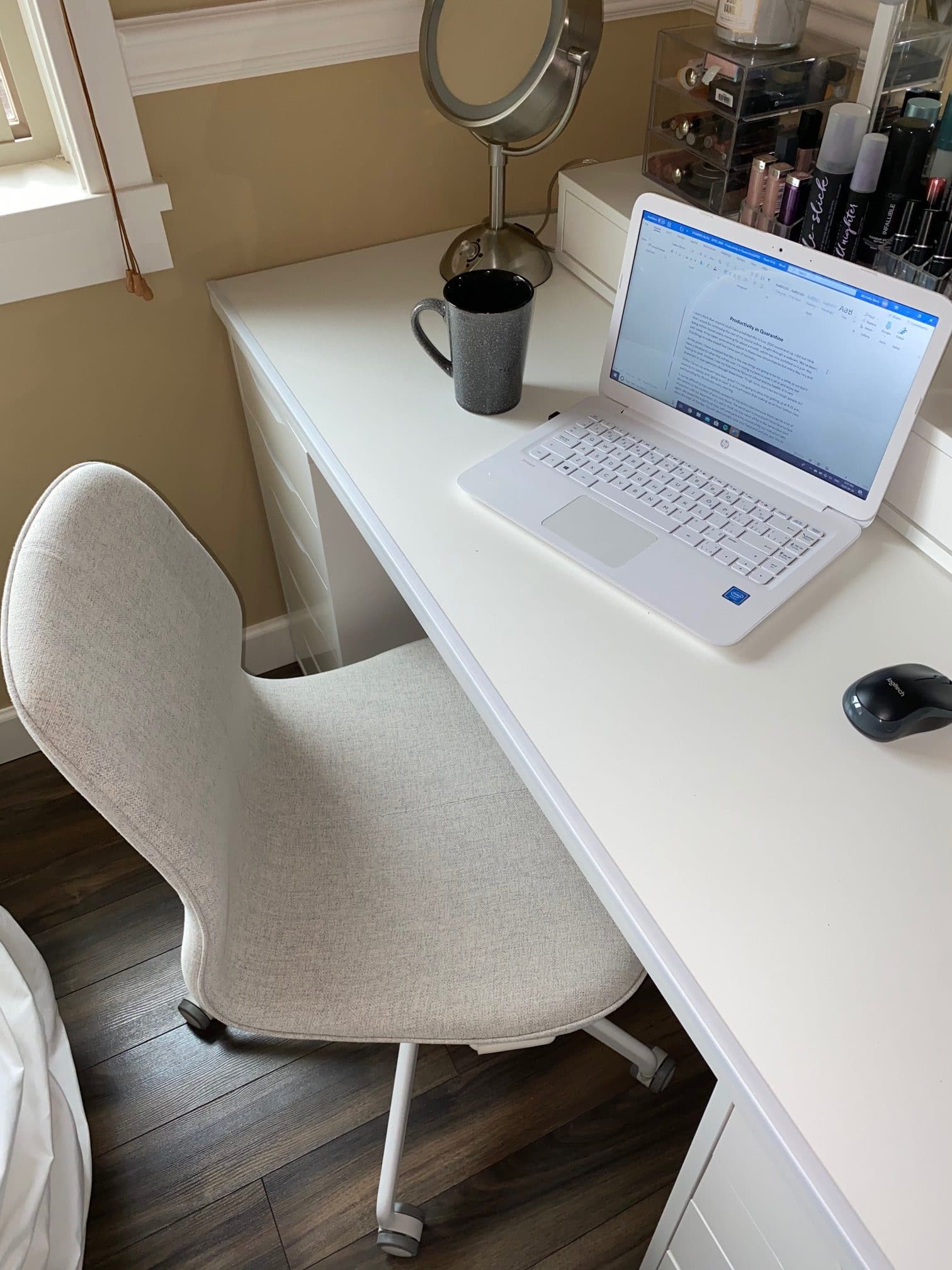 My everyday life is different in so many ways, which is the case for millions of others around the world. There are pros and cons to this new way of living. Some of the pros would be not needing to set an alarm, having more free time, and being able to focus on me. The cons are not having face-to-face interaction with my classmates and friends, not working out at the gym or shopping at the mall. There are so many of the little things that I took for granted and miss so much! I am in desperate need of a haircut and would kill to get my nails done right now.
Most mornings I try to get out of bed before 10:00 a.m. Making my bed as soon as I get up has been a good start to my day because then I'm not tempted to jump back in. Now that we don't have class till 5:00 p.m., I try to finish my homework in the morning. Once that's done, I'll make myself breakfast and head outside for some cardio by either jumping rope, going for a long walk or running laps at the field near my house. This is important to me because without physical activity I would go crazy. After that, I'll try to get some chores done around the house. I have been trying to fill in most of my free time with things that I enjoy, whether it be baking, reading a good book, or FaceTime my friends. Every day is pretty much like the last, it's hard to keep track of what day it is.
Motivation
I'm sure most people are finding it difficult to stay motivated under these conditions. Some days are easier than others to stay motivated. On a good day, I'm able to plan everything that I want to do and get it done and some days I find it hard to get myself out of bed and do anything other than binge watch a good show on Netflix and eat everything in the fridge! I find it important to set goals for myself every week to hold myself accountable for what I have and have not done.
My mind is constantly conflicted with the fact that I have all this free time so I should just relax and enjoy myself, but on the other hand, there's so much to do that I normally wouldn't have time for. I guess the key is to find a good balance between the two. I'm glad to have school during this time to keep me busy and hold me accountable for being productive.
What's to come?
The hardest thing to comprehend regarding this whole pandemic is the unknown. Not knowing when this is going to end and if this is even going to end. If we are ever going to go back to the regular life that we all remember. I always tell myself that we are all in this together and not overthink what could happen. Just take it day by day and keep a positive attitude. I can choose to come out of this COVID-19 pandemic five steps behind or five steps ahead in life. For now, I have my schooling to focus on and my health and fitness.
Thank-you Stenberg College
I do want to end this blog on a high note to say thank-you to everyone at Stenberg College who has worked so hard to alter our courses from in-class to online. It has been so seamless and easy for me. I was not stressed or concerned at any point regarding whether I was going to get the adequate education I needed since we can't physically go to school. I know that a lot of hard work went into adjusting all the schedules and classes. Not to mention we had virtually no time to prepare for this!
Also, a big thank-you to our teacher Harminder who made online classes super fun and exciting for us. I'm truly going to miss having you as an instructor.
Are you interested in pursuing Hospital Support Specialist career? Visit Stenberg to learn more, or to speak with an advisor.