"Believe it and it will come to you." That's Sabrina Halladay's mantra in life. The Om symbol etched on her hand bears witness to her past struggles, her current successes as a Hospital Support Specialist and the promise of a future without limits where anything is possible.
Sabrina's perfectly styled purple Mohawk and the many tattoos adorning her body, may not fit the conventional standards of what a health care professional should look like but she's unapologetic and at ease with her appearance. Her style and presentation are illustrative of her life experiences and the long way she has come in life.
It wasn't an easy decision for Sabrina to go back to school at 30 with three young children and a family to look after. However, she knew it was an integral part of her quest for self-realization and to become the role model she knew her daughters needed. Almost ten years after her high school graduation and armed with an awe-inspiring determination, she started her life-altering journey in Stenberg's Hospital Support Specialist program.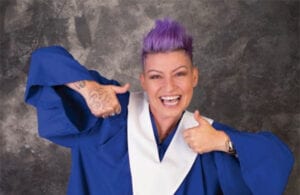 GROWING UP IN WHALLEY
Sabrina grew up in Whalley, Surrey, in a chaotic and dysfunctional home that was her norm. She confesses, "All through high school, I was not the best student. I was the bully and I tended to pick on people because I didn't know any better."
Without any positive role models, Sabrina "just skimmed by" high school and didn't apply herself. In Grade 11, she told her mom she wanted to be a hairstylist when she graduated. "Don't bother…," her mother counselled her. "There's no money in it. Marry someone rich and you'll be fine." Although discouraged, she didn't let her mom's advice kill her desire to become a hairstylist. Even though she never went to school, she did become a self-taught hairstylist and worked out of her home for years. As she looks back at her early years, Sabrina is "very thankful" that she's no longer the person she was back then.
FROM HAIRSTYLING TO HEALTH CARE
Sabrina met her husband in her early twenties and started a family. She has two daughters and a son. It took an innocent prompt from her daughter that jolted Sabrina and made her think about going back to school. "I asked my girls one day 'What you want to be when you grow up?' And one of my daughters looked at me and said 'Well, I'm just going to grow up and get married and have babies like you'. It really stung inside to know that, unknowingly, I'm teaching them this is what every woman does. It hurt and I thought I should really do something with myself."
Determined to change her life and become a better role model for her daughters, Sabrina started researching different career options. A chat with her cousin who works as a Medical Office Assistant (MOA) got Sabrina interested in health care. Sabrina met with a program advisor at Stenberg College, who encouraged her to pursue the Hospital Support Specialist program. "The Program Advisor asked me what I actually wanted to do and I thought it'd be kind of cool if I could work in the emergency department of a hospital. I find it high paced and thought I would be a good fit. She told me that if I took the Hospital Support Specialist (HSS) program, that's exactly where I would be!"
Sabrina was "blown away" that she had accidentally stumbled upon the ideal career for her. She signed up and was so excited to start the program that she even took the preparatory notes about the course on a family camping trip.
COMING INTO HER OWN
Sabrina's first day at Stenberg was filled with a mix of excitement and nervousness. She was excited to start learning again but was apprehensive given her past experience in high school. Sabrina recalls, "when I walked into the class, I was the only one that looked like me. I saw that little groups had already formed and I'm kind of taken aback." However, it didn't take long before she became a part of the groups and made friends, who have now become "her family outside of her home."
Building new friendships and a network of support helped Sabrina better apply herself at school and in life. In spite of all her success, Sabrina says her major personal achievement since starting Stenberg Hospital Support program was finally getting her driver's license at the age of 31. "You know you do all these things to become an adult like you move out, you get your driver's license, you get that independence and that freedom. I do everything traditionally backwards. I had tried getting my driver's license but never got it. I had severe test anxiety and I'd just drop on the floor whenever I'd go to take the test."
Taking one of Stenberg's more demanding programs and writing tests every day, filled her with a new confidence that eased her test anxiety. "Being able to come to school and take tests every day and having a support system at home gave me the confidence I needed. Having the support that I always craved and wanted, kind of pushed me to go for everything that I ideally thought an adult should have."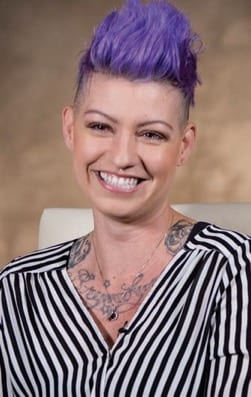 "I always joke with my husband," Sabrina recalls, smiling. "We've had three kids and a ten-year relationship under our belt, but it wasn't until I went to school that I finally felt like an adult." Her husband, Jamie Nicholson, who has got her coffee every morning for 11 years, noticed the change in her. "I saw her come into her own and noticed the change probably half-way through when she got comfortable in the Hospital Support Specialist program. Going to school gave her the confidence to try other things that had made her nervous."
Having the support of her family mattered a lot. Nicholson realized the importance of Sabrina's quest to achieve something for herself and supported her. "I always knew she could do anything she wanted and I am a firm believer in that. This is the first thing that she probably got to do for herself. She's worked really hard and managing the house with three young kids can be very difficult while studying. So, I stepped up and gave her the break so she had time for herself."
So, who should get the credit for Sabrina's achievements? Nicholson jokingly says that he should give himself a pat on the back for being the supportive husband but credits Sabrina's success to her will and her courage to do it. "She never imagined in her wildest dreams that she could ever achieve anything like this, especially from her background. She's an inspiration to a lot of girls, especially from the neighbourhood who don't have the family support. I am very proud of her."
BECOMING THE ROLE MODEL
A part of this process of feeling complete as an adult was accepting herself. When her instructor asked her class to share first impressions, many recalled thinking of Sabrina as being a "mean, tough chick". They couldn't have been more wrong.
"Sabrina is quite a contradiction if you look at her," Harminder Mathur, HSS instructor, recalls her initial impression of Sabrina. "One can be misled by her hair and tattoos," Mathur says, "But if you look beyond you'll meet a hardworking and friendly person." Harminder has seen Sabrina grow into a confident hospital clerk and remembers that her success didn't come easy. Sabrina had three young children, husband, pets, and other life events to tend to while she was attending Stenberg. Harminder applauds Sabrina's dedication, "it is commendable. At one point she failed a test because she thought she could handle everything. That really hit her and she completely turned around and worked hard to finish the program at the top of the class." Having learned her lesson, Sabrina worked harder than ever to maintain an impressive 91% grade point average (GPA). She even volunteered for activities and helped her classmates out whenever she could.
Sabrina is a loving and caring person, who wants to make everyone's lives a little bit brighter by being the best and most authentic version of herself. "Sabrina is an imperfectly perfect mom, friend, classmate and student, someone who will not pretend to be who she is not for the sake of gaining favor or getting an award," Sabrina's voice trembled with emotion as she read this letter from her friend and classmate, Melojane Boone (or MJ as Sabrina calls her).
MJ shared the journey to becoming a Hospital Support Specialist with Sabrina and testifies to her kind spirit. "Sabrina was always ready to help anyone who needed it. Her mouth does not spit roses but you know she means well. She gave us a tough kind of motherly love."
As the program was about to end, Sabrina realized that her edgy hairstyle and tattoos might not go down well at her practicum. "When school was nearing an end, I took a hard look at myself in the mirror and thought about where I may be potentially placed for practicum. I thought this might be a lot to digest and take in when you don't know someone, so I toned it down a little bit. My hair went brown, I tried growing it as much as I could and I was ready for practicum."
Her attempt at looking conventional didn't last long. "Do I really want to go in and start something as a false representation of myself? Whether it's hair colour or wearing a long sleeve versus short sleeve shirt. I didn't want to come in as someone I'm not." And out came the "bucket of bleach and the purple hair." Sabrina's comfortable being who she is and it adds to her confidence.
"She never imagined in her wildest dreams that she could ever achieve anything like this, especially from her background. She's an inspiration to a lot of girls … I am very proud of her."
– Jamie Nicholson, Husband
"I wanted to go into my practicum and potential place of work as 100% me. And not that my outside package is not who I am, but I didn't want any sort of false representation of myself. So, I went with what I was comfortable with and I figured I can make changes if I need to… And that's what I did." Her daughters are working hard every day to become better students. "When I started school, my younger daughter had just turned eight. She didn't get what I was doing and she went to school telling everyone 'My mom's going to be a doctor!' She's already set her goals high." Her 10-year-old daughter has packed her future schedule. "She's working seven days a week. That just made me so incredibly happy."
By inspiring her daughters to have dreams and to go after them, Sabrina has accomplished the feat that she set out to accomplish. It's not just success, Sabrina has earned redemption. She believed, worked hard and achieved. Sabrina's currently on her second practicum at the Vancouver General Hospital and is loving every moment of her new career and new life.