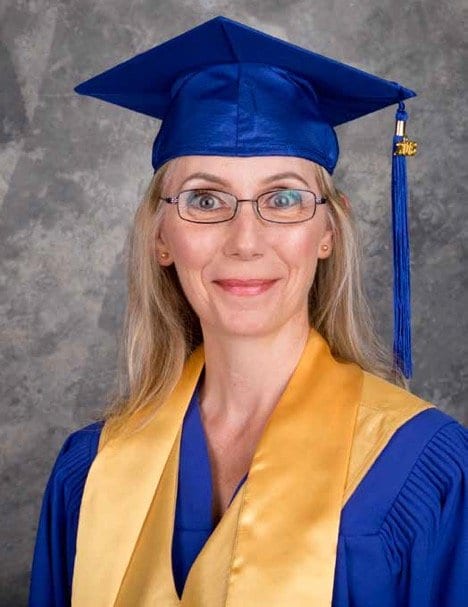 Sarah Evans is the kind of person anyone would be lucky to count as a friend. Equal parts funny and genuine, she's the kind of warm-hearted straight shooter one can trust immediately. Sarah's ability to connect with people of all ages is what led this former banker to the field of Therapeutic Recreation.
Born in England, Sarah attended a prestigious all-girls secondary school and followed both of her parents into the financial industry. Looking back on her prior career, Sarah recalled, "It was something that I was good at, but I never felt any kind of fulfillment. As the years went on, it became less of a people process and more of a selling process."
In 2001, Sarah, her husband, and their three children moved to Canada in search of a fresh start. Shortly after, Sarah returned to the banking industry. "It was comfortable and I knew I had to do it. It was easy to get a job and I needed to get an income at that moment, so that's what I did."
In 2012, Sarah remarried and knew that her children would soon be living on their own, so she decided to begin volunteering at a retirement community in the Lower Mainland. In a letter of recommendation for Sarah, the Recreation Coordinator at this facility spoke of how "Sarah has shown her care and done her best to increase residents' quality of life. I have never seen [a volunteer] who is so passionate about volunteering with seniors that they make the decision to purchase more education in order to better serve this population."
Sarah's decision to attend Stenberg was initially a difficult one; put off by the idea of the combined delivery format of Stenberg's Therapeutic Recreation program, Sarah wondered whether she would be able to keep up with online courses and younger classmates. Ironically, online learning turned out to be one of Sarah's favourite aspects of the program. "It allowed me to work at my own pace, to be there for my family and to run my business from home. In the beginning, I was concerned that if I had questions I would be kind of on my own but that wasn't the case at all."
Asked for her advice for those considering a career in Therapeutic Recreation, Sarah urged "Don't put it off. It's very important. Do what you have the passion for. If you have the passion and you have the drive, you'll make a success of it. Online learning can seem scary, but believe me, it's not. If I can do it anyone can do it. I was very computer illiterate before I started, but all of the
faculty and staff were there for me throughout my whole Stenberg journey and made me feel very comfortable and confident…Laurie [Chiasson, one of the program's lead instructors], actually ended up being my practicum monitor as well, so I'm really lucky that way. Everyone was very open and very helpful throughout the program." Laurie's evaluation of Sarah was similarly complimentary. "Sarah really was instrumental in setting the tone for one of the most impressive Therapeutic Recreation cohorts that we have ever had. I can't stress the value of her leadership enough." Laurie also supervised Sarah during
her practicum placement, and described her as going "above and beyond, while applying the therapeutic recreation principles of 'self-care and balance in life.'"
Sarah's ability to juggle various responsibilities is now allowing her to work as a Recreational Therapy Assistant at two separate care facilities in the Lower Mainland while also caring for her family.
Thriving in her new career, Sarah raves that she can now "go into work with a big smile on my face because I know I'm going to have fun; I'm going to make a difference in the lives of the seniors that I work with. The work I do as a Recreation Therapy Assistant providing meaningful activities for the residents is so important. It's amazing the impact that recreational programs have on the quality of living for seniors in long-term care and it's a wonderful feeling to know that I am a part of that."