Cheryl Bain is the Department Head and an instructor in Stenberg College's Therapeutic Recreation Assistant Diploma program. With 18 years' experience working as a Recreation Therapist, her passion and specialization is supporting older adults with a special focus on dementia. Known for her kindness, Cheryl has a genuine desire to share her knowledge and understanding of older adults, especially older adults residing in communities of care. Cheryl describes herself as "a strong advocate for honoring personhood, preserving and improving quality of life, and removing stereotypes about aging." Cheryl values the strength of the relationships she has developed with older adults and wants to share this with others.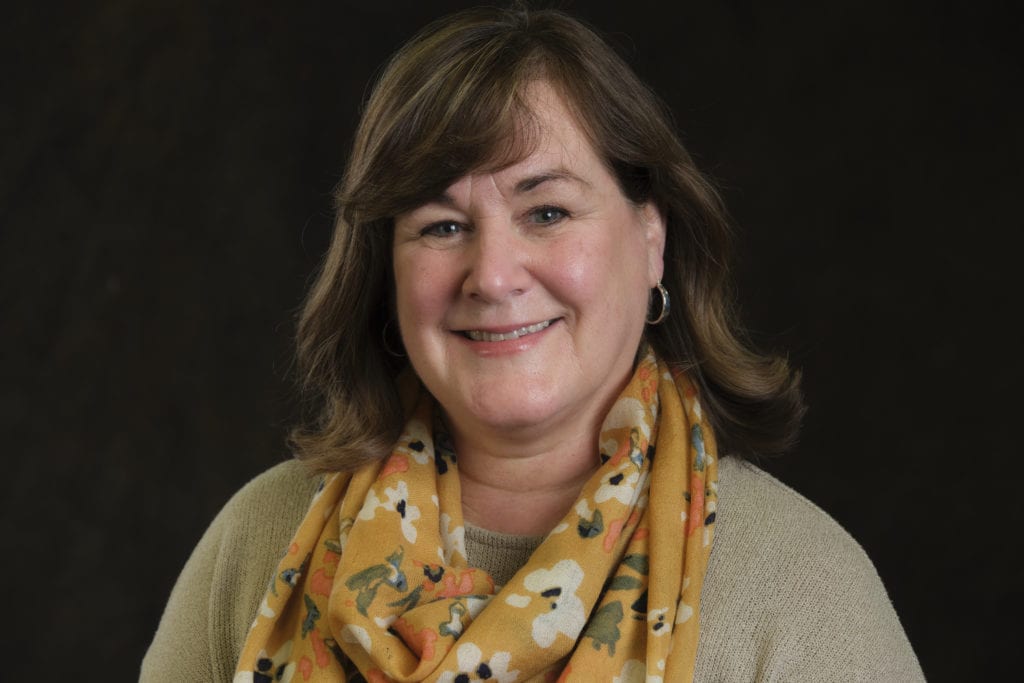 When I was asked to write this blog focusing on the role of a Therapeutic Recreation Assistant (TRA), the first thing that came to mind was the many different facets of our position. Sometimes people think a TRA is "the fun one," and although we certainly have fun, I want to look deeper. When I first began learning about Therapeutic Recreation, I thought it was just about activities, exercising and entertaining… but it is about so much more. We are not just the activity people who keep everyone busy. We focus on the whole person and build meaningful relationships that improve mental health, physical health, and wellbeing.
The importance of a TRA
Recreation Therapy is about getting to know each client, improving their quality of life and removing barriers to participation. We share our days with older adults who are unique individuals and have diverse life experiences. We are there to embrace their life journey, see their strengths and support their challenges. We get to know each person for who they are by sharing time together. As a TRA, we honour each person and provide person-centred care.
Every day brings new beginnings, familiar interactions and creative processes – it is all about engagement. We see people facing many challenges and we strive to support and provide therapeutic interventions. We want to make sure we are focused on each individual's wellbeing.
I would like to share some of my fondest memories and learnings from my career in Therapeutic Recreation. These are memories that highlight the importance of the role a TRA plays in a person's journey.
But first, I'd like to share a quote focused on Personhood – a term coined by Tom Kitwood, a pioneer in the field of dementia care. Kitwood challenged the old culture of care. He forged a new method that considered the perspective of the person with dementia. Kitwood's definition of "personhood" shaped my practice.
"Standing or status that is bestowed upon one human being, by others, implies recognition, respect and trust. Through this recognition, respect and trust, the personhood of an individual will be enhanced, as well as their wellbeing."

– Tom Kitwood
Memories of Donna
We once had a lovely resident named Donna whose family would create beautiful photo books for her. These books included photos of Donna at her cabin, as a young woman, enjoying life with her family, and so forth. We called these books "All About Me Books." The family wrote captions describing what was happening and who was in each photo so that we as Therapeutic Recreation professionals could bring those memories back to Donna.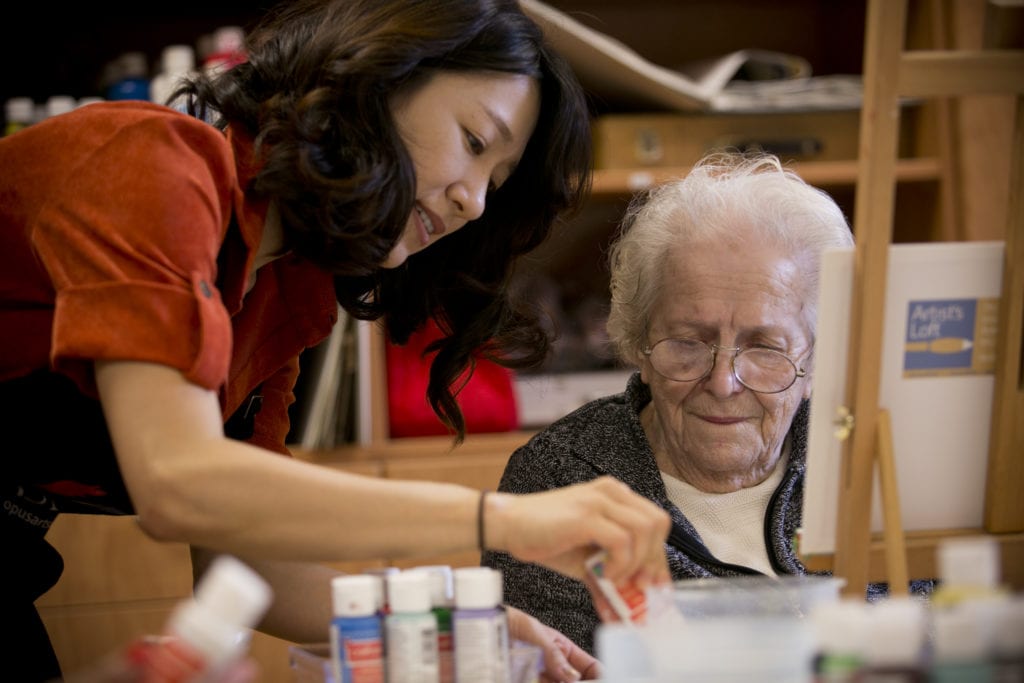 When Donna had a challenging day, we would bring the books out. As soon as we did, Donna would often settle, feel a sense of familiarity and get drawn into her memories. The TRAs sharing the book with Donna saw how this opened communication and helped them get to know the person living with dementia. One of the many gifts of Therapeutic Recreation is that it promotes memory. We are the voice that reminds residents about the things that bring them joy.
I have learned how difficult it is for families when their loved one is not able to recognize or remember them. It is important to remember when a person progresses with dementia that they are still there. The "All About Me Books" provide a sense of who the person behind the disease is. They may not be able to remember their life story, so we bring it back to them.
Memories of David
I learned so many lessons sharing my days with David. He moved into our community in his early 70s due to his dementia. David was a University Professor who believed he was on a sabbatical while living in our residence. He shared a lifetime of experiences and knowledge with all the staff, as well as students from the local high school who came to volunteer.
Intergenerational programs bring many positive outcomes for both the students and residents involved. David would teach anthropology lectures, sharing what he knew with the students. It was such a joy to see the interactions and responses both from David and the youth.
Often there is this misconception that a person living with Dementia does not have abilities or strengths and cannot contribute to society. We need to change our way of thinking and see the possibilities for everyone. We want to enter the world of a person living with Dementia and join them where they are at.
"Leisure emphasizes the importance of a person's perception that he or she is free to choose to participate in meaningful, enjoyable and satisfying experiences."

– Csikszentmihalyi
Memories of Stan
Not all residents are older adults. Dementia touches all ages. I remember a man in his late thirties named Stan who moved into the community due to early onset dementia. Stan's wife and two young children would visit with him daily.
For his children, it was difficult to watch their father progress with his dementia. The care community Stan was now living in was a very different environment than they had ever experienced. As TRAs, we are there to support the residents, as well as their families and loved ones.
Stan's son showed an interest in photography, so I gave him a camera to take photos. He became the community's photographer! Stan's daughter enjoyed art, so we had her engage in the community by painting small pictures of the residents and gardens. These roles gave the children a sense of belonging in the community where their father lived. There are many positive ways TRAs can contribute to the happiness of our residents, families and friends.
In the words of Maya Angelou, "I've learned that people will forget what you said, people will forget what you did, but people will never forget how you made them feel."
Like a village
A care community is like a village, and it is our privilege to create meaningful connections for the residents and their loved ones. Therapeutic Recreation Assistants are there to support residents and their families as they experience what may be a challenging, uncomfortable or unknown journey for them.
As wisely expressed by Rosemary Dunne, "To walk a mile in another's shoes, and only then, is to understand what the person needs or wants. This secret acknowledges the importance of identity."
TRAs often hear the family members of residents say things like "it's difficult to see my mother respond in a way that is out of character", or "it's hard to visit my father, he isn't how I remember him." I want you to know that they are still who they were.
As Teepa Snow said, "Dementia does not rob someone of their dignity. It is our reaction to them that does." Although there are many losses and changes, families and friends can learn new ways make connections. We know human connection leads to better health and a sense of belonging.
Therapeutic Recreation is about understanding the person beyond what meets the eye. We get to know who the resident is today, while discovering who they were in their past. We encourage connection with the residents and their loved ones. Dementia affects the whole family, and it is our privilege to support them as they walk that path together.
*All names have been changed to respect privacy.