Janelle Hay proves winners never quit. Her can-do attitude is uncommon in someone so young and her determination to achieve is rarer. Janelle's path to becoming a Cardiology Technologist was not exactly a cakewalk but she overcame hurdles with a can-do attitude.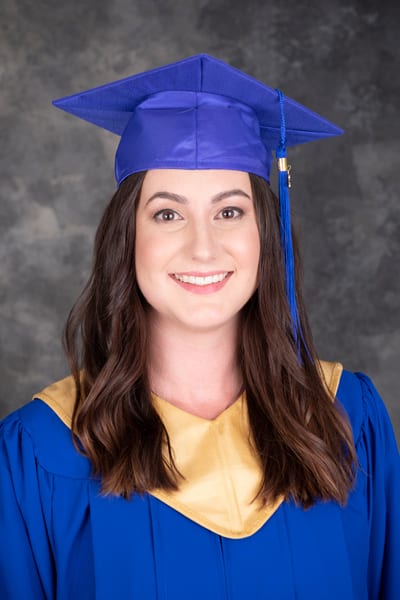 LEARNING TO FLY
Janelle's motivation to achieve and succeed is rooted in her experience as an athlete. She was an active child who enjoyed physical education. As she grew older, her interest in different activities increased and she participated in gymnastics, track and field, basketball, and swimming. "I was the top athlete in the school. Everyone thought I was going to the Olympics," Janelle laughed.
"I didn't want to do another four years at a university. I wanted something I liked and could turn into a career right after graduation. That's when I found the Cardiology Technologist program."
Being involved in competitive sports did not deter her from succeeding academically. At one point she had swimming practice eight times a week, which meant making compromises in her social life. Janelle recalled, "I would come back at 6 p.m., eat dinner, and do my homework. I wasn't a procrastinator. Sometimes I had to miss my friends' birthdays or even my own."
Janelle credits her goal-oriented mindset to being a competitive athlete throughout school. Akin to setting a goal for her lap time, she began setting goals in her education, which was a successful method for her. Janelle shared her studying technique, "I always had to set goals. I'd ask 'What's your time goal for the next swim meet or track competition?' I applied it to school as well. My goal was to get things done in advance so I could start working on the next project and avoid getting overwhelmed by schoolwork."
She finished high school top of her class with the highest GPA and as the most athletic student. A huge credit for Janelle's determination goes to her parents. "Both my parents were involved but my mom was the main supporter. She was basically the taxi driver. She was always at every single one of my meets unless there was something that inhibited her from attending."
Growing up, Janelle had considered becoming a police officer or an occupational therapist. But life had other plans and after graduating from high school, Janelle decided to pursue Bachelor of Science in Biology at the University of Victoria (UVic). This meant leaving her parents' guidance and protection and learning to fly on her own.
TURNING A CORNER
Moving into a residence at UVic was a new way of living for Janelle. She had grown up in a small community in Abbotsford and went to a high school with small class sizes. As a freshman, Janelle was curious to explore her new social life. "The first semester at UVic was really bad," Janelle recalled. "It definitely was more about the social aspect. Everyone would tell me, 'Oh first year doesn't matter. No one looks at your grades, don't worry about it.'" For Janelle, who had never left anything to the last minute, the concept of studying the night before and skipping classes was something new. "I thought if others could do it, I can do it."
It wasn't long before Janelle realized she was not cut from the same cloth as some of her friends. She did not like her performance in the first semester and soon was back in touch with her goal-oriented, old self. " I couldn't do that again. I started picking up my grades in the second semester of the first year and then it got better and better. The third and fourth year were my better years. My main goal was to try and get all A grades but I got one B+," Janelle laughed.
A career vision
Along with focusing on her education, Janelle had a vision for her career and began working towards it. She wanted to enroll in the Ultrasound Technician program at the British Columbia Institute of Technology (BCIT). In her fourth year, she applied for the program, but her application was unsuccessful. "That hurt," Janelle shared. But she wasn't someone who gave up on the first attempt. After further research, Janelle found ways to strengthen her application. "After finishing university, I continued volunteering in the medical imaging department at a Royal Jubilee Hospital in Victoria, which gave me a stronger application. The next time I applied, I received an interview but it didn't go well and I was rejected again. That's when I didn't know what to do."
FINDING A PURPOSE
As an over-achiever in education all her life, this setback pushed Janelle to a slightly darker place. She had a biology degree from a renowned university but was unable to apply her education in her desired field. Janelle knew she was capable and smart. She knew, deep down, she had to beat the darkness.
While Janelle was going through her moments of self-doubt, her brother was in a similar boat. To achieve clarity towards their goals, the two Hay siblings set off to travel around Europe. Upon returning, Janelle devised a plan. She worked at a gym while researching educational options allowing her to work in a specialized field in less than two years. She found one that worked for her — the Cardiology Technologist Diploma program at Stenberg College. "I didn't want to do another four years at a university. I wanted something I liked and could turn into a career right after graduation. That's when I found the Cardiology Technologist program."
Katarina Gutierrez, a lab instructor at Stenberg College, stated, "Janelle was unquestionably the most capable student in her class, proving persistence and goal-oriented learning, high levels of insightfulness, and immense attention to detail.
"It was just what I was searching for! It was about ECGs, Holter monitoring, and it's the heart. It's human biology, which is my educational background," Janelle stated. "So, I went to Stenberg, met a Program Advisor and started the process to enrol."
Janelle began her application in September, but all the Lower Mainland practicum seats were filled by then. Janelle was so determined to take the program that she took the practicum seat in Victoria, even though it meant she would have to move away from her family and boyfriend for the duration of her practicum. "I told my boyfriend, 'I'm going to go to Victoria. That's a huge step and if I get a job, I'm going to move out there, 100%.' He ended up moving with me, so it all worked out," Janelle joked.
CARDIO TECH EXPERIENCE AT STENBERG
Determined to succeed in her next educational endeavour, Janelle began the distance Cardio Technologist Diploma at Stenberg in January 2018. The flexibility of studying from home and small class sizes worked well for Janelle. "I liked how it wasn't 500 students in one big room. I never talked to a teacher at university unless I had a question whereas at Stenberg it was okay," Janelle shared. "Everybody was very supportive compared to a big university. Although the program was online, I really got to know my classmates when we met at the labs."
For a social and outgoing student like Janelle, meeting her classmates during the lab blocks was a highlight of the program. "Although lab blocks were incredibly intense with very long days, it was nice to interact with everyone, support everyone and keep everyone calm before exams."
Her positive demeanour helped her beat the lab blues and helped keep her classmates' spirits up. Janelle's extraordinary appetite to learn and her dedication towards supporting her fellow students was noticed by her instructors. Katarina Gutierrez, a lab instructor at Stenberg College, stated, "Janelle was unquestionably the most capable student in her class, proving persistence and goal-oriented learning, high levels of insightfulness, and immense attention to detail.
Katarina continues, "I often found myself struggling to challenge her and would research extra case studies, fully knowing her eagerness would get the best of me if I did not."
She continued, "Janelle would arrive to each lesson with a smile on her face. Her calm demeanour put many of her classmates at ease during exam periods and she spent countless hours outside of class helping her peers prepare. She displayed patience and leadership skills that usually take years to develop."
GETTING TRAINED ON CARDIO TECH PRACTICUM
As someone who had always wanted to work in health care, being able to apply her education for the first time during her practicum was another highlight for Janelle. She moved to Vancouver Island for her practicum at Royal Jubilee Hospital and loved it.
"Practicum wasn't as nerve-wracking as I thought it was going to be," Janelle laughed. "It's nice that you get to observe and go back for your practicum, and receive great feedback and very good, constructive criticism to be the best Cardiology Technologist that you want to be."
Janelle was excited to learn and apply her education in real-life scenarios. During the first month of her three-month practicum, Janelle did ECGs and worked in different departments. As excited as Janelle was, she had much to learn during the practicum, including non-technical skills.
One such skill is learning how to cope with trauma, which she learned during an unfortunate experience on her practicum. "The first week was the toughest because I had my first patient code in front of me and pass away. I remember getting the call for this post-cardiac arrest and I was super excited, thinking, 'Yes, let's go. I'll do the ECG.'"
"If you're someone who loves interacting with people and you want to work in a hospital, then it's definitely the right career path for you. Just know that everyone's there to help you and support you. Don't be shy, always ask questions."
"When I reached there, they were already doing CPR and it was someone around my dad's age. I was on standby for 20 minutes, in case they wanted an ECG. That was really tough. I was emotional but didn't want to cry in front of the cardio techs. My supervisor hugged me and asked if I was doing okay. They were all very supportive."
MOVING ON
Janelle accepted this experience, learned from it and moved onto absorbing all the knowledge she possibly could during the practicum. She finished about 200 ECGs in only one month of practicum, trained in Holter monitoring, stress testing and excelled in patient care. Due to her hard work, she received a job offer even before finishing the program. Janelle shared, "Katarina referred me for a position at Western Clinic and I accepted the offer in January."
With two weeks left to finish her practicum, Janelle received another job offer. Her supervisor approached her with a job at Royal Jubilee Hospital and Victoria General Hospital, which she also accepted. Taking a chance and moving to Victoria paid off for Janelle. Now, everything was riding on her performance in the national certification exam conducted by the Canadian Society of Cardiology Technologists.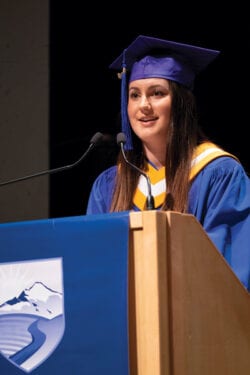 Work in health care
Janelle stood up to the challenge and took the exam in April. "I was really nervous about the exam. After completing my practicum, I went back home to Abbotsford to prepare for it."
She passed the certification exam and returned to Victoria soon after. Janelle began working at VGH towards the end of April and at the clinic at the beginning of May. She's been a busy bee since then. Currently, Janelle is working at three locations and is loving everything about her new career, including the pay. Janelle shared, "I was used to minimum wage and now I am earning a lot more than that. It's been really good!"
Being able to work in health care, in a role that she loves renewed Janelle's spirit. "I just love what I do. It's really rewarding!" And now, Janelle wouldn't have it any other way. She's glad she encountered the hurdles that she did and revised her life's path. Her piece of advice for someone considering to become a Cardiology Technologist is to stay self-motivated. "If you're someone who loves interacting with people and you want to work in a hospital, then it's definitely the right career path for you. Just know that everyone's there to help you and support you. Don't be shy, always ask questions." ❉