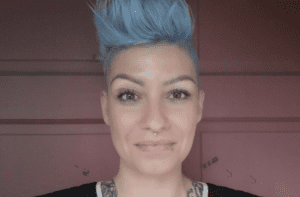 Hi there! My name is Sabrina Halladay and I am a student at Stenberg College.
I am currently in my fifth week of the Hospital Support Specialist program, or as we like to call it HSS1016. Getting to this point in my life of being a 30-year old mother of three and attending college has been quite the journey. When I first thought about returning to school I had endless questions. Which school? What program? Is now the right time?
I had to sit back and ask myself, "Am I content in being a stay-at-home mom and housewife? Is this the kind of example I want to set for my kids, my daughters in particular?" and you know what, the answer was NO!
With my youngest being four years old and starting kindergarten this year, I figured now was the opportunity to better myself.
After a lot of research on colleges and phone calls to numerous institutions, I finally made an appointment with Jandy Sertic, a Program Advisor at Stenberg College. Talk about life-changing! Although it was my first college meeting, it was eye opening how wonderful, encouraging and accepting she was as a person, as well as a representative for Stenberg. That day was the day I decided that this college was for me and I would be signing up as soon as the next cohort began.
After eight months of waiting for the Hospital Support Specialist program to start, I was helped every step of the way by staff members at Stenberg, from student loans processing to apprehensiveness about whether I was even capable of doing this or not. I am proud to say that I am capable and thanks to Stenberg I am doing it! With the help of Stenberg, an understanding husband, and wonderful, adaptable children I am fulfilling my goal of becoming a woman/mom my kids can look up to and appreciate.
My road to getting here has not been easy; I have been dealt many hands in my life, most of which were not enjoyable.
However, I firmly believe that no matter what is put in front of you, if you choose to change the path laid in front of you, it can be done.
Growing up with not many positive role models in my life and continuing that negative influence throughout my adolescence, it showed me that if you just skim by in life you're still getting by. All that changed after meeting my husband, a wonderful patient man who showed me that love and understanding can lead to great things for you. With those beliefs, we set out on building a family to call our own, and what a wonderful one we have. To this day, I wonder sometimes how I got to where I am today, and when that happens I reassure myself that if you want something bad enough anybody has everything in them to make that achievement possible.
Here's to the rest of my 46 weeks remaining, in hopes that they will be as enjoyable as my first 5 (weeks) have been thus far.
Thanks Stenberg and let's keep up the good work!!!!