I think class bonding goes all the way back to kindergarten. All classes, no matter what grade or curriculum is being taught, are going to form a bond, and sometimes little "families" within that big group of people are also forged.
I have experienced this all my life, as many others probably have as well. I can honestly say that my current Hospital Support Specialist cohort is one of the only classes I have felt no barrier or divide within the group.
All 19 ladies who I am surrounded with five days of the week are incredible.
Don't get me wrong we have our little "families" within our class, but there is absolutely NO divide, whether it be culturally or personally. We have certain people we feel who we are more comfortable with sitting next to everyday, but be assured that if anyone of us ever needed anything we could and can go to anyone in our class and not hesitate to ask, including our instructor.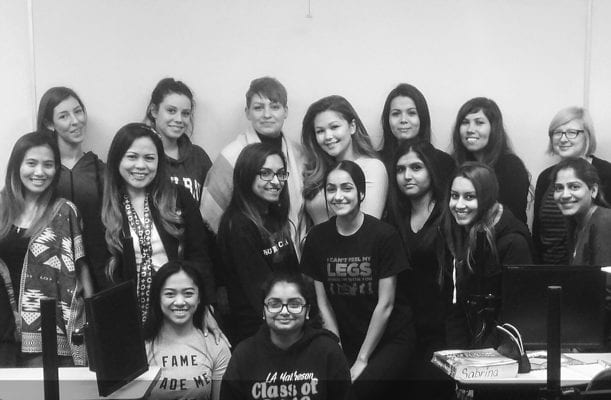 We have many different personalities in our group, some strong, independent, outgoing, quiet, shy, and some loud, all of which I think we enjoy. I would like to take a minute and personally thank each and every woman in my class with a descriptive word or phrase about them.
Amanda – Honest
Aman – Bright
Baylee – Fun
Charmanne – Dedicated
Elvira – Knowledgeable
Hamida – Perseverance
Jeven – Caring
Katherine – Intelligent
Karam – Happy
Mandeep – Kind-hearted
Milly – Adaptable
Munjot – Focused
Melojane (M.J) – Hilarious
Neha – Passionate
Rea – Happy
Simran A. – Relaxed
Simran D – Eager
Sabrina (myself) – Loud
Harminder (Instructor) – Powerful
This is just a brief touch on the people I am surrounded with. The words I used to describe them is not what I have observed about their learning or "smarts" in class, but as the people I see on a daily basis. They are all incredible and great to be around. There have been times where disagreements have occurred, and personalities have clashed, but I think what makes our class, us, is that all is forgiven no one holds any ill will towards anyone in the class. Like I mentioned we may not all agree on things time to time, but at the end of the day we can walk out of that classroom at ease and happy to go back the next day.
Thank you ladies for making my return to school more wonderful than I could have imagined, and for allowing me the pleasure of having each and every one of you sitting behind, across, in front or next to me every day.
You have all made this class what it is, which is a strong, motivated and determined force that cannot be compared to any other class I have been a part of.
Let's keep doing what we have been doing and hold on for the next course of our program. Here's to you ladies, you make it a pleasure walking in every morning.
Are you interested in pursuing Hospital Support Specialist career? Visit Stenberg to learn more, or to speak with an advisor.