Be the Love: 5 Talks on Loving Yourself and Loving Others
Tuesday, February 11
at
7:00 pm
–
9:00 pm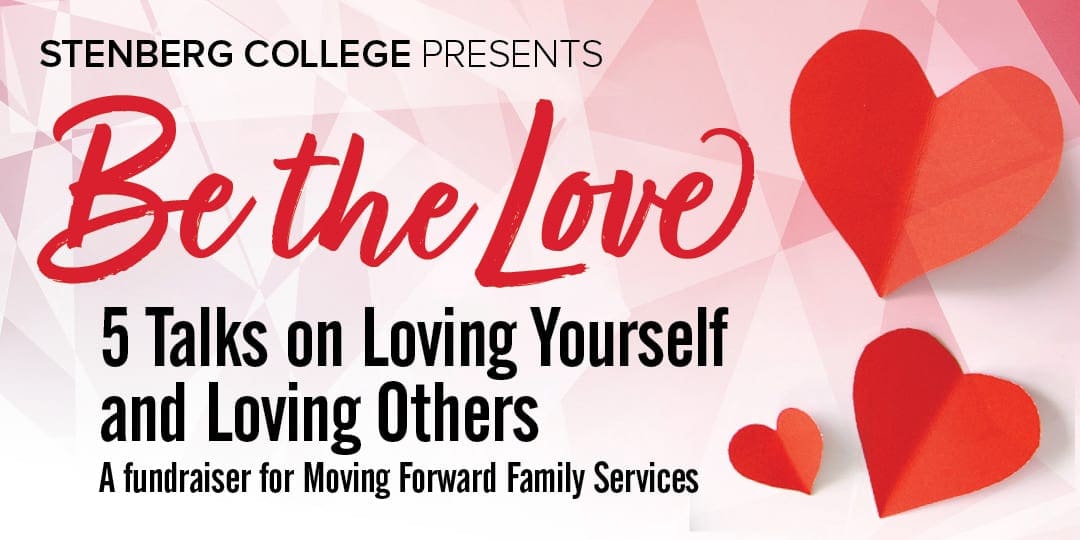 STENBERG COLLEGE PRESENTS
Be the Love: 5 Talks on Loving Yourself and Loving Others
A fundraiser for Moving Forward Family Services
Tuesday, February 11, 2020 from 7 p.m. – 9ish p.m.
Educating the whole person: How Social and Emotional Learning (SEL) can save lives – Carol Todd, MEd, Founder, Amanda Todd Legacy Society
Carol Todd's daughter, Amanda Todd, was a victim of cyberbullying and sextortion. Amanda was 15 when she died by suicide, weeks after posting a heart-wrenching YouTube video detailing her bullying and online exploitation.
Since her daughter's death, Carol has become a staunch anti-bullying and pro mental health advocate. She has learned in the past seven years that Social and Emotional Learning (SEL) can save lives. SEL is the process through which children and adults understand and manage emotions, set and achieve positive goals, feel and show empathy for others, establish and maintain positive relationships, and make responsible decisions.
Carol Todd, MEd, is an educator and founder of the Amanda Todd Legacy Foundation.
Stand in your power. Use your voice. – Angela Marie MacDougall, Executive Director, Battered Women's Support Services
Angela Marie MacDougall explores why women have been, and continue to be, disempowered. From the playground to the boardroom, political arena, and at home, women face barriers historically and systemically. But there are solutions. Angela Marie offers strategies to break down barriers and create equity for women. Together, we can stand in our power, use our voice, love ourselves, and link arms as a community.
Angela Marie is a bi-racial Black activist who works to end violence against women and girls. The City of Vancouver named her a Remarkable Woman in 2014 and Vancouver Magazine named her one of Vancouver's most powerful people in 2016. She is the executive director of Battered Women's Support Services.
Loving our LGBTQ+ family: An interview with Alex Sangha, MSc, MSW by Dr. Saira Sabzaali
Family rejection. Self-discovery. A newfound family and life. Alex Sangha's film, Emergence: out of the Shadows, explores the taboo topic of being gay or lesbian in the South Asian community through discussions with South Asian LGBTQ members and their parents. Dr. Saira Sabzaali helps us dive into Alex's inspiration behind the film and the effect he hopes it will have.
Alex Sangha, MSc, MSW is a Registered Clinical Social Worker and a Registered Clinical Counsellor. His documentary, My Name Was January, won 13 international awards and his second documentary, Emergence – out of the Shadows, is set to release in late 2020. Alex is the recipient of the Meritorious Service Medal from The Governor General of Canada.
Loving your body – Renae Regehr, MA, Founder, Free To Be Talks
Why do we struggle to like our bodies? Foundational beliefs around body image form at a young age as children have trouble understanding the sophisticated messages coming from the media, friends and family. As a body image researcher, Renae Regehr breaks down the understanding of body image and offers practical actions to accept yourself and become more resilient and confident.
Renae is a Registered Clinical Counsellor and the founder of Free To Be Talks, a non-profit organization that promotes positive body image to youth, parents and educators. Over 2500 boys and girls have undergone her research-based curriculum, Free To Be.
Loving yourself: Finding meaningful "me-time" – Dr. Saira Sabzaali, PhD
The science behind stress is proving you can retrain your brain in a very short time. If you won't look after yourself, who will?
Those of us who are natural givers tend to put ourselves last. We feel like we must be everything for everyone all the time and often fail to spare any energy or time to take care of our minds and bodies. Dr. Saira Sabzaali explores the effect of burnout and the inner critic on our bodies, minds, and relationships. She offers practical, evidence-based tools to make self-care and self-love a regular part of our routine.
Dr. Saira is a Registered Clinical Counsellor with a PhD in Transpersonal Psychology. She works with adults from diverse cultural backgrounds who want to incorporate their cultural values and spiritual beliefs into therapy. Dr. Saira has delivered two TEDx talks and teaches in the Counselling Therapist Diploma program at Stenberg College.
—
All proceeds from this fundraiser will go to Moving Forward Family Services (MFFS), a non-profit that provides free or affordable professional counselling services to those who cannot afford private therapy. MFFS offers thousands of free therapy sessions each week in donated spaces from Vancouver to Mission. For more information or to donate, please visit mffs.ca.