For the first time in nearly two decades, more Canadian nurses left the profession than have entered it in the last year. A new report from the Canadian Institute for Health Information (CIHI) revealed that the total number of regulated nurses has now dropped by 0.3 per cent between 2013 and 2014.
Healthcare groups have been quick to stress the need to encourage more people to enter the profession. "The decrease in the nursing supply, combined with an aging workforce, and fewer students admitted to programs is a sign that our health care workforce is in transition," Canadian Federation of Nurses Unions president Linda Silas said. "To ensure patient safety and a sustainable health care system, we need a national health human resources plan."
While these statistics are troubling for the healthcare industry, anyone considering enrolling in a nursing program can take heart at the growing employment opportunities in the industry.
The CIHI Report By Numbers For Potential Online Nursing Program Students
In 2014, there were a total of 406,817 regulated nurses in Canada, of which 72.1 per cent were registered nurses (RNs). Licensed practical nurses (LPNs) made up 26.5 per cent, and registered psychiatric nurses (RPNs) accounting for just 1.4 per cent of the total. Overall, there are 2,360 fewer nurses in the country than last year.
The CIHI report highlighted an insufficient number of graduates from nursing programs in BC, as well as Newfoundland and Labrador, Prince Edward Island, Nunavut and New Brunswick. While the number of nurses working in hospitals has remained stable since 2005, there have been sharp declines in the workforce outside acute care settings, with 4,400 fewer RNs in nursing homes and long-term care facilities, which is a particular concern given the ageing population.
Reasons For The Decline And The Need For More Nursing Program Graduates
The principle reason for the decline is the growing number of retirees from the profession. The CIHI report also noted that, despite new options such as online nursing courses being offered, the number of graduates from nursing programs has slowed, and as the baby boomer generation begins to leave the workforce, there simply aren't enough new nurses to take their place. Other factors influencing the decline include nurses emigrating from Canada, as well as a number of nurses not renewing their registration due to changes in regulations in provinces, such as Ontario.
How Online nursing Courses Can Help Solve Nurse Supply Problems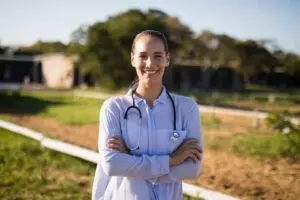 The Canadian Nurses Association has noted that many of the areas mentioned in the report have high rural populations, meaning that nursing staff shortages could put greater pressure on local healthcare facilities. While there are many potential nursing recruits in rural Canada, they often have difficulty pursuing education, with most nursing programs located in large urban centers.
A potential solution to this problem is increasing the number of online courses. An online nursing program allows students from rural areas, who are often unable to relocate for training, to gain their qualification while remaining in their local community. The current shortage in rural services mean students are also usually able to undertake any clinical practice hours required in local facilities.
Interested in taking advantage of the current opportunities in nursing? Visit Stenberg to learn more about our programs or to speak with an advisor.