After graduating from a
Cardiology Technologist
training program, you will be working in hospitals, clinics and private practices performing tests to help doctors and specialists diagnose and monitor cardiac or vascular problems.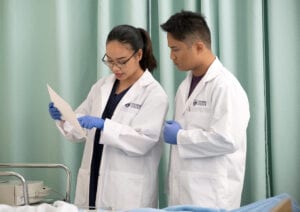 Students interested in becoming a Cardiology Technologist will be responsible for performing many of the following duties in their career:
Interview patients and record their medical history
Connect patients to monitoring equipment, such as an ECG machine
Conduct a variety of procedures including: echocardiograms, balloon angioplasties and stent insertions
If you've always wanted to work in an exciting and fast-paced health care setting, a Cardiology Technologist career will place you alongside physicians, nurses and surgeons as an integral member of the medical team. If this sounds like the right career for you, you may be wondering what it takes to succeed in this field. Here's a list of qualities which you should possess in order to be successful as a Cardiology Technologist.
Cardiology Technologists Need Strong Communication Skills
One thing to keep in mind is that often during your Cardiology Technologist career, you will be dealing with patients who are highly stressed due to the potential of their test revealing a serious health problem. Being able to calmly explain the steps involved in any procedure will help put these patients at ease.
Every day on the job you will be communicating information to physicians, both before and after a patient's test. It's important to know that good verbal communication skills are essential when speaking with other health care professionals, as they often tend to dozens of patients in just a single day.
Cardiology Technologists Must Be Tech-Savvy
It goes without saying that anyone undergoing Cardiology Technologist training must have be competent using technology—a patient's life could depend on it. In your training, you'll learn how to operate ECG monitors, oxygen saturation monitors and ultrasound machines. As technology continues to evolve, you'll be responsible for continuing your education and becoming acquainted with new techniques.
If you love learning about new technology, this career offers you an excellent opportunity to put these skills to use for a good cause.
Cardiology Technologists are Confident in Their Skills
Earning a Cardiology Technologist diploma will provide you with the knowledge you need to successfully perform tests on patients, but confidence in your skills is what will land you the job. Working with physicians and cardiac surgeons can be intimidating, and there will be times when you'll be working in difficult situations with distressed or ill patients.
Having confidence in your skills will give you the ability to think and act quickly in high-pressure situations. Having a cool head and the right training will ensure that you can make appropriate decisions when patients and doctors need you most.
What other qualities do you think every successful cardiology technologist should possess?