Delivery Method: Combined Delivery
Duration: 29 weeks, including a 12-week practicum
Start: Three times per year (January, March and August)
Credential: Dual Diploma
Recognized By: Early Childhood Educator Registry
Wages: $20-$30/hour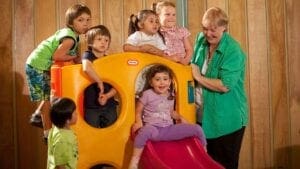 Credit Transfer
Stenberg College participates with other recognized B.C. post-secondary institutions in a credit transfer arrangement that allows for increased transparency and student success for those in the field of Early Learning and care studies. Formalized articulation agreements are in place with other post-secondary institutions offering programs in Early Childhood Education to provide our students with options should they choose to continue their academic studies towards degree programs or need relocate within the province.
Articulation to BCIT
Stenberg College's Early Childhood Education Post-Basic Dual Diploma Program has an articulation agreement with BCIT. Graduates of the ECE-PB Program can enter BCIT's Advanced Diploma in Business Management with advanced standing.
Upon completion of Stenberg's Program, with an additional 8 months full time, you will acquire an Advanced Diploma in one of Canada's largest business schools, obtaining industry ready skills and experiences that will prepare you to face the next step in your career.
After completing BCIT's Business Management Advanced Diploma, students have the option to enroll in BCIT's Bachelor of Business Administration (BBA), earning a degree that emphasizes critical and strategic thinking.