An Early Childhood Educator inspires children to believe in themselves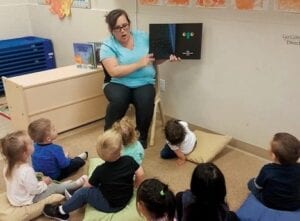 Growing up, Melanie Parlett dreamed of becoming an astronaut. She was fascinated with astronomy, admired the solar system from afar, and envisioned herself floating above the earth in a little tin can. So, how did the little girl who fancied herself in a space suit end up as an Early Childhood Educator with post-basic certification? Despite her change in career path, Melanie still found herself soaring, far beyond the stars.
FROM LOST TO FOUND
Like many children who are exceptionally bright, when Melanie was young, she lacked a sense of direction and the conventional school system did not foster an environment in which she could reach her full potential.
"I dropped out of school when I was a teenager. The teachers didn't understand me or the way that I needed to learn because I wasn't your quintessential 'sit in front of a book and read to learn' type of person. I learned through experience and conversation. The education system wasn't working for me, and when I dropped out of school, my parents didn't force me into any one direction. They always said I'd find my path, and so I coasted on an endless stream of odd jobs that didn't bring me any happiness. I dreaded going to work every day."
When Melanie had her son at the age of 18, she thought motherhood was her sole purpose. However, it wasn't until two years later that she realized she was wrong – when he was diagnosed with autism, Melanie discovered a new passion inside of herself. A curiosity was ignited, and wondering if she had missed an indicative clue that could have led to an earlier diagnosis, Melanie developed a keen interest in early childhood development. She decided to get her Early Childhood Education certificate.
ADVANCING EDUCATION
Though Melanie loved being an Early Childhood Educator, she yearned for her own classroom where she could do the programming, the assessments, and some curriculum development. She was born to do more, and this is what brought her to Stenberg College.
"It is such a beautiful thing every morning when I walk into my classroom and I get hounded by six kids who are yelling my name at the top of their lungs, they're clinging to my legs, and are so excited to see me and hear what I have to say. They're excited to hear stories, sing songs, and just be together. It's incredible to be loved so unconditionally by these little people."
Melanie's never looked back. Her post-basic diploma from Stenberg gave her the freedom she needed to truly change lives in the classroom.
With the addition of this diploma to her education, Melanie could now work with a broader age range of children, and she was also given all the tools needed to work with children with disabilities.
"There's something very simple that I've implemented in my classroom. I tell children that they can do what they set their minds to and I give them the opportunity to succeed. When I started in my classroom, all of the children were still eating with bibs on. I took away the bibs and I showed the children that they were able to get the spoon from the bowl to their mouths without spilling. I reminded them that they are big kids and they can do it. Within two weeks, those children were politely eating their food – no spills on their clothes, no spills on the table. They were able to do it, they just needed somebody to tell them they could."
Being able to help children and families is the compass that Melanie was searching for. "I've grown as a person, an individual, as a mother, and as a wife. I think that what I do contributes to the betterment of society. Not everybody learns the same way, so we just have to accept people as they are and move forward."
FINDING STRENGTH
Though Melanie is now an accomplished Early Childhood Educator with her own classroom, it took courage to say goodbye to the steady income of odd jobs and return to the school environment that once failed her. Regardless, Melanie found the strength to pursue a career she knew she needed.
"I found strength in my son, and then later in my daughter when she was born. I wanted to be successful for them. I've become an advocate for my own child, but also for people whose children have just been diagnosed with autism. It was a lot for me to take on, but I found strength and conviction in who I am, and that propelled me through life instead of giving up."
Though it's been a whirlwind of a journey, Melanie's story is just beginning. Fondly recalling an encounter with one of her Stenberg instructors, Melanie recounts, "I still hear from my instructor, Sharon, every once in a while. She's written me good references, and on my last day of practicum, she said, 'Don't ever settle for less. Tell yourself that this isn't enough and that you can do more.' I said, 'Absolutely, Sharon.' And I did." ❉