After passing the biggest exam of my life I immediately started looking for work as a Nurse. From the research I'd done and the nurses I spoke to, I knew I wanted to get some hospital experience but it would take a lot of follow-up and persistence to break into the public hospitals and health authorities. Most of these organizations have internal job postings not viewable to the public. There are external job postings too but they are usually few and far between, and only posted after the internal posting doesn't get filled by current employees. This can be stressful and discouraging to a new grad who just wants to start working as a nurse.
Talking to the right people
Another huge part of finding work as a new grad is talking to the right people. Fortunately, my Practical Nursing Preceptor was a huge help. She wanted to help me get a job, so she asked around to find out who I could approach. I also connected with the CNE (Clinical Nurse Educator) on the unit to find out who does the hiring. By the last day of my preceptorship, I had a few names, emails, and phone numbers of key people within the organization. I reached out to them and kept track of all correspondence so I knew when I should follow-up. Eventually, my persistence paid off and I received a request for an interview.
At the same time, I was trying to get into a different health authority in the Lower Mainland. But seeing as how I didn't have any contacts in this other organization, I had to use different tactics. I showed up to hospital units during typically "slow" times and asked for the manager. I dressed my best, brought my portfolio, a fresh copy of my resume and my confidence. It was pretty scary putting myself out there like this but it was worthwhile! Many employees within the hospital were happy to point me in the right direction or to the right person and one health care aide even made a call to her boss to find out who the hiring manager was for LPNs! This technique proved beneficial eventually and I ended up getting another interview at a different hospital.
Looking for opportunities
With all that being said, I was also open to other opportunities. I checked online for overseas positions as a Travel Nurse, researched other health authorities in Canada, and even looked into working as a nurse in the USA. I was also going to interviews and connecting with people in the private health sector. Examples of these type of jobs are: sleep apnea clinics, privately owned long-term care facilities, pharmacies, alternative health clinics, etc. I was eventually hired as a Nurse at a pharmacy where I do patient assessments, medication administration, and vaccinations!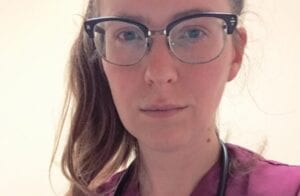 The interview process for my first nursing jobs was pretty scary. I realized this was probably because I hadn't gone to an interview in several years. I brushed up on interview questions, made sure I was presentable, and arrived early (but not too early) for all my interviews. One thing I wish I did more of was brush up on clinical knowledge. I didn't even think nursing skills, critical thinking, and other nursing questions would be a part of the interview process – but duh – of course they were! Luckily, I was able to fall back onto my knowledge from all the cramming from the Canadian Practical Nurse Registration Examination (CPNRE), as well as all the case studies and exams in school. In the end, all the hard work was fruitful and I got hired at both hospitals!
I'll admit. As a new grad, it took a while to get somewhere with the job search process. I had to put myself out there. Email and call people I didn't know. Be persistent in my follow-ups (maybe even annoying) and deal with the same kind of anxiety I had during my exams in school.
In the end though, my perseverance paid off! I now have my foot in the door at a few different places and can focus on growing my nursing practice and beginning my career.