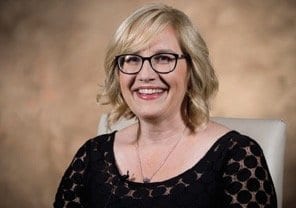 "It's a fantastic day if I can take the seniors outside to enjoy the sunshine… and get the bubbles going, get the music playing and get the feet dancing. I see them trying to grab these bubbles with smiles on their faces. And I say 'Oh, I wish I had a camera!' How great is that?"
Linda Weatherly loves her new career as a Therapeutic Recreation Assistant. She couldn't hide her enthusiasm and passion for what she does even if she tried.
WHEN LINDA MET MIRIAM
After being laid off as the Business Development Leader during a restructure, Linda found herself looking for a meaningful career. She wasn't sure what it would be, but she knew this: "I didn't want to work for a profit and loss statement anymore. At this point in my life, I wanted to do something that made my heart feel good."
Linda decided to look into non-profits. A friend advised her to volunteer at organizations she might consider as her next career, so Linda volunteered at the Langley Senior Resource Center. She wanted to make a difference in elders' lives and jumped at the opportunity to join the Friendly Visits program, where she visited seniors living at home every week to reduce isolation and loneliness. Here, she met Miriam, her first client.
Miriam lived in her children's basement. She loved to read, so Linda would bring her books, along with cookies and donuts. Eventually, they began shopping and developed a friendship. She remembered, "But, sadly it didn't end very well. One day, I arrived early at her place and heard her son on the phone, saying 'I can't get her to wake up.'"
Miriam was found unconscious and died before reaching the hospital. "I don't know if she heard me in her final moments, but I hope she knew I was there." Linda teared up. "We had great visits. I knew I might have brought her a little bit of joy, which made me happy. Miriam was just the sweetest gal."
For some people, this might have been their final experience in the field of working with seniors. But not for Linda. Her desire to spread happiness among elders grew stronger. She went back and asked to be signed up with somebody else.
The perfect Therapeutic Recreation Assistant (TRA) – Linda radiates positivity. She is a natural storyteller who loves life and believes in making the most of it every day. Perhaps this is why she was drawn to this career. As a TRA, Linda is able to truly be herself and spread smiles each day.
"I don't have to be business. I don't have to put my game face on. I walk in that door and start making as much happy noise as I can, you know 'good morning, good morning!'"
GOING BACK TO SCHOOL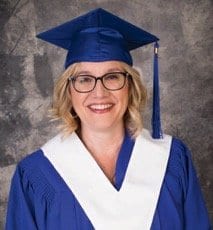 During her volunteering, she came across Stenberg College's Therapeutic Recreation (Gerontology) Diploma program. She loved the idea of going back to school and jumped in with both feet. She met with one of the Program Advisors at Stenberg and decided this was the path for her. From then on, she "went through the paces one step at a time."
She started Stenberg in April 2016 and realized school was very different than she remembered. "I had to learn how to write properly, and do things I didn't remember doing or didn't do when I was in high school a hundred years ago." But, she pulled through. She gave it her all and passed with an impressive grade point average of 98%!
A BEACON OF LIGHT
As a mother of four, Linda wanted nothing more than for her children to be proud of her. And they are. She is an inspiration to anyone who finds themselves at a crossroads between following their passion or staying in familiar waters. She is proof that there is always time to pursue your dreams.
"I can't believe the journey it's been. It's been pretty darn exciting! Anybody can do it. I did it. You just have to want it. You have to just go for it, and believe in yourself."