It's a long way from Catterick, Yorkshire, England to the Lower Mainland of British Columbia, Canada. While the thought of sharing every detail of my life from day one to day 16,780 is appealing and would certainly be a trip, I will spare you the monologue and do what writers dream of, i.e. keeping it short and sweet (at least for this introductory post).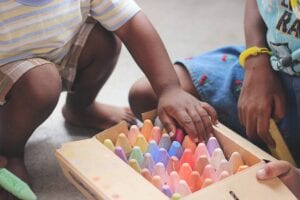 My name is Jennifer. I moved to Canada at the tender age of six months. I'm the oldest of four on one side of my family, and the second of four on another side of my family. Plus, I have an older step-sister. Half of me is Black. Half of me is white. I'm sure many of you can relate to a multi-faceted family dynamic.
Family: It's what (can) define us; it certainly defines me.
Journey to become a Therapeutic Recreation Assistant
My wanting to be part of a community, to encourage others and to aim high comes from the best of many worlds. My first career was in aquatics. I was a beach lifeguard and started out guarding the shores of a tiny lakefront stretch of sand on the Ontario military base my family lived on.
My next career was as a swimming instructor for ages six months to sixty. I trained students to float, breath bilaterally during a front crawl, and save someone. Speaking of saving someone, there's nothing like the adrenaline of jumping into a pool and making a rescue.
I loved being a member of the aquatics team. We had each other's backs, coached each other and cheered each other on. This is why I excelled in sports in and out of school. My interest in health and education was piqued as well.
After moving to beautiful British Columbia, I completed a certificate in Recreation Leadership. Later in life, when I was 39 years old, I met my Jamaican birth father. We chatted over a beer in Melbourne, Australia on the occasion of our first meeting. It was then I discovered that he too had been involved in recreation and education and had commanded the top post of manager of a recreation facility. My half-sister, whom I also met during this eventful trip, had been a lifeguard and swimming instructor as well! A big part of my soul fell into place that day.
Inherent personality
Autonomy. That's the skill my family of origin taught me. My siblings and I can plan big events all by ourselves. Fly halfway across the world on a moment's notice. Feed 10 hungry friends on a dime. Study/move/support/pack up a house/navigate international borders with confidence and grit. We four are a force and a presence and I love my younger sibs dearly. I'm inspired by what they've achieved and have been shown grace in times of epic (personal) failure.
Was it having a high-ranking father in the Canadian military and moving every two years that did it? Was it marvelling at my mother, essentially a single mother for up to six months of the year, wrangling four children, sometimes in foreign countries?
These experiences would gather themselves up into me and propel me to enjoy a career in fashion retail management. Hitting the ground running while observing and acknowledging the bigger picture are important skills for managers to have.
I'm naturally a people-person; this inherent personality trait serves me well. Moving every two years as a child, teenager and young adult prepared me for being the "new kid" at work and at play. I love finding the commonalities when I meet people and cheer on other's strengths.
An extremely gratifying profession
I attended the Therapeutic Recreation Diploma program information session in September 2017, and this was another one of those moments where my soul fell into place. Through an in-depth and lively presentation, I learned there is an extremely gratifying profession where my hard and soft skills can come together to educate and support those in my community. It's been a lovely whirlwind as I've come to know the experienced and encouraging instructors and staff on this new journey as a Therapeutic Recreation Assistant I've chosen. My next post will describe the nuances of a combined delivery program and how it has smoothly integrated into my life.
All the best!
Click the link to learn more about Therapeutic Assistant Diploma Program (Gerontology Specialization).
---
If you're interested in this career or program, fill out the inquiry form on this page or contact the Program Advisory team directly at 1-866-580-2772 or [email protected] for more information!