Sometimes you have to lose yourself in order to find yourself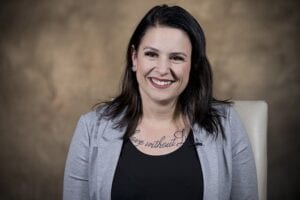 When Samantha (or Sam as her friends call her) was in high school, she wanted to be a nurse. "I wanted to be involved in helping people get well and live their lives. Helping others makes me happy. I was always the kid who wanted to include everybody, who wanted to share, who didn't like it when somebody was left out."
Fork in the road
After graduating from high school, Sam took a cosmetology program and worked in the field before realizing it wasn't for her. She then started working at a metal recycling business when her life took an unexpected turn. "I got pregnant when I was 20 and didn't know the father very well. The relationship was really unhealthy, and throughout that period of my life my confidence fell lower and lower and lower, until I got to a breaking point."
Sam was in that toxic relationship for five years and it almost destroyed her. "I was running back and forth between two jobs, I had my mom watching the girls, I started my lash business. I was trying to pay the bills, the groceries, the car insurance, the gas, and it just became physically and mentally draining. I got to a point where I was like, 'I can't do this anymore. Why am I doing this with you if I could be doing it by myself?'"
Moving back to her parents' basement with her two young kids was a tough decision, but Sam knew that she had to do it. Her parents had always been a support system for her. As she adjusted to her new circumstances, she felt "like a weight was taken off of my shoulders, like I was free. That's when I started making all these goals and plans about how I was going to show my kids that even if you make bad decisions, you can go back."
With this determination, Sam started searching for ways to pursue her passion of being a nurse but realized a four-year commitment to school would be a bit too much for her. "I didn't want to sacrifice the young years with my kids being at school. Then I learned about the Medical Lab Assistant program at Stenberg. It was perfect for me. It would get me in the hospital, which is where I wanted to be."
On the path of reinvention
The day Sam met a Program Advisor at Stenberg, she decided she was going to do it without any second thoughts. "I didn't even question it. I felt like it was just meant to be," Sam recalls. Taking this step empowered her to believe in herself.
Sam marked the beginning of her journey towards reinvention with a special tattoo. Set right under her collar bone, running across her chest in beautiful calligraphic style are the words 'Love without limits'. This tattoo serves as a reminder of her selflessness and her willingness to love everyone – including herself – regardless of what was going on in her life.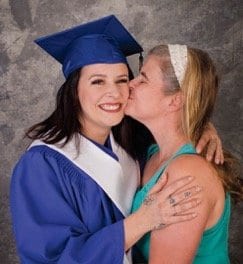 "The Medical Lab Assistant program kind of reinvented me as a person. I made new friends, good friends, people who had the same passions and goals. It made me realize that I was capable. I was smart."
As Sam hustled through the program, she started "feeling good," and realized she was feeling confident, competent and fulfilled.
Sam is currently working as a Medical Laboratory Assistant at the Royal Columbian Hospital Laboratory. She has regained her former "bubbly, vivacious" self but the greatest outcome has been becoming a happy mom to her daughters and a happy daughter to her parents. "They saw a girl who wasn't too excited about life, turn into somebody who wakes up every day excited to go to work, who likes to play with her kids when she gets home from work because she's not unhappy or miserable anymore. They're all proud of me."