Leaving the Philippines to build a better life in Canada
There's more to Daryl Salvio than meets the eye. Behind her infectious smile and cheery demeanour is a past filled with tremendous struggle. The youngest of seven children, Daryl comes from humble beginnings in the Philippines. Her parents couldn't afford to pay for their children's education. "We had to ask for assistance from my auntie who was living abroad," she said with tears in her eyes.
They did without life's many luxuries but listening to her talk about her family makes one thing clear: they never did without love. "We're lucky we all went to college. Most of us are now very successful and have our own families."
COMING TO CANADA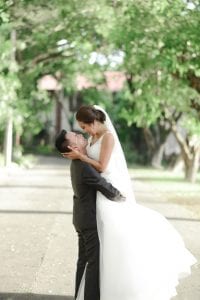 Six years ago, Daryl's sister sponsored her to come to Canada. Although she knew this was the right decision, it was also bittersweet. While she was leaving behind an arduous life in the Philippines, she was also leaving behind one very special person, Neil.
Daryl and Neil have been friends since she was in grade two and dated for 10 years before getting married last year. Long distance relationships are testing but they are making it work with "patience, understanding and constant communication."
Daryl came to Canada on a work permit as a live-in caregiver and also found a job at a local retail store as a production team member. When she received her Permanent Residency a year later, she decided to enter the field of health care and tried applying for a nursing program.
Regrettably, she failed. "I failed because English is my second language, I was discouraged. I tried twice and I failed," she said with sadness. Still, her resolve to work in healthcare was unwavering. "For me, giving up is not an option. You just can't give up. There are people that need you."
LIFE-CHANGING AD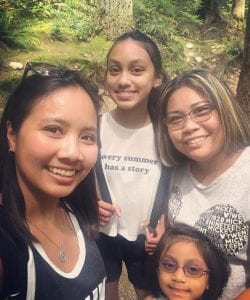 Coincidentally, she saw an ad for Stenberg College's Medical Lab Assistant program in the newspaper and attended an information session to learn more. "I'm going to get in," she remembered thinking when the session ended. She didn't need to research other colleges after the session.
She had found her college and her program. "Medical Lab Assistant (MLA) is in line with the medical field," she thought. "I'll do this because it's only a six-month program. If I want to take further education, I'll go from there." Daryl gave the course material her best effort.
"I didn't come to class unprepared. I read my notes every day before school and came in early every time we had a quiz. I'm very diligent with my studies," she said proudly, a sentiment shared by her instructor, Nicolette Barker. In a letter of recommendation, Nicolette said, "Daryl was punctual each day, she had 100 percent attendance in all three courses. She always offered to help, whether it was to staple and distribute the PowerPoint handouts or stock supplies, or clean-up where needed. The MLA instructors all referred to her as the eager beaver!"
She maintained a helpful attitude throughout the program but she was nervous about performing phlebotomy. Nicolette encouraged her to believe in herself. "She would say things like, 'No, you know how to do this. You're confident and you can do it,'" Daryl recalled with a smile.
DEDICATION TO RESPONSIBILITY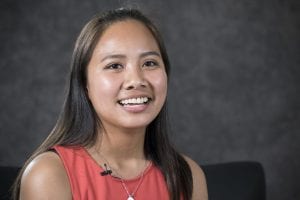 While in the program, Daryl continued to work at the retail store on the weekends. "My sister supported me all the way," she said with gratitude. "I didn't have to pay my rent for seven months because I was only working two days every week and needed to send money to my parents in the Philippines for medicine, electricity and water bills."
Her hard work paid off because shortly after program completion LifeLabs hired her as a Medical Laboratory Assistant. Daryl still plans to go back to school for nursing in the future but feels content for now.
"I need to sustain everything I have. I've student loans to pay and a family to feed in the Philippines. I also have to pay my rent and bills." Daryl's life today has taken a complete turn and is much different from her early years in the Philippines.
She hopes to sponsor her husband next year so he can join her in Canada and now she is the one sending money to her family in the Philippines. "I can buy things I didn't have growing up. That's why I spoil my niece. Every time we go out and she asks me to buy toys, I do because the smile on her face makes it worth it."

For further information on Stenberg College's Medical Lab Assistant program, fill out the form and a member of our advisory team will get in touch with your shortly.