As with all colleges and universities in B.C., Stenberg College is following COVID-19 protocols and has transitioned all in-class programs to online until students, faculty and staff can safely return to the classroom. To study online, all you need is a computer, an Internet connection and a desire to learn. Stenberg has been providing online education since 2006 and is well-equipped to deliver quality education in this format. Our online curriculum is the same as the in-class curriculum and delivered in a highly structured, instructor-led, and supported environment. But what about labs and practicum placements?
Labs during COVID-19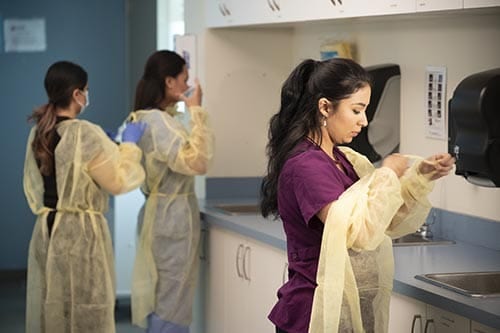 To prepare Medical Laboratory Assistant (MLA) students for their practicum placements, Stenberg MLA labs simulate Fraser Health protocols for COVID-19. This includes wearing eye protection and a mask at all times, as well as practicing donning and doffing appropriate personal protective equipment (PPE). Many procedures are simulated as if the patient was COVID positive to prepare students. While there is currently more emphasis placed on COVID-19 protocols, Lab Instructor, Jonathan Aquino, said, "Even before COVID-19, these procedures were always practiced quite extensively throughout the program. This ensures students are well prepared for their hospital practicum and future employment."
Rajni Naidu, Stenberg College's MLA Department Head, explains that COVID-19 hasn't changed how Stenberg trains MLAs. "'Standard Precaution' is the safety shield of all MLAs. From day one, our students learn to treat each patient as infectious. We instill this concept in every practice they perform. Infectious diseases like SARS, Ebola, HIV, Hepatitis, and CJD are as detrimental to one's health as COVID-19. The bottom line is that someone entering this profession should be aware that they will always be working with sick patients and emerging diseases."
Practicum placement in a hospital during COVID-19
When Harrattan Bassan and Gurpreet Gill began Stenberg's MLA program in October 2019, they couldn't have anticipated the unique learning opportunity they would receive. As part of the 30-week diploma program, students gain real-life experience in practicum placements at hospitals and private labs. For Harrattan and Gurpreet, the practicum component included three weeks of training at a hospital in the middle of a pandemic.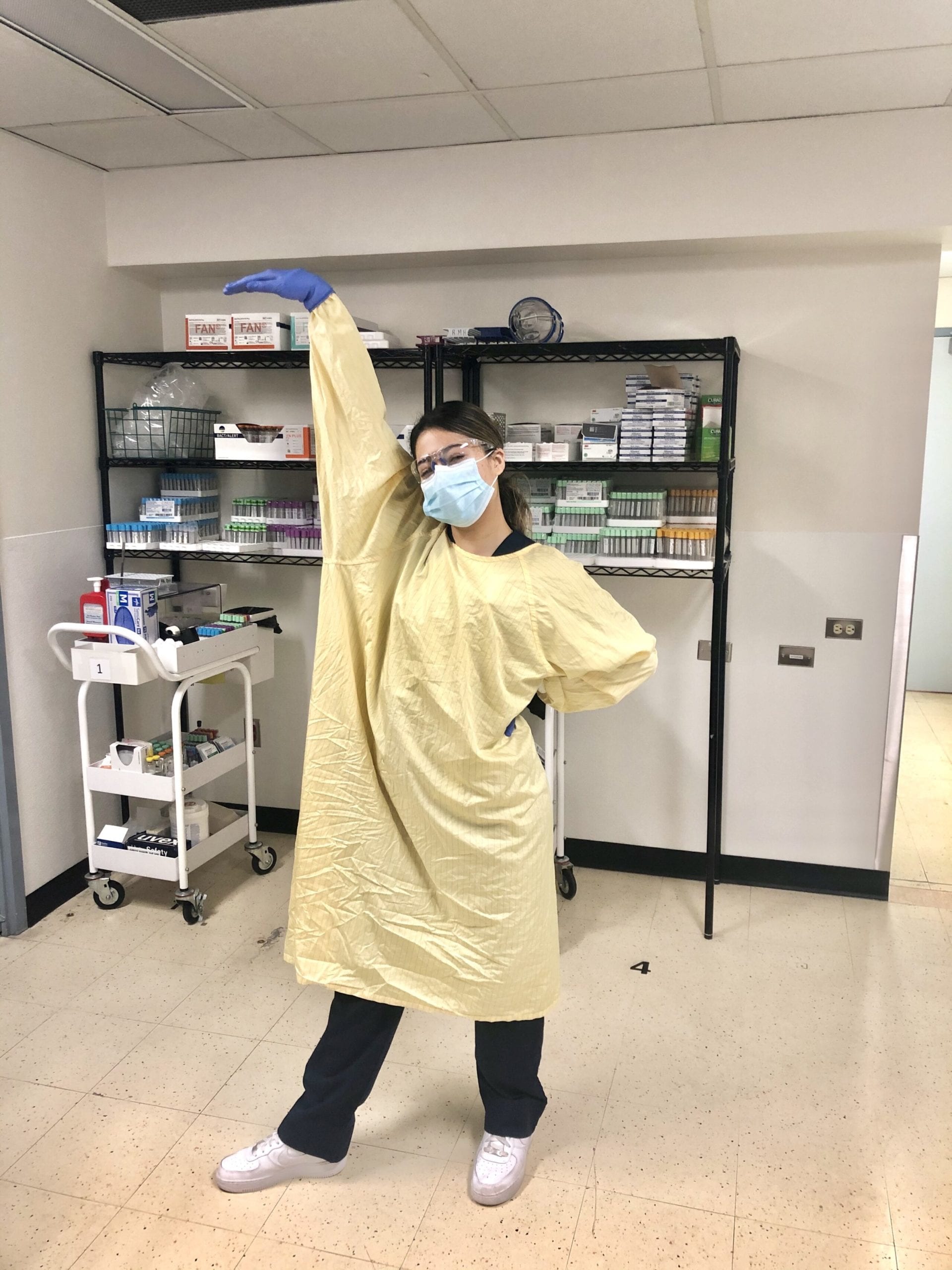 But can anything adequately prepare you for a pandemic? Starting a practicum can make students nervous at the best of times. Harrattan approached her practicum experience at Ridge Meadows Hospital as an opportunity to learn and witness the hard work and dedication of her future colleagues. "It would be great if everything were normal, but then I wouldn't be able to see how hard all health care workers have to work during such challenging times. It is a valuable learning experience, especially if this happens again."
Gurpreet, on the other hand, had worked as a Registered Nurse in England. After immigrating to Canada, Gurpreet worked odd jobs that did not resonate with her passion for health care. She wanted to make a difference in others' lives, and the MLA program fit her needs. Gurpreet is currently finishing her practicum placement at Mission Memorial Hospital and is glad to be back in the field. Although she was nervous for her two young kids at home, Gurpreet's determination did not waver. "I was so nervous about going into the hospital given the current COVID-19 situation. I didn't want to bring anything home to my kids. But they are taking every precaution at the hospital, from screening everyone to making sure people are wearing masks. This made me feel confident going into my practicum."
What practicum looks like
Practicum placements give students industry experience and are an extended job interview that often results in employment opportunities after practicum. They are also an excellent way for students to experience the nature of shifts as the availability of the practicum host site dictates shift times. The fact that hospitals are accepting practicum students during a pandemic speaks to the ongoing demand for qualified health care professionals.
Harrattan's shift started at 6:00 a.m. but she woke up two hours early to get ready and drive to the hospital. Her day begins with shadowing her supervisor and taking blood from patients (phlebotomy). "If we started in Emergency, we had to poke the patient right away. I was able to perform and practice my phlebotomy skills. Sometimes, I'd be in outpatient care, where patients wait to have their blood taken for follow-ups." After lunch, Harrattan shadows phlebotomists in other departments including geriatrics, ICU and postoperative care. "I want to ensure that I learned exactly how to do things. During downtime, I was cleaning, stocking, making sure everything is in the proper place, and sanitizing the carts."
Proactiveness goes a long way on a practicum. Gurpreet had a similar experience on her practicum and recommended using every minute to learn. When she was not shadowing her supervisor, she worked on aliquoting, urine testing or stocking. Gurpreet was excited to work with patients and learn skills that were difficult to replicate in the simulated lab environment. "We had to do 75 pokes before starting our practicum. I felt well-prepared about poking and performing ECGs but on practicum, you see patients with dehydrated veins, for example, which is uncommon and adds to the value of the practicum", she noted.
Supporting practicum students
Students experience camaraderie, empathy and support by working together during their practicum placements while their supervisors guide them through the realities of working in health care. Gurpreet was comforted by a conversation she had with her supervisor on a day she felt particularly insecure. "I had four great days when I started, and then one day, I missed a few patients with difficult veins. I couldn't get their blood. It hurt my confidence a little bit," she recalled. Over their lunchbreak, her supervisor encouraged her. "She said it happens to everybody and that sometimes you just have a bad day or a bad morning." Her encouragement helped Gurpreet to bounce back and realize that even on practicum, students are still learning.
Apart from their supervisors, practicum students also have a practicum monitor from Stenberg who regularly checks-in with the students and provides support. Under normal circumstances, monitors visit practicum sites but given the COVID-19 situation, monitors stay in touch via phone or email. Students log a daily journal to share with their monitor and monitors receive regular reports from the hospital about each student's performance, which they share with the students. They share feedback on what students are excelling at, the improvements needed and assist in developing a progression plan.
When it comes to health care, applied learning is the key to success. Practicums offer a unique way to gain hands-on experience in the field while preparing students to succeed as health care workers. Students like Harrattan and Gurpreet who are witnessing the proactive reaction of healthcare to COVID-19 will graduate with a valuable experience that will prepare them for the future.