These last weeks of practicum as an Education Assistant have been bittersweet. I got a chance to get to know all of the students I worked with and they are all amazing. They may have disabilities, such as Autism, Down syndrome, moderate to severe intellectual disabilities or more than one of the latter conditions, but they are all fantastic people.
On practicum, I created a bond with a lot of different children, with and without disabilities. For example, one day the children who are a part of the skills department (our students) left to gymnastics but there was no room for me in the cars. So I stayed behind as academic support for students who needed it.
In the morning, I worked one-on-one with a student whose dad had a massive heart attack and needed open heart surgery. He had a lot of anxiety and was having difficulty understanding the math. We went into the "calming club" room where it was super quiet and did the math together. He was so grateful, happy, and relieved when he finally understood the concept. He would not stop saying, "Thank you so much Mrs. D. I get it now, I was doing it wrong this whole time and now I get it! Thank you". This warmed my heart so much.
In the afternoon, I worked with four students who also had trouble in math. I tried to help them one-on-one but they were all on different questions and had varying understanding of the math. I decided to work on the problems together, so I told them to put their pencils down and went to the whiteboard.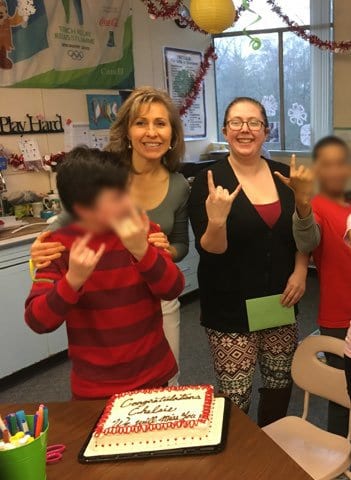 We answered the questions together, which seemed to help them understand the math much better because they had my full attention instead of my partial attention. It was amazing how focused and on-task they were.
Friday was my last day of practicum. It was a sad day but it was also heartwarming. It was close to the end of the day and my supervisor made an announcement to the kids that it was my last day. They were very sad about it. Then she brought out a cake for me and it was so special. It made me feel so grateful that I got to work with such amazing people.
I can't believe it! I am finished school! This past week was my last week! I cannot believe how fast these ten months have gone. Being a part of this program has been life-altering. I got to learn so many new skills and meet some remarkable people. I would not change a thing about my experience.
I also got hired in Coquitlam and I cannot wait to start working!
Check out a video of our Education Assistant Diploma Program.