My final preceptorship at St. Paul's Hospital has come to an end. I completed my last shift today and overall, the Practical Nursing placement went very well!
The benefits of different preceptors
My preceptor has been extremely kind and patient with me and has advocated for me to learn as many skills as possible. She is always looking for learning opportunities for me and is always available to debrief after a busy or challenging shift. At the same time, I feel independent, as she allows me to work on my own and come to her when I have a question or need support.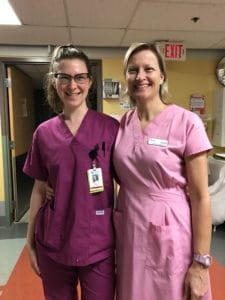 During this past week, my preceptor was on vacation, so I was not scheduled for about a week and a half. However, after consulting with my mentor from Stenberg, we all decided it would be best to continue as to not lose momentum. Another staff member on the unit graciously took me on for an extra two days, which gave me the opportunity to work closely with someone else.
It was great to have this experience as it gave me more insight and experience by working with a different nurse and allowed me to compare her way of nursing with my original preceptor.
I know some students are not as lucky with their preceptors. Like anywhere, it's easy for personalities to clash in the workplace and health care is no exception as tension and stress can run high. I know that my mentor and the practicum facilitators/instructors at Stenberg would always be open to hearing feedback on certain preceptors, or would be available for support if I was clashing with my preceptor, but I'm glad I didn't have such encounters.
I feel extremely thankful that I have had such good relationships with my two preceptors. I believe part of the work is ensuring that I am open to learning and treating them with respect.
Overnight shifts
The 12 hour shifts are extremely long and tiring, and it is very difficult to stay focused and energetic throughout the entire shift. The breaks go by so quickly but the day goes by quickly too! As I wrote about in my last post, it's been a difficult transition to get used to the night shifts. But now, I feel a bit more prepared for overnights. I pack a lot of snacks and come prepared and well-rested. I am even able to fall asleep on my break in order to recharge! (There is nothing as pleasant as getting a cozy flannel blanket from the blanket-warming machine and getting some rest in the middle of a long shift!)
However, things aren't always quiet on night shifts. On evenings, we take on an extra patient (for a total of five) and codes are more likely to be called (I've experienced two since on this unit!) Even though it is usually less busy at night because most patients are sleeping, there is still a lot of work to be done. MARs (Medication Administration Record) need to be verified, paperwork needs to be done, as well as thinning of charts, updating med indexes, and of course, the normal tasks of answering call bells, toileting, charting, and giving meds.
The summary of my schooling
Although I am getting more used to the change in schedules and had great people to learn from, this preceptorship was still challenging. The fears I faced on this clinical were different than ever before. I was extremely nervous to start on a new unit, in a new hospital, by myself.
Even though this is my fifth and final practicum, it is more demanding than previous ones. I thought my first clinical would be the hardest but my last one was the most difficult because I felt like I needed to know everything and put the last 18 months of school altogether. It was a chance for me to prove myself and show all that I've learned. Therefore, the expectations and the pressure seemed very high.
I've been reminding myself that it is okay to ask questions or to ask someone to watch me perform new skills. Taking a moment to reflect on how far I've come helps too!
It's hard to believe that this program is coming to an end.
However, my journey is far from over. Check back again for updates on graduating, writing the licensing exam, and my journey of finding work as a Nurse!
Check out this video of our Practical Nursing Program.