Marilyn Patterson finds her calling supporting children with exceptionalities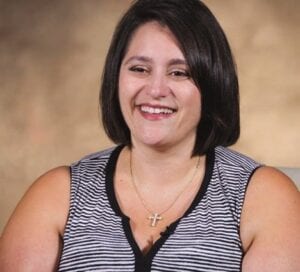 Marilyn Patterson never expected to return to school at the age of 40 or graduate at the top of her class. "To be honest, it's hard for me to grasp." Marilyn is bright, intelligent and strong – so why was it challenging to face her own success?
Growing up, Marilyn wanted to be a teacher but life got in the way. Though she is without regret, having three children by the age of 28 made it hard to follow her career aspirations. Marilyn settled for jobs that worked around her children's schedules and offered little fulfillment. When she secured a position as a noon-hour assistant, a spark ignited.
"I didn't feel like I was making a difference as a real estate agent or banker. When I heard about being a noon-hour assistant, I thought, 'I could do an hour a day.' I loved it! It was my favourite part of my day. Even when we were outside in umbrellas and gumboots, it was fun and the kids brought me joy."
Her passion became her purpose and she decided to return to school. She explains, "I felt like I belonged and wanted to do more in the school. I met people who recommended the
Education Assistant (EA)
program at Stenberg College. Because it was online, it worked with my lifestyle."
A DECISION MADE AND VALUE FOUND
For Marilyn, going back to school was a big move. She left university in her third year, overwhelmed by the pressure to succeed. Marilyn overcame this fear of success at Stenberg and is now a college graduate. She came to realize her true value.
"I learned I'm stronger than I thought and if I put my mind to something, I can do it. I realized I'm brighter than I give myself credit for."
MARILYN'S CHEERLEADERS

When Marilyn's first daughter was born, she spent a great deal of time at the Children's Hospital as her baby recovered from brain surgery. This made becoming an
EA
an intuitive step.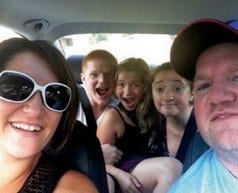 "Getting to know the kids in the neurology ward made me want to help other children. I gained knowledge from my experience with my daughter that I wanted to share with others."
Those that surround Marilyn know this career supporting children is a perfect fit. Her kids are her biggest cheerleaders. "My mom is an astonishing woman," her daughter stated with admiration. "She taught me and my siblings hard work and dedication will get you where you want to go. Her words came to life for me as I watched her dedicate herself to her studies. This dedication she instilled in herself continues to inspire me.
A NEW EXPERIENCE WITH EDUCATION
With her cheerleaders supporting her and her growing self-confidence, Marilyn loved her time as a student. A particular highlight was when Dr. Kenneth Cole, Ph.D., R.Psych., taught the Provincial Resource Program for Autism and Related Disorders (POPARD).
"I loved every minute of it. I was sick that week, but told myself, 'I'm here because this is what I want to do!' This course made me a better parent. My children feel that I approach life more calmly now. Dr. Ken's famous saying still sticks with me. He reminds us to focus on the good, as he says, 'Water the flowers, not the weeds,' and it's true."
Marilyn excelled as she immersed herself in the coursework and let it change her. Her friend in the school district notes, "From the time I met Marilyn, I noticed her gift and passion for connecting with kids and supporting them."
This gift was noticed by all, as her daughter fondly explains, "My mother had always dreamed about becoming an Education Assistant. Watching her passion exude through every unit, assignment, test, and online meeting made me want to find a career that makes me as fulfilled as my mom."
Marilyn appreciated her education in a way she never experienced before. She strived to be the best because she cared, and to her, it mattered.
PURPOSE FOUND
The children Marilyn supports describe her as "their person". She gives kids with disabilities the support they need, and they give her the sense of purpose she was seeking.
"Being an Education Assistant, you're one-on-one with a child. I put my heart into everything that I do – I know that this is my calling. The kids give me a sense of purpose. That's what they give me – I have a sense of purpose again." ❉