Our class had its first lab portion of the Licensed Optician program, where everything we have learned in theory came together with actual hands-on practice with an equipment opticians use called a Lensometer. In layman's terms, it is a "microscope" for glasses, which allows the optician to perform many measurements towards what the best options for their client will be.
Learning the tools of the trade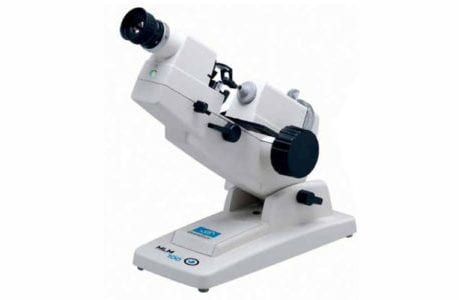 I will admit that at first, the Lensometer seemed intimidating, foreign and a skill that would be hard to master but with the patient expertise of our instructor, Raj Mann, she made operating it much less difficult. Although it was challenging, by the end of lab everybody in class was comfortable with operating the Lensometer and felt confident moving forward.
This lab also provided a first taste of what will be on the NACOR exam (National Association of Canadian Optician Regulators). It is the certification exam all opticians must pass, after completing the program at Stenberg College, to become a Licensed Optician in Canada.
Our first lab finally brought into reality all the theory we learned and it was a great opportunity to understand just how much the theory made sense once you start using the actual equipment to help create glasses. Too often the theory seems irrelevant in hands-on skills but in the Licensing Optician program, each piece of information has a direct application in what an optician will experience daily in their career.
Trip to Essilor
Our lab portion also coincided with our first field trip to Essilor, which is one of the largest and well-known optical products manufacturers in the world. We were able to see the entire process from receiving the order from optical stores to the finished lenses for glasses. It was utterly eye-opening. The amount of time and skill needed to create lenses for one pair of glasses reinforced how much my respect for opticians has increased since I started this program. If people could see the amount of effort opticians and the labs that fill the orders for glasses put in, they would look at a pair of glasses with tremendous respect because it truly is a product of highly skilled professionals.
It is with growing confidence that our class goes into each new challenge we face with the program, the combined aspects of both theory and hands-on practice labs have perfectly melded the two into a seamless learning experience, the nervousness and fear with which we all began this journey has been replaced with excitement as we near our first practicum experience, which I cannot wait to share with you!
Learn more about the Licensed Optician program!