Applying new skills
I often catch myself using the counselling skills I am learning in my Community Mental Health and Addictions program on my family and friends. Whether over the phone, through text or in person, I imagine I am in dialogue with a client. My sister could be telling me, "I despise it when people text and drive. It's so careless and reckless!" And my response could be something like, "People who text while driving frustrate you." I'm aware I am doing it but I just can't help myself.
For a little over a month, we have been practicing our motivational interviewing skills along with learning about seeking safety treatment for PTSD and substance abuse. Motivational interviewing is client-centred counselling, which aims to elicit behaviour change by helping clients explore and resolve ambivalence. In other words, change comes from within the client. As for seeking safety, we have explored coping mechanisms through applicable quotes, handouts, and old versus new coping strategies sheets. It's been quite the process, learning all these new skills. As strenuous as it has been, I must say that I am thankful to be provided with this sort of education.
Nerves subsiding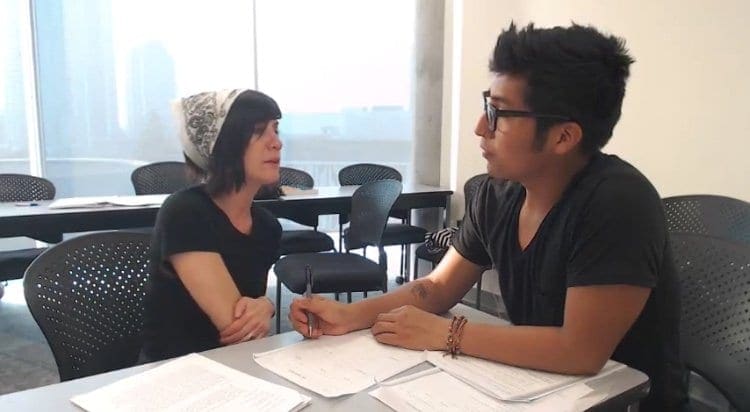 Looking over our course outline my heart picked up its beating pace when I read about being filmed during our mock interviews. I became anxious when we were informed that the class would be critiquing each other's interviews. It's sort of a funny thing, after all these months, I still get a little nervous when I have to do presentations in front of my classmates. I don't think that ever goes away but it does subside a bit.
Being paired with a certain classmate made for a fun and positive experience in practicing and filming our interview skills. It is a wonderful thing when you work with someone who is patient, supportive, positive, and encouraging. We would be really serious one moment and laugh the next. But once we were on a roll, we allowed each other to express ourselves and openly take constructive criticism.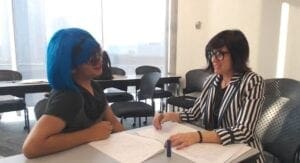 My partner wrote a mock client write-up where I was a woman struggling with addiction, PTSD, substance abuse and other traumas. This mock client also had neon blue hair, wore bright red lipstick and giant sunglasses, and had an accent,. As soon as I got into character during the interview, I really felt like these problems were truly mine and that I was receiving genuine support. After the interviews, I informed my classmate of how much her skills were improving and how it truly felt like an actual session. What helped make these interviews honest was incorporating my past traumas and speaking as if they were still a major event in my present life. My partner picked up on that and supported me with professionalism. I am sure going through this course, many people in my cohort leaned on actual life traumas to make these sessions successful.
An eye-opening experience
This has definitely been an eye-opening experience as I am reminded of how far we have all come. Not just those of us in the CMHAW program, but all those who fought hard to get where they are now. Through resilience and support, here we are. Even you reading this, you have walked steps I will never walk… steps that hurt and steps that gradually moved you towards a life meaningful to you. We all have a story and the best narrator to tell these stories is ourselves.
We are pretending with these mock clients. But somewhere out in this world is someone with these specific challenges. Challenges with mental health, PTSD, addiction and abuse. When we finished our assignments I became me again but I remember, this potential client continues to exist. After the program comes to an end and we are working in the field, maybe my classmates and I will meet clients with such stories who need support and I hope we can look back and remember how we practiced these skills with competence. Until then, we must continue to study hard and learn with open minds