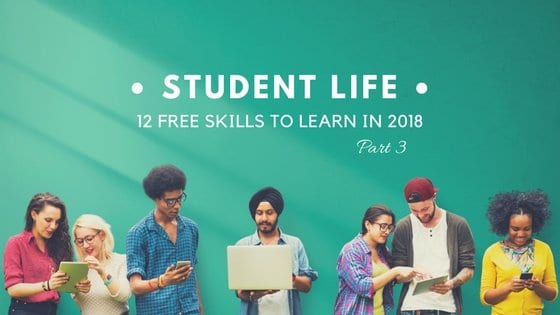 Hope you're having an excellent and productive 2018! This is the final post in my Student Life: 12 Free Skills to Learn in 2018 3-part series blog. Did you try any skills from the first or second post? Check out the following skills you can learn this year for little or no-cost:
Sewing, patching and stitching
Clothing trends change every day and it's hard to keep up with the latest fashion if you are on a tight budget. Learning to sew is just like learning to cook; it saves you so much money and once you master the skill you can use it to make money in return. You can recycle your old clothing and make new outfits out of them, use your skill for home decor and what not. Invest in a cheap sewing machine (check Craigslist) and buy some fabric from a nearby thrift store or yard sale. You can join sewing classes if you have the time or you can start at home by watching YouTube and taking up small projects like fixing an old pair of jeans.
Writing professional emails
Most professional communication takes place over emails. Hence, it becomes really important to be able to compose professional emails. Step one would be drafting a clear and concise subject line, greeting the receiver and having your signature or closing remarks. These three things are must in every email. Also, try to keep your emails short and precise to convey your message directly. Most importantly, proofread your email before clicking the send button to make sure there are no spelling mistakes or grammatical errors. Check out this article by Grammerly which talks about the art of writing professional emails.
Typing speed
We all have assignments to hand in and emails to send, resume and cover letters to work on, and so on. Imagine all the assignments are due on the same day and you have not even started yet. A good typing speed will not only reduce the time by half but also reduce the chances of grammatical errors because you will be looking at the screen more than the keyboard. You can easily practice typing online for free by giving typing tests repeatedly, like TypeRacer.
Yoga
Life has become all about multitasking and eating multivitamins, but is that enough? Most people are more stressed than they think. So, what should be done? There can't be anything better than yoga and meditation to improve your health as well as performance. Again, all you need is Google to learn this skill which you can effectively access with advanced Google search techniques. Or, try using apps like Universal Breathing – Pranayama, 5 Minute Yoga Workouts, or Headspace. Now, go get started.
I hope these recommendations were helpful! Let me know which of the skills you tried and how it's working out for you in the comment's section.