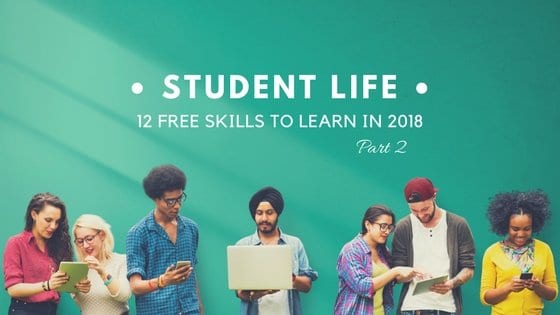 Did you read my previous blog where I mentioned skills you can learn for less (or even for free)? As we reach the end of March, here are some more skills you can learn this year for little or no-cost:
Boost Memory
The only way to boost your memory is to give your brain a challenging workout. As we grow older our capacity to learn new information decreases because adults tend to focus more on their crystallized intelligence (all the accumulated knowledge and experiences gained throughout life). Our brain develops neural pathways to solve basic everyday problems with minimal mental effort.
There are a variety of mind games available on the App Store and Google Play Store that challenge your brain in every possible way. If you get frustrated halfway through solving the puzzle then you definitely need to continue and challenge your brain a little by little. Lumosity and Peak are some suggestions to get you started.
Networking
We can meet new people while standing in a line of Tim Horton's or waiting for a bus. Ever imagine if that person can be your future employer or maybe a referral? We are networking all the time, when we smile to strangers, post a status, or even upload a photo on Instagram. Most employers have started checking LinkedIn, Facebook, Twitter and Instagram profiles to recruit candidates. So, we should be mindful of what we are posting and use all these platforms to build long-term professional relationships and a solid reputation. It doesn't only open doors to new opportunities but also promotes personal growth and brings in new knowledge.
If you would like help with your LinkedIn profile, talk to your Student Success Coordinators and they can direct you to the right person.
Cooking
In my class of 20 people, I was the only person who brought lunch every day, most of them relied on snacks from fast food joints like Tim Hortons, McDonald's and A&W. Eating out is fun but expensive and usually unhealthy. If you buy one Subway every day, let's say for $7, for one month then it will cost you $210 just for one submarine sandwich. Now, imagine how much buying three meals (breakfast, lunch and dinner) would cost monthly.
Instead of buying fast food every day, buy some groceries and cook at home which will not only be cheap but healthy as well. You can learn cooking from YouTube, every recipe is just one click away. Get started with some basic recipes by BBC Good Food.
Budgeting
There is so much you can do to save money. I always leave my card at home and instead carry cash as you don't realize how much you are spending using a card, mainly because you have way more money than what you are making. Make a monthly budget and try to keep it lower than your monthly income so you can save for future goals and dreams.
Remember too not to be too harsh on yourself by cutting all the fun. Always keep a little amount to have rewards for yourself every month but if you think you don't need it, then save it.
Check back for Part 3 of this series and learn about more skills you can learn on a tight student budget!