To find success, Sheetal changed her outlook and pursued a new dream as a Health Care Assistant
When Sheetal Dhir came to Stenberg College, she was confident she would fulfil her lifelong dream of becoming a nurse. As an outstanding student in high school, she had volunteer experience working with people and had taken university-level Biology, Statistics, English and Psychology courses to become familiar with post-secondary education. She was ready.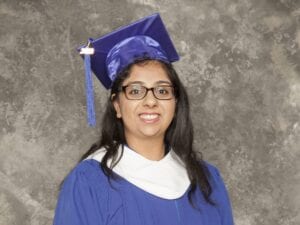 FIRST SETBACK
Sheetal thought she was prepared for the academic expectations of the program but she had not considered the hands-on aspect, which included wound care. Despite getting over 85 percent in the program, being uncomfortable with wound care, which is an important aspect of Practical Nursing, meant Sheetal had to shift her vision and truly reflect upon nursing before pursuing it further. She tried again but being uncomfortable around blood, she realized she could not continue in nursing. This was Sheetal's first major setback in life. And she experienced it, not once, but twice. Although she would eventually come to terms with it, this experience was life-defining for her. She remembered, "It was awfully lonely at the time. It was probably one of the most difficult times that I've had to go through as a student. It was emotional too."
"I wouldn't change a thing. If I hadn't experienced what I experienced, there wouldn't be any life story to begin."
Sheetal now had to break the news to her parents. Her parents immigrated from India and worked hard to give Sheetal and her younger brother a better life in Canada. They supported her education and helped her with tuition costs and fees. Sheetal Dhir wanted nothing more than to make her parents proud. Giving them the news of her setback was not something she took lightly. "That day was tough. I remember I was in tears when I told them but I had to keep myself grounded," she said. "I consoled them and let them know I can still be a strong, independent woman. Just give me a chance."
This was a difficult time. Sheetal went through many moments of doubting herself, her abilities, and her dreams. "At times, I would question myself and ask why this happened to me. Stenberg then set me up with one of their life coaches who mentored me, guided me, and gave me that sense of hope and purpose. I also give credit to my family for supporting me during this rough time."
"Stenberg set me up with one of their life coaches who mentored me, guided me, and gave me that sense of hope and purpose."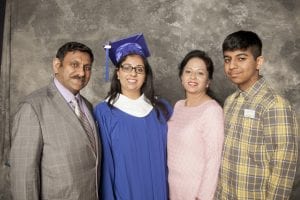 FINDING SUCCESS
It was not long before Sheetal found her purpose, and with it the strength to continue. "Just because I was unsuccessful in one course, doesn't mean I cannot pursue my dreams and still continue being a healthcare provider. That's when I decided to pursue the Health Care Assistant (HCA) program. Instead of becoming a nurse, I shifted my mindset towards becoming an HCA, which is equally rewarding."
With her nursing knowledge, she walked into the HCA classroom with newfound confidence. She took on a leadership role in her cohort and was recommended by her instructor, Merliza Rodriguez, to be the student blogger for the program. This was a new and renewed Sheetal Dhir. "My whole outlook, my whole approach, was more mature. It was more transparent. I started to realize my strengths and weaknesses."
Over time, Sheetal's parents saw these positive changes. "Initially, they were disappointed in me for the setback but I think they saw a transition while I was doing the HCA program. They saw a new sense of confidence in me. I regained their trust," she said with pride.
NEW HEALTH CARE CAREER
Sheetal Dhir is now in her early twenties and a Stenberg Health Care Assistant graduate. She is happy in her field of work and is currently taking a certificate program in Healthcare Leadership, which will allow her to take on more administrative responsibilities at her place of work.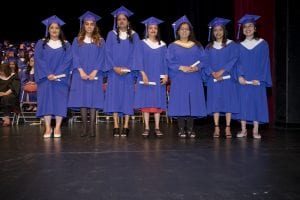 Alea Mills was Sheetal's youth engagement team member at DASH BC and has no doubt in her abilities. "Sheetal is an enthusiastic and thoughtful team player who has a keen interest in healthy living and healthy communities," said Alea. "I have seen tremendous growth in the leadership skills and attributes of this impressive young woman and am happy to be providing a reference for Sheetal. I am confident that she will excel in her future endeavours and continue to contribute as an active citizen and positive role model."
Looking back, Sheetal has no regrets. "I wouldn't change a thing. If I hadn't experienced what I experienced, there wouldn't be any life story to begin." She truly discovered herself at Stenberg and encourages others to do the same. "My advice to my peers and prospective students is to be flexible. You never know what's out there for you. Just go for it. To keep myself going, I always remind myself that this isn't the end, but only the beginning."
---
For further information on Stenberg College's Health Care Assistant program, fill out the form and a member of our advisory team will get in touch with your shortly.