Before becoming a Registered Pharmacy Technician (RPhT), I had no idea so many opportunities were available in the career. As an RPhT, we can be employed in many different fields, such as retail, hospitals, long-term care centres, research labs, clinician offices, and with pharmaceutical companies. When I attended Stenberg College's online Pharmacy Technician program, my end goal was to work in a hospital pharmacy. After finishing school and becoming registered in 2020, I began working as a casual hospital technician, and it has been an exciting adventure to say the least!
No hospital is exactly the same. Each has different roles, different departments, and even different computer programs. However, the scope of practice for an RPhT is the same in all health authorities in British Columbia.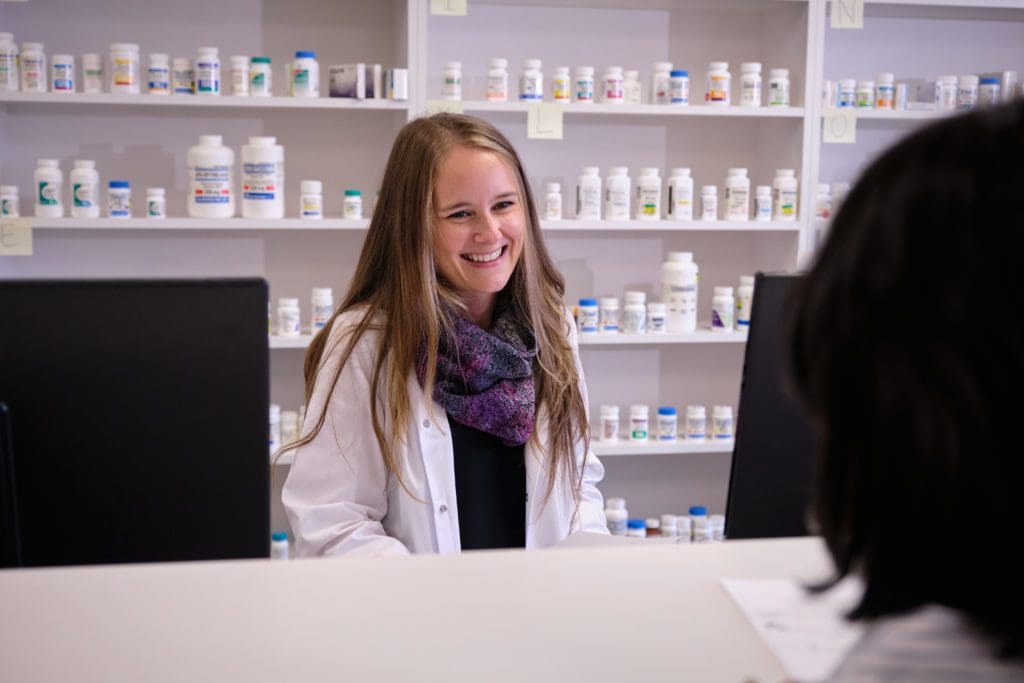 Seniority
RPhTs can work in permanent full-time, permanent part-time, or casual roles within B.C. hospitals. RPhTs belong to the Hospital Employees Union (HEU), which negotiates a collective agreement with the health authorities. Seniority, as outlined in the union collective agreement, largely determines who is granted new positions or shifts that become available. Seniority is not based on when you were hired, but rather the number of hours you have worked. I have chosen to be a casual employee, working around 10-15 days per month. Therefore, a technician who was hired after me, but who has worked more hours, would have higher seniority than me.
Generally, when a permanent position becomes available, it will be offered to someone already working in the pharmacy, and new technicians will be offered casual positions. However, the pharmacy is an ever-changing and growing department. Sometimes, new roles are created, and a new technician may be able to find a permanent or temporary full-time position right away.
Permanent and Casual Positions
Depending on your circumstances, you may prefer a permanent or casual position in a hospital. In a permanent role, you are guaranteed hours. You also have benefits and pension plans, paid vacation and sick days, and can bank your overtime to take extra days off. However, you need to plan your time off in advance. It can also be hard to pick up extra shifts, as preference goes to casual staff who do not go into overtime.
Working as a casual employee has a lot more flexibility for your working days and hours than a permanent employee. As a casual employee, you are not guaranteed hours. You will be picking up shifts for people who are on vacation, who call in sick, or sometimes for positions that are not yet filled. You can also lose shifts you have accepted if the permanent RPhT decides they no longer want to take that time off, or if a position is filled. It can be harder to gain seniority as a casual employee, and you do not have benefits or vacation pay. However, you do get an extra percentage of pay in lieu of benefits. You can also choose to take time off whenever you want, without needing to request it. If you have a preference for morning, evening, or weekend shifts, a casual position allows you the flexibility to pick up the shifts that you like and decline the ones you are not interested in, though I love them all!
A Variety of Roles
At the hospital pharmacy where I work, there are 20-25 RPhTs working 8-hour shifts each weekday, and 8-10 RPhTs on weekends and statutory holidays. Shift hours vary from hospital to hospital, with some pharmacies having overnight shifts and some having only daytime shifts.
Some of the roles that are typically performed by the same technician include:
| | |
| --- | --- |
| Role | Duties |
| Lead Technician | Manages the technician team and their tasks |
| Sterile Products Trainer | Trains new staff and recertifies existing staff Ensures the compounding departments are up to Island Health and National Association of Pharmacy Regulatory Authorities (NAPRA) standards |
| Purchasing Technician | Orders and distributes inventory |
| Narcotics Technician | Controls the outflow of narcotics to various wards and patients |
| Best Possible Medication History (BPMH) Technician | Works in the emergency department recording patients' BPMH |
| Chemotherapy Clinic Technician | Retail side Readies prescriptions for patients to take home Hazardous sterile products side Readies and checks compounded sterile products for patients receiving treatment onsite |
| Sterile Products Control Room Technician | Ensures that the day's scheduled sterile compounds are complete, records are updated, orders are entered, and supplies are well stocked |
| Covid-19 Vaccine Technician | New role created in 2021 Controls the distribution of Covid-19 vaccines within the hospital and to surrounding areas, such as Covid-19 vaccine clinics, the First Nations Health Authority, and other hospitals in the mid-upper Island Health region Immunizes inpatients for Covid-19 |
Some of the roles that are rotated weekly include:
| | |
| --- | --- |
| Role | Duties |
| Dispensary Technician | Fills, checks, and dispenses all unit dose orders Makes non-sterile compounds as required Restocks shelves and bins as required |
| Order Entry Technician | Refills 'missing medication' as required Enters orders for departments not yet utilizing computerized order entry Ensures faxes are distributed within the department Ensures night cupboard is restocked daily Answers the phone and door |
| Barcoding Technician | Prints and applies barcodes to products as required Applies auxiliary labels to products as required Checks barcoded items for accuracy |
| Wardstock Technician | Ensures all wards throughout the hospital are stocked with their required minimums Ensures all product on wards are within 'Beyond Use Dates' Returns all unused product to the pharmacy |
| Unit Dosing Technician | Creates and checks unit doses from bottled oral solids for dispensary and wardstock use Creates and checks daily dose medication strips for inpatients Creates and checks weekly dose medication strips for long-term care facilities |
| Non-Hazardous Sterile Products Technician | Compounding Sterilely compounds various medications for use within the hospital and for patients on Home IV Programs Checking Checks all compounded medications for accuracy before dispensing |
| Hazardous Sterile Products (Chemotherapy Clinic) Technician | Sterilely compounds hazardous intravenous and subcutaneous medications for patients Repackages hazardous oral solids into unit dosing for inpatient use |
As you can see, working in a hospital as a Registered Pharmacy Technician offers a great deal of variety and opportunity to grow your skills. I have gained experience in most of the pharmacy departments at the hospital, but I have been able to spend most of my time in the areas I really love, such as compounding sterile products and the onsite cancer clinic. By working in a hospital, not only are you part of a huge healthcare network, but you are impacting the daily lives of many patients. You can also feel a profound sense of satisfaction in your chosen career.
This blog was written by Ericka Brown, RPhT, our Pharmacy Technician Distance Diploma graduate, and it reflects her journey and experience through the registration process. Click here to read her success story!