As a mom who had been at home for five years, I really missed being around other adults and forming relationships that didn't center around the dance class our kids shared together. I also wanted to contribute to society in a meaningful way, so in 2018, with my youngest child soon off to kindergarten, I began my search for a new career.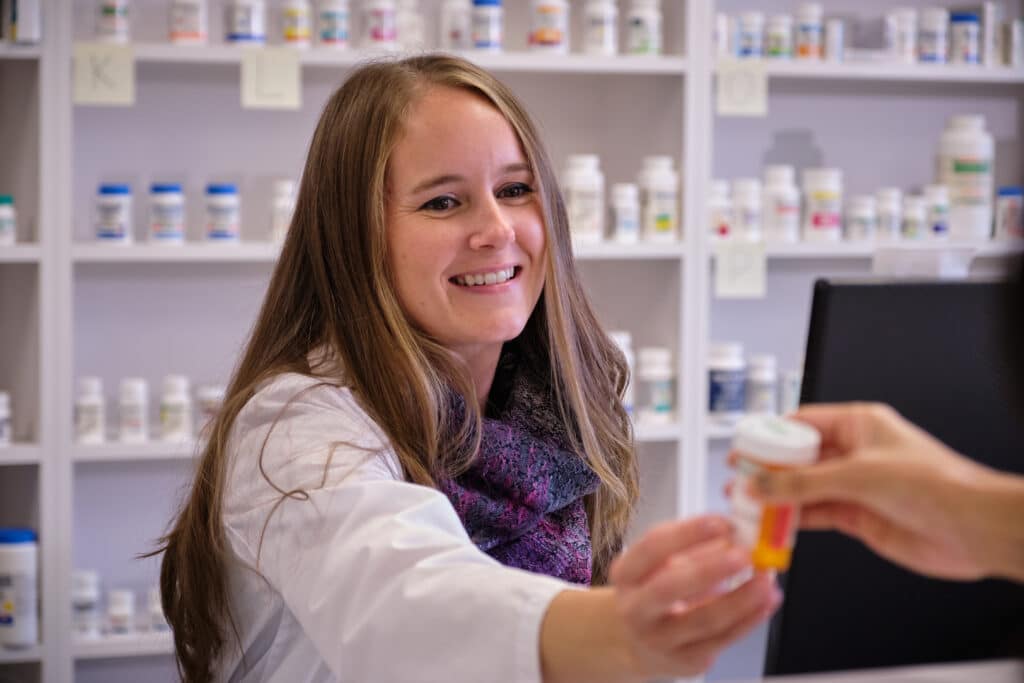 I began by scouring the internet and reaching out to my network. One friend, who I had met 16 years ago while working at a clothing store, is now a Registered Pharmacy Technician (RPhT). She loves her career and much of what she shared reminded me of the things I loved in my previous career as a veterinary technologist. She helped me realize that becoming an RPhT was the right path for me, and she recommended Stenberg College. I applied to Stenberg's online Pharmacy Technician program and was accepted into the February 2019 cohort. The combined delivery format of this 44-week program was perfect for me, as I live on Vancouver Island and there's no local technician program here. It also enabled me to do the majority of my learning from home, on my own time, which was important to my busy family.
Beginning My Online Education
In February 2019, I visited the Surrey campus for a day to meet my program coordinator and fellow classmates, and see where the labs were. I also picked up my lab coats and textbooks, and the next day I began my studies from home in Nanaimo. Stenberg College made it easy to succeed. I was able to choose when I studied, usually when my kids were at school (grade 1 and pre-school), or when they were asleep at night. I found ways to fit studying in while running the kids around to their extracurriculars! I reviewed flashcards while waiting for swim lessons to finish, and listened to audio recordings of drug names while driving, or even while grocery shopping. I listened to them while on the go so often that my kids actually started learning and repeating them too!
The great thing about this program is the flexibility. We got to choose from a variety of options when to do the live online classes with teachers and when to write exams. I could pick the days and times that fit in with my very busy life. I drove my kids to and from preschool, elementary school, gymnastics, ballet, swim lessons, birthday parties and playdates, while also keeping up with groceries, housework, laundry and the many other household/parental tasks. I usually wrote my exams with a proctor at the local university, though I was also able to use ProctorU to write at home sometimes. This was super helpful when one of my kids was sick and had to stay home from school. While she slept in her bed, I was writing an exam downstairs. Stenberg College wants us to succeed, and offering flexible times and various ways of completing our online classes and exams is just one of the ways Stenberg aids our success.
Attending Labs
I headed to Surrey in June 2019 for my first set of labs, which were the Community Pharmacy labs. I rented an apartment near the campus with another classmate and spent four weeks learning how to use the computer software, create and read medication labels, fill, refill and dispense various medications, label things like inhalers and tubes of cream, and use devices like glucometers. We also practiced some non-sterile compounding, reconstituting antibiotics, mixing creams and powders together, and crushing tablets to make suspensions.
I then headed back home for three weeks before returning for the hospital labs. Here, we learned how to read patient charts and medication administration records, as well as how to use hospital pharmacy software. We also spent time learning the correct way to wash and garb for sterile compounding, practicing on an almost daily basis. We spent time discussing the way air flows in various hoods, and how to clean them according to that air flow, as well as how to aseptically compound inside those hoods. We practiced our syringe and vial techniques, learning different tricks from different instructors, and also handled intravenous bags, injecting medication and removing air from them.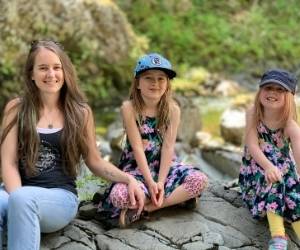 I was pretty nervous about being away from my family for so long, especially my young kids. It helped that my roommate was lovely and we got along well, sharing a bottle of wine some evenings. Our labs were in the evening so I spent my days taking the Skytrain to visit places like Granville Island and Gastown, as well as visiting some family that live in the Lower Mainland area. My husband and two daughters came over for a long weekend visit, and we explored Vancouver, visiting Science World and watching the Canada Day fireworks. When they left after that weekend, it was hard on all of us, but four short days later I took a ferry home to visit them again. I had a video call every day with the girls, often during my break between lab sessions, and their dad and grandparents made sure they had a fun summer at home on the island. Keeping them busy helped make the time pass faster. My husband also came over on his own for a weekend, and the two of us visited the Richmond Night Market for some delicious food and fun entertainment. We all understood that my being away was an important part of my education and that it would be worth it when it was all finished, so we made the best of it!
My First Practicum Experience
After the labs, we were ready for our practicums. I first spent four weeks working at The Medicine Shoppe, where I was able to practice the skills I had gained and see how much knowledge I had retained. I was very nervous but pleasantly surprised with how well prepared I was, thanks to Stenberg College. I wasn't too sure if I would enjoy working in a community pharmacy, but I really did! By the end of my four weeks there, I was remembering patients and they were calling me by name as well. Immediately following the community practicum, I moved into the hospital practicum, which was a very different experience. The hospital pharmacy is much larger, with around 15-20 technicians working on any given day in multiple departments, plus a satellite chemotherapy pharmacy on another floor. I spent time in each of the departments, learning the ins and outs of the dispensary, the narcotic vault, labeling, unit dosing, sterile IV mixing, and stocking all the hospital wards. It was a very busy environment with a lot going on, and I didn't want to leave when my time there was up!
Conclusion
When the program first began, I was a bit worried about being properly prepared, given that I was learning at home and not in a classroom, and I had a lot of new information to absorb. Once I got to my labs, however, everything clicked and I was able to better understand what I had learned at home. It was while in the labs, mixing powder and cream together on a glass slab, that I knew I had chosen the right career and the right school to train with. I highly recommend this program to anyone looking for a flexible and rewarding career in healthcare!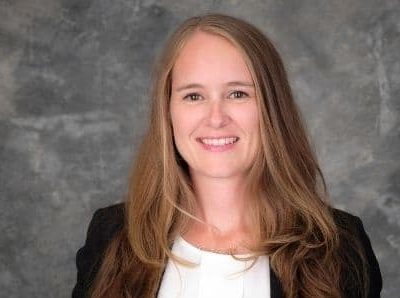 This blog was written by Ericka Brown, RPhT, and Stenberg College Pharmacy Technician graduate. It reflects her journey and experience through the program. Ericka graduated in 2019 and is now a casual Registered Pharmacy Technician (RPhT) at Nanaimo Regional General Hospital. Click here to read her success story!