The confident and charismatic Anthony we see today is a result of a lot of hard work. He was in third year of Electronics and Communications Engineering degree at the University of Santo Tomas in the Philippines when his parents decided to immigrate to Canada with hopes of building a better life for him and his two siblings.
A NEW LIFE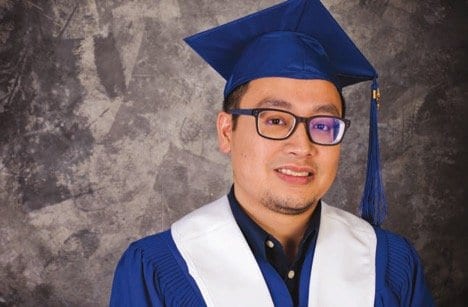 They left everything behind – their jobs, education, home, and even some of their loved ones. Anthony had to say goodbye to the love of his life, Angela (El for short). Before he left, Anthony made a promise to Angela. "I told her, 'we'll write love letters.'" The two continued their relationship over the phone.
Anthony settled into a new way of life with his family. "Five of us were working at the same time. Our target was getting a house. It's incredibly hard to buy a house and settle down but it's a part of that Canadian dream: you get a house, you buy a car… All of us worked together and within a year and a half we bought our very first house!"
To help with the purchase, Anthony, once an aspiring engineering student, worked at a home improvement store. He burned the midnight oil stacking shelves with tools, selling hardware and flooring supplies, and always going above and beyond. At the same time, afraid he might lose Angela, Anthony put down the phone, got on a plane and asked her to marry him. In 2012, after almost a decade of emails and phone calls, Ton-Ton married El.