Delivery Method: Combined delivery
Duration: 120 weeks
Start: Twice per year (March and September)
Credential: Diploma
Designation: Registered Psychiatric Nurse
Wages: $36.23-$57.38/hour (BCNU April 2021)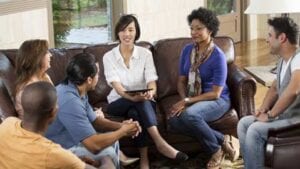 Accreditation and Recognition
Stenberg College is designated by the BC government's Ministry of Advanced Education through the Private Training Institutions Branch (PTIB). PTIB is responsible for setting standards of quality and ensuring consumer protection. Stenberg College has also received the BC government's Education Quality Assurance (EQA) designation, which is BC's brand or "seal" of quality post-secondary education for public and private institutions. This program is also approved by the Registrar.
British Columbia College of Nurses and Midwives Recognition
Stenberg's Psychiatric Nursing Diploma Program is recognized by the British Columbia College of Nurses and Midwives (BCCNM). This full-time, 120-week combined-delivery program is designed to prepare students, upon graduation, to register to write the Registered Psychiatric Nurses of Canada Examination (RPNCE).