Delivery Method: Combined delivery
Duration: 120 weeks
Start: Twice per year (March and September)
Credential: Diploma
Designation: Registered Psychiatric Nurse
Wages: $36.23-$57.38/hour (BCNU April 2021)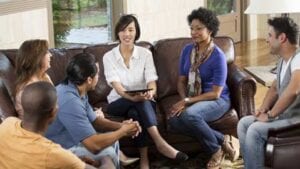 Credit Transfer (Articulation)
Credit Transfer to Thompson Rivers University (TRU)
Graduates of Stenberg College's 120-week Psychiatric Nursing diploma program are eligible for admission toward the Bachelor of Health Science degree at Thompson Rivers University. Successful applicants receive up to 84 PLAR credits, leaving 36 credits remaining to be completed at TRU (21 Lower-level; 15 Upper-level). All courses for Thompson Rivers Bachelor of Health Science degree done entirely online from anywhere in Canada.

Articulation to Brandon University
Registered Psychiatric Nurses (RPNs) with a Bachelor of Health Sciences degree from TRU meet the admission requirements for Brandon University's Master of Psychiatric Nursing (MPN) program. All MPN students are required to attend an annual 2-3 day on-campus session each year in order to meet residency requirements but the rest of the coursework is delivered entirely online and practicums can be in a student's home community. The MPN program can be completed in as little as two years but students have up to six years to complete the program.