Would you let a hockey player do your ECG? If it's Brett Morrison, you definitely would. Brett was a competitive hockey player before he traded in his hockey stick for a holter monitor as a Cardio Tech.
As an athlete, Brett was always interested in the fitness and function of the human body. He was drafted in the fifth round by the Anaheim Mighty Ducks and had a promising career as a hockey player, amassing 72 points in 68 games in a single season with the Gatineau Olympique of the Quebec Major Junior Hockey League. Instead of following his heart, he listened to his brain and decided to enroll in post-secondary education.
"I was drafted and was going to play minor pro but I decided to go do my undergrad because you don't want to be stuck being injured and then 30-something years old with no education and no income."
Luckily enough, he was recruited by a university on a hockey scholarship, where he was able to continue to play Canada's national game while studying Kinesiology. He finished his degree while maintaining a high GPA, keeping his scholarship and hitting the road to play games on the weekends.
After graduation, he started working as a Kinesiologist at a therapy clinic. He worked there for a few years and also gave fitness lessons at the YMCA. He was looking at different career options when he met a Stenberg grad from the Cardiology Technologist program who inspired Brett to consider pursuing a career in Cardio Tech.
Although the career itself was interesting to Brett, what truly pushed him towards the world of ECGs was his dad's heart condition called Atrial Fibrillation. "It's basically just an irregular heart rhythm. If it's not monitored, it can cause someone to have a stroke. His heart was not in rhythm for years. I didn't really understand it back then so I thought it would be interesting to research and get into the heart." Determined to learn more about the field of Cardiology Technology, Brett job-shadowed professionals in the field before plunging into monitoring the heart's electrical activity.
BECOMING A CARDIO TECH
Brett started the Cardiology Technologist program in 2016. As he moved into the clinical stage in the program, Brett's curiosity piqued. "I really enjoyed the lab work. All the lab instructors in Halifax were great. They brought what we learnt online and showed us how it all applies in real life, which really helped us tie everything together."
He recalls his time in the program as the time he "worked the hardest in his life", even harder than the time he was a competitive hockey player doing his undergrad on a scholarship. "I worked extremely hard during the program just to keep my marks up and be positive in the class. When we were doing our placements for those three months I was working full-time, eight-to-four at the hospital and found myself wanting to work on the weekends even though I didn't have to!"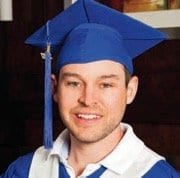 After finishing the program, Brett sat for the national exam conducted by Canadian Society of Cardiology Technologists (CSCT) to become a registered Cardiology Technologist. According to him, it was tougher than any exam he had ever written. But his hard work paid off and he got hired, full-time, as soon as he wrote the exam.
FUTURE ASPIRATIONS
After gaining more experience in the field, Brett aspires to combine his passion for Cardio Tech with his first love, hockey. "I would like to work with a cardiologist and research different arrhythmias, which I find can cause sudden death in young athletes. I'd love to implement something into a league where hockey teams require players to get an ECG before they're allowed to participate. The ECG can check if they have any heart condition that could cause them to die on the ice."
But can Brett be satisfied doing just one thing? Not at all. He also wants to work as an instructor for Stenberg's Cardiology Technologist program. "I'd love to be an instructor at the lab because I think it would be great to have a male asset in the lab setting. Over the last few months, I've really developed different techniques as a male cardio tech to make a female patient comfortable at the same time as I do an ECG, keep them covered and just being able to talk to people and comfort them."
For now, Brett is at peace with his choice of profession and is enjoying his work immensely. His words of advice for anyone considering the program, "You have to put in the work to get the reward."