A tale of three women who found empowerment through a career as a Medical Lab Assistant
Reclaiming her true self
Tattooed in beautiful calligraphy flowing across Samantha Wiancko's collarbone is, 'Love without Limits'. A reminder of every struggle and hurdle she overcame to reclaim her identity.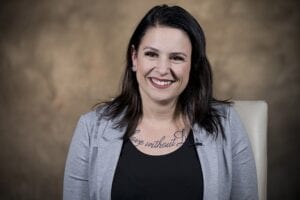 Samantha always had a caring disposition and longed to be a nurse. After graduating from high school, Samantha worked in cosmetology but realized it wasn't for her and began working at a metal recycling business. Then her life took an unexpected turn. "I got pregnant at 20 and didn't know the father very well. The relationship was unhealthy, and my confidence fell lower until I got to a breaking point." She worked two jobs with two young daughters. "My mom watched the girls and I tried to pay the bills. I got to a point where I was like, 'I can't do this anymore. Why am I doing this with you if I could be doing it by myself?'"
Sam summoned the courage to remove herself from the toxicity and move to her parents' basement with her kids. Determined to redeem herself, she wanted to pursue her dream of becoming a nurse but as a parent, she could not commit to four years of school. "I didn't want to sacrifice my kids' young years. Then I learned about the Medical Laboratory Assistant Diploma program at Stenberg. It was perfect for me. It would get me in the hospital, which is where I wanted to be."
The beginning of the MLA journey
Sam marked the beginning of her journey towards reinvention with the special tattoo. "The program kind of reinvented me as a person. I made new, good friends, people who had the same passions and goals. It made me realize I was capable. I was smart." As Sam completed the MLA program, she started "feeling good". She felt confidence, competence and fulfillment.
Currently, on a career as a Medical Lab Assistant at the Canadian Blood Services, Sam has regained her former bubbly, vivacious self. She became a happy mom to her daughters and a happy daughter to her parents. "They saw a girl who wasn't too excited about life turn into somebody who wakes up every day excited to go to work and play with her kids when she gets home because she's not unhappy or miserable anymore. They're all proud of me."
Haeley's fight to become a role-model mother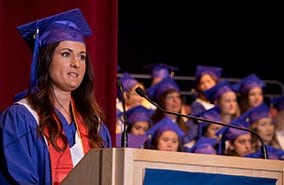 What does it take to run your life on your own terms? For Haeley McKinney it took exemplary courage to turn her life around from being a single mom while working full-time as a server to becoming a star mom with a well-paying career in health care. She emerged as a champion.
After graduating high school, Haeley worked as a hairdresser but was soon blessed with two daughters and became a stay-at-home mom. As her daughters grew, Haeley needed to help pay the bills. She took a part-time gig as a server but her marriage was failing and then she was on her own. One day, she had to take her daughters along for her St. Patrick's Day shift. In this moment she realized she needed a career that she and her daughters could be proud of and admire. Determined to provide the best for her daughters and become a better role model, Haeley searched for career options and decided to pursue a career as a Medical Lab Assistant at Stenberg College.
Haeley finished the program with a 94% grade point average (GPA) and won Student of the Year 2015. She is currently working as an MLA and as a Program Advisor at Stenberg College. "I am proud of this. It's changed me… I can do anything I set my mind to. I do believe that now…I did something that I never thought I could do and did it well."
Finding financial empowerment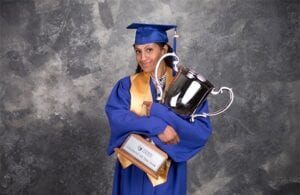 A mother's love knows no bounds. Nor does her grit. Temwa Khonje's success in becoming a Medical Lab Assistant is a testament to her will and her love for her children.
Temwa was 21 when she dropped out of university to get married. Soon, she became pregnant and had her first child. Her husband was in the United States Navy and was away for most of her pregnancy – ultimately, the relationship did not work out. Years later, Temwa met her second husband. They ran a marketing company and had three children but after 10 years of marriage, her second husband abandoned her and their kids. "I felt like a complete failure, in more ways than one, because I have four kids and it wasn't just one failed marriage, I had two failed marriages. It was hard and I lived in such a small town that everybody knew."
She had debts to repay and children to raise, so Temwa started looking for short-term courses to help her become financially stable. While trying to make ends meet on social assistance and studying part-time, tragedy struck. Her oldest son had an accident, leaving him in a wheelchair for months. Fortunately, he recovered and Temwa completed her part-time program. Unfortunately, even with high grades, she was unable to find a permanent job in her field.
A successful career as a MLA
Temwa was under a lot of pressure. She was at a point where anybody else would have broken down. But Temwa isn't just anybody else. This was when she came across Stenberg College. After attending an info session for the MLA Diploma program, she realized this was a break in the clouds and enrolled in the full-time 30-week program. Temwa excelled in all the classes, achieving a 95% GPA. She won Student of the Year in 2016 and as part of the award, her tuition was reimbursed.
"I wanted something that would make me feel proud of the woman that I am – something that would make my kids look up at me and be proud. Before Stenberg, I didn't feel like I had that." She landed her practicum at a LifeLabs location and grew as a professional on the job. She was offered a permanent position and is currently working on a successful career as a MLA. Her story is an inspiration. In Temwa's words, "If my story can inspire even one woman in a situation where she doesn't feel she's good enough or thinks she doesn't have the strength to go for it and move forward, that's so much more than I could ever have hoped for."