When it comes to landing your dream job, the interview can be one of the most intimidating parts of the process. But by informing yourself about the position, and preparing answers for some of the tougher questions you may be asked ahead of time, you'll be able to show up feeling confident and well-prepared.
Early childhood Educators typically find work in private or public daycares, preschools, and other childcare facilities.
While earning your Early Childhood Education diploma, you'll learn how to design programs and activities aimed at helping children interact and grow in an educational setting. By keeping this in mind, you can get an idea of the type of questions you'll come across during a job interview.
If you're considering enrolling in an Early Childhood Education program, read on for job search tips for educators that will help show hiring managers that you're the ideal candidate for the job.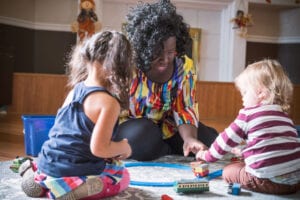 Prepare for Behaviour-Based Early Childhood Education Questions
When daycares, preschools or other facilities are looking to hire an Early Childhood Educator, they often ask behavioural questions. These types of questions help interviewers paint a picture of how you work with children and how you might handle tough situations while on the job. For example, an interviewer might ask how you would handle an encounter with an irate parent, or which techniques you would use to teach a student with a learning disability.
The key to anticipating behavioural questions is to prepare answers that demonstrate your abilities to work through adversity. Think of responses that demonstrate your ability to solve issues with parents, and create individualized activities for students. This will show the interviewer that you're capable of handling many challenges in the workplace.
Research the Early Childhood Education Facility for Which You Are Applying
One of the best ways to prepare yourself for a job interview is to research your potential employer in advance. While you're in your Early Childhood Education program, you will likely get an idea of the type of place you would like to work in. Therefore, when applying for jobs, it's best to do as much investigating as possible.
If you've scheduled a job interview, look into the district that the particular facility serves. Find out how big the groups of children you'll be working with are, and learn about the community you'll be working in. By doing this, you'll know in advance what type of local outings and activities you can plan. You can also show the interviewer that you're able to understand the needs of that specific community and work with kids from a diverse range of backgrounds.
Understand Your Strengths and Weaknesses
Other common interview questions include those regarding an applicant's strengths and weaknesses. If your interviewer asks about your weaknesses, it's best to prepare a response that allows you to turn it into a positive. For example, if your weakness is dealing with conflicts that break out between children, you can explain to the interviewer that you've been reading additional material about conflict resolution. You can also discuss how your teaching style involves designing group activities that focus on cooperation, sharing, and building trust to create an environment where conflict is less likely.
Whether you keep a list of written responses or rehearse the interview in advance, showing your interviewer that you're prepared will prove that you are genuinely interested in the position. And of course, this will likely increase your chances of being considered for the job.
We hope you've enjoyed our job search tips for educators!
Are you ready to enroll in Early Childhood Education courses?
Visit Stenberg to learn more about our training programs, or to speak with an advisor.