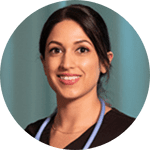 If you had asked me 10 years ago where I would be today, I wouldn't have guessed that I'd have completed a diploma and a degree, become a Licensed Practical Nurse (LPN), a Registered Nurse (RN), and be working as the Manager of Lab and Simulation at Stenberg College. In fact, I never considered becoming a nurse until I found myself lying in a hospital bed needing an appendectomy! But… I'm getting ahead of myself.
My journey to LPN
Like many high school graduates, I had no idea what I wanted to be when I grew up. I took some general studies courses at university and really enjoyed biology, anatomy, and physiology. This made me realize that I wanted to do something in healthcare, but I did not think nursing was for me.
When my appendix was removed, I saw first-hand what a nurse does. I could not believe how different the role was from what I had imagined. Throughout my stay at Surrey Memorial Hospital, I was blown away by the compassionate care I received from the nurses. I asked them so many questions about the profession and as soon as I left the hospital, I began my research.
My goal was to become a Registered Nurse, but all the RN programs had long waitlists. I didn't want to wait two years just to get into a program, and then be in school for another four years before I could start working in a hospital. I knew what I wanted to do, I had all the prerequisites, and I was ready now. Fortunately, I found Stenberg's 76-week Practical Nursing diploma program.
Why LPN before RN?
The Stenberg LPN program was the perfect place to start my career for five main reasons:
I could begin my education immediately, instead of sitting on a waitlist and doing an unrelated job that I was not passionate about.
After Stenberg's 17-month LPN program, I could work as a nurse right away, earning a starting wage of $28.43/hour (BCNU April 2021).
While working as an LPN and completing the required hours for Athabasca's Bachelor of Nursing (Post LPN) program, I could build my seniority in the hospital (your seniority continues when you become an RN).
Athabasca University's Bachelor of Nursing (Post LPN) program is online, meaning that when it was time to take the program, I could continue working, earning money, and building seniority.
Starting as an LPN would make me a better nurse and give me the experience and confidence to be just like the amazing RNs who cared for me when I had my appendectomy.
Without a doubt, I knew what I wanted to be and how to get there.
Life as a Stenberg LPN student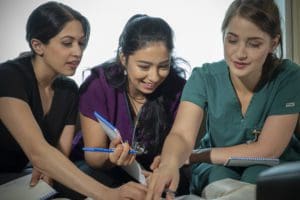 With my plan all set, I enrolled at Stenberg College and began the Practical Nurse diploma program in October 2012. I loved my cohort. We became a supportive community, which helped us get through the hard work and dedication that the program demanded. Between classes, labs, studying, exams, medication testing, case study testing… it was a lot, but it was worth it.
I completed the Stenberg program in early 2014 and was hired as a casual at Surrey Memorial Hospital where I picked up shifts in many different units. I loved the variety! From oncology to nephrology, I was gaining experience across the hospital, and there was no shortage of shifts.
I learned just how much an LPN does. Their scope of practice is quite similar to an RN. Typically, LPNs in the Lower Mainland care for patients who are less acute with more predictable outcomes, while RNs care for patients who are more acute with less predictable outcomes. As a young nurse, I was happy to work side by side with RNs and observe the care of highly acute patients. Getting to work with and thank the nurses who inspired me to become an LPN was an added bonus.
My journey to RN
All I had to do now was gain 1,700 hours of experience as an LPN, and then I could apply to Athabasca University's Bachelor of Nursing (Post LPN) program. I was working in a career that I loved, I was earning good money, I was building seniority in the hospital, I was learning and gaining experience, and I was on track to become an RN.
By 2016, I began the prerequisites for Athabasca's Bachelor of Nursing (Post LPN) program, which is shorter than a typical RN program, as it is designed for LPNs who already have education and experience. I continued to work in the hospital and by 2017, I was an Athabasca student!
Life as an Athabasca RN student
The program was intense, and once again, it was worth it. During my breaks at work, I would do my readings or homework. The shift-based nature of my job worked well with this online program.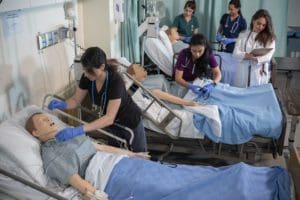 Students in Athabasca's Bachelor of Nursing (Post LPN) program are allowed to take up to seven years to complete the program. The theory is delivered online and once you start a specific course, you can take up to six months to complete that course. I was determined to finish the program as quickly as possible, so I typically completed courses every four weeks. Most of the courses have quizzes, midterms, and final exams. Some of the finals had to be invigilated, which I was able to do at the Kwantlen University campus. I appreciated that it was close to home!
Athabasca University is based out of Alberta, which means students must travel to Alberta for two four-week clinical practices. I was able to book my clinicals at a time that worked for me, and I learned a lot from the experiences.
By March of 2020, only three years after beginning the program, I had completed all the courses and clinicals, earning my Bachelor of Science in Nursing (BSN), and was officially a Registered Nurse!
Doors opened
Earning my BSN and becoming an RN has opened so many doors. In addition to a raise in pay (RNs earn $36.23-$57.38/hour in B.C.), it has given me the opportunity to teach.
Initially, I worked at Stenberg College as a Lab Tester, where I would assist instructors in testing students' skills. I started this role in 2018, while I was still studying at Athabasca and working in the hospital. I then took on the role of a Lab Assistant Instructor, where I supported the instructor as they taught different skills in labs. I couldn't believe how much I enjoyed testing and teaching in the nursing lab.
At the end of 2019, the Manager of Lab and Simulation position opened up, but a requirement for the role was an RN designation. Although I was only three months away from completing my degree, I was able to secure the role! Honestly, I feel very fortunate. Part of my management role includes teaching, so I still get to do that as well. I love that I am able to prepare future generations of nurses through this position.
Looking back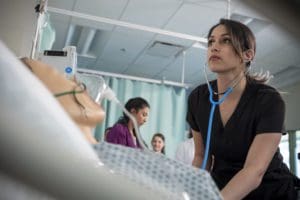 Most RN programs are four years. If you complete an LPN program first and take a fast-track RN program (like I did at Athabasca), it's only an additional six months of school. Additionally, you can work, earn money, and gain seniority and experience throughout the process.
Looking back, I am so happy with the path I took. Stenberg's LPN program helped me build the confidence to become the RN I am today. I never thought that I would be working in a classroom or be a manager in a field I find so fascinating. I love the balance this career path has given me. Continuing my education and earning my Master of Nursing online at Athabasca is an option but for now, life couldn't be any better.
My advice to anyone considering a career in healthcare is to keep an open mind. Your hard work and passion will take you places you never thought were possible… and like me, you just might fall in love with it!
---
To learn more about Stenberg's Practical Nursing program, click here.