You never know how strong you are until being strong is the only choice you have
Have you ever met a person who, despite facing seemingly insurmountable obstacles displays incredible positivity, generosity, and courage as they work to overcome their circumstances? Do you ever wonder how they do it? Temwa Khonje gets asked that question all the time.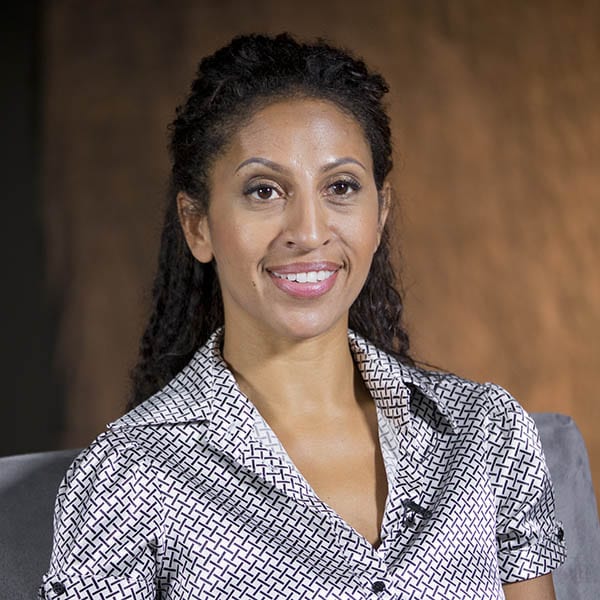 Not only did she graduate from Stenberg's Medical Laboratory Assistant (MLA) program with academic distinction as the top student in her cohort, she did it while raising four young children on her own.
Raised by a single mother, Temwa's dream job as a child was to be a mom herself. "I always wanted a big family. I think my desire for having a big family came because my family was so small. I didn't get a chance to know my dad's side of the family or much of my extended family, so it was always my mom and my brother, just the three of us. I think I grew up wanting to create a big family to feel that, to feel what I missed out on."
Temwa's mother Deena worked hard to support her children, struggling to raise them on her own while attending school full time to earn her CPA designation.
Despite the positive example her mother set, Temwa did not complete high school and recalls her teen years as a difficult time.
"I really didn't like high school at all. I liked elementary school, but the transition to high school was very hard for me. I think I always struggled with very low self-esteem, and I never felt like I fit in anywhere. I think a lot of those issues came from just being biracial and not really getting to identify with either side. I went to a school where I just felt like I stuck out all the time and so I just didn't want to be there. I tried to do everything I could to stay away from school. I did well when I was there, I just … I didn't go as much as I should have."
After earning her GED, Temwa thought that she might do better in an environment where she felt like she fit in, and decided to enroll at a university in Houston, Texas. She quickly found that her old insecurities had followed her, and left school at age 21 after marrying and becoming pregnant.
Because Temwa's husband was in the United States Navy, she found herself living alone in Washington for much of her pregnancy and the first year of her son's life. "[My husband] was actually in Operation Enduring Freedom, so he was supposed to be gone on a six-month tour and it ended up being almost a year because it was extended and extended and extended. I was young and having my first child, living in Washington, I was away from my family and friends…it was hard because I was basically a child myself and had a child, so going through it all by myself was difficult."
Finding the distance too much to overcome, Temwa and her husband divorced and she returned to British Columbia to be near her family. Several years later, Temwa met and married her second husband, whom she was married to for ten years. During that time, she gave birth to three children and worked to establish her own business, a marketing company she and her husband operated out of their home.
Looking back at the decade she spent with her second husband, Temwa admits the relationship was not a healthy one. "I did have people tell me that the relationship wasn't the way it's supposed to be, but I think my goal was to be a good wife and to be a good mother. I just tried really hard at making our family work, and I absolutely love being a mom, so it wasn't torturing for me, but I felt like I had lost a part of myself."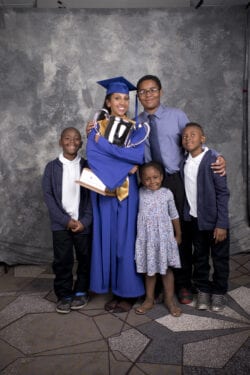 Temwa's husband eventually abandoned the family shortly after the birth of their third child, leaving Temwa on her own with four children under the age of ten. At the time, Temwa blamed herself. "I felt like a complete failure, in more ways than one, because I have four kids and it wasn't just one failed marriage, I had two failed marriages. It was hard and I lived in such a small town that everybody knew."
Left with several debts and a family to support, Temwa researched short-term academic programs that would enable her to find steady work in the health care field.
She enrolled in a program to become a Medical Office Assistant (MOA), and reluctantly applied for social assistance to allow her to support her family while she studied part-time.
During the two-year program, tragedy struck when Temwa's oldest son was hit by a car and confined to a wheelchair for several months. According to Temwa "He ended up needing multiple surgeries, his leg was immobilized, so it was an incredibly difficult time for him and for my family." Thankfully Temwa's son made a full recovery after several grueling months of rehabilitation and she was able to complete her MOA program as scheduled.
Despite earning high grades throughout the program, Temwa was unable to find permanent work and knew that she could not continue working as a temp in different offices. Certain that she wanted to work in the medical field in some
capacity, Temwa attended a Stenberg College information session for the Medical Laboratory Assistant program. "I actually knew I was going to attend when I came across an issue of Success magazine," Temwa says. "I was early for the info session so I sat down and I was reading the magazine, and I started getting so encouraged and excited because I thought 'This is me.' These people's stories are like my story of tragedy and adversity and overcoming it and growing and becoming better and becoming successful, and I just knew I wanted to see myself in that magazine."
Temwa was discouraged when she learned that because Stenberg's program was full-time, she would be unable to receive social assistance while enrolled, but chose to make the leap and registered for the program. "They've actually adjusted that rule now," Temwa notes, "but it made for a difficult year for me financially. There were times when I had to access food banks, times when I had to choose between paying for gas to get to my practicum and paying for groceries."
While she struggled financially, Temwa was excelling academically. After earning straight A's in courses like Anatomy & Physiology, Microbiology, and Cardiac Procedures, Temwa earned glowing recommendations from her instructors, including Bal Ollek, Stenberg's Lead MLA instructor. Bal shared that during the program "Temwa was a force to be reckoned with. Her level of commitment, contribution and passion are rarely seen at such a high level. Temwa never ceased to amaze or impress me to overcome any obstacle or hurdle she faced…Temwa Khonje is the epitome of perseverance and determination whilst having heart and compassion. This woman is deserving of the title 'Student of the Year 2016' for not only being an exemplary student but for being the driving force to get her family out of poverty and providing them with the knowledge of 'if we stick together we can do this.' "
Temwa credits her family as her biggest source of inspiration during the program, sharing that people often told her that her children were "good people…As nice as that always felt, I know that I didn't earn my kids. My kids are a blessing, I didn't earn them. I wanted something that would make me feel proud of the woman that I am and have my kids be able to look up at me and be proud of their mom. Before Stenberg, I didn't feel like I had that."
In order to keep herself focused, Temwa set three specific goals for herself on the day she started at Stenberg. "I wanted to make sure that I got straight A's, I wanted to excel in my practicum and make sure that I was offered a job before the end of my practicum, and I wanted to be in the [Success] magazine."
Temwa worked to achieve her second goal during her practicum placement at a LifeLabs location in Campbell River. Temwa's supervisor spoke enthusiastically about Temwa, recalling "At times during her practicum it felt as if Temwa was a permanent staff member because of her ease as a team member. I [was] personally overwhelmed with her strength and how hard she works to raise her incredible family. Her energy and positive attitude should be bottled and sold." Needless to say, Temwa was offered a permanent position with LifeLabs, and now works at the Courtenay location as well.
After being nominated by five separate individuals and selected as the Student of the Year Medical Laboratory Assistant finalist in September, Temwa achieved all three of her goals. Speaking at her Student of the Year interview, she stated "Whatever happens after this, I'm fine because I set those goals for myself and they're not low goals. I didn't limit myself and that's what I want my kids to learn: don't limit yourself by setting low goals out of fear of failure. Set your goals as high as your desires and then just believe that you're capable of doing that. If you believe that and you work your butt off, you can do it. I didn't believe that about myself before Stenberg.
I had heard so much negative talk from my husband that I started to believe it. That I needed him, that I would never be anything without him. I didn't have a job, I didn't have an education, I never would. Just settle for what I had. I'd heard that for so long that I started believing that. I needed to change the way I viewed myself and that took a long time to replace all the negative thoughts with the positive thoughts. Now the shift is, it's unreal, the way that I changed from a scared, lonely, sad, very low self-esteem. I wouldn't say I was a negative person, but I was not confident at all. Now I am actually enjoying life. I love my job, my family is stronger than ever, and to be selected as the Student of the Year was just the cherry on top of it all; I was ecstatic."
Despite the numerous obstacles faced by Temwa along the way, she has shown incredible grace under pressure and has emerged from a difficult period a stronger and more confident woman. When asked about her future, Temwa is optimistic as always, noting "I'm sure there'll be hurdles, but I am confident that I can get through anything that's
thrown at my way now. I think my kids have that attitude too because they've witnessed everything and been by my side through it all…If my story can inspire even one woman that's in a situation where she doesn't feel she's good enough or thinks she doesn't have the strength to go for it and move forward, that's so much more than I could ever
have hoped for."