Practical Nursing grew in popularity during World War II as a way to compensate for a shortage of Registered Nurses (RNs) and meet the high demand of care needed for veterans. Since practical nurses required a shorter period of training, and could perform many of the duties that were required of an RN, the move was beneficial to everyone.
By the 1950s, Licensed Practical Nurses (LPNs) had become a fixture in healthcare throughout Canada.
However, Practical Nurses have often faced scrutiny from people who believe that the job is unimportant, simply because LPNs do not have the same depth of training and responsibilities of a registered nurse. This could not be further from the truth.
If you're considering a career as a Licensed Practical Nurse, read on to learn the truth behind some the biggest myths about the profession.
Myth #1: Practical Nursing College Graduates are Not Real Nurses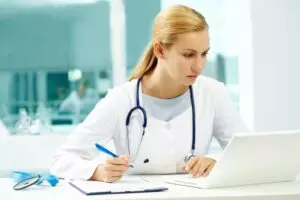 As a Practical Nursing program usually takes about two years to complete, many people presume that LPNs are unskilled and are only tasked with menial work. In reality, Practical Nursing programs teach students to perform many important tasks, such as administering medication, documenting assessments, and performing examinations in consultation with doctors and other healthcare professionals. Graduates must also complete the Canadian Practical Nurse Registration Exam (CPNRE), a required accreditation to work in the field.
Practical Nurses also work with vulnerable patients in areas such as veteran care, mental health services and elder care. These patients have many unique and challenging needs to be met, and an LPN needs to be compassionate, resourceful and knowledgeable to give them the best care.
Myth #2: There's No Diversity in a Practical Nursing Career
Many assume that going into nursing means that you'll be doing the same thing day in and day out for your entire career. This is simply untrue. Not only do Practical Nurses face new challenges with an ever-changing list of patients each day, but LPNs can find employment in a diverse range of healthcare facilities, such as public hospitals, mental health facilities, homecare agencies and more.
Myth #3: Practical Nursing Careers Are Being "Phased Out" of Healthcare
One thing that discourages individuals from pursuing a Practical Nursing career is that many people are under the false impression that LPNs are being 'phased out' in favor of more Registered Nurses, who can perform a greater number of duties in healthcare facilities.
While different provinces vary in their approach to meeting healthcare demands, many are actually looking to increase the role of LPNs in hospitals and other facilities, since this is a more cost-effective way of relieving the workload of RNs. As former CEO of Alberta Health Services Stephen Duckett said, "In some places it is not possible to recruit RNs, so an employed LPN is seen as being better for everyone than getting existing RNs to work overtime."
Myth #4: Those in Practical Nursing Careers Aspire to Become RNs
While it is true that many LPNs do pursue further training in order to become Registered Nurses, it is a mistake to assume that being an LPN is not a satisfying and rewarding career on its own. Practical Nurses get the chance to work in a respected profession with career opportunities in a diverse range of areas, flexible working options, and competitive salaries, all while making a real difference to people's lives , one patient at a time.
Are you interested in enrolling in a good Practical Nursing college?
Visit Stenberg to learn more about our programs or to speak with an advisor.